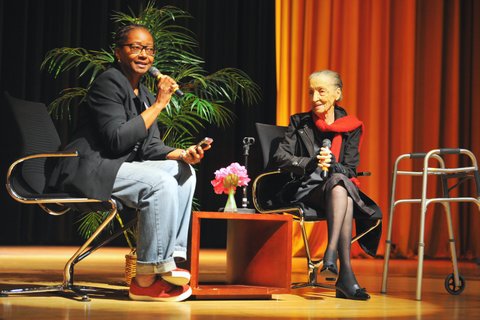 14 Mar

Sisters in Solidarity Celebrates Richmond's Women Leaders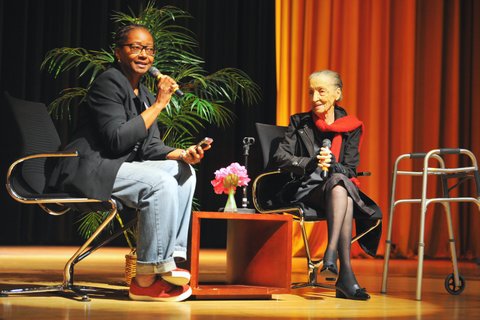 By Maria Bernal | Photos by Denis Perez-Bravo
As International Women's Day 2020 was marked around the world with marches and rallies, women in Richmond celebrated the day at the 13th annual Sisters in Solidarity event at the Civic Center Memorial Auditorium.
The theme of this year's event on March 7 was Valiant Women of the Vote, in recognition of the centennial anniversary of the 19th Amendment, which gave voting rights to women in the United States. The event is a Richmond tradition celebrating local women who have made a positive impact in the community.
"It's such a beautiful event every single year and it's put together and organized by so many committed women in our community," former city council member Jovanka Beckles, an event organizer and the day's emcee, said. "We started this because it was important for the city of Richmond to acknowledge International Women's Day."
A row of tables with pink covers welcomed attendees with agendas and a SIS reusable lunch bag. The event had around 130 attendees, who were seated in pastel-colored round tables with small flower bouquets.
Interim Richmond Police Chief Bisa French, the first female chief and youngest African American and Latina captain in the department's 110-year old history, was the event's keynote speaker.
"The thing about women is that we are so resilient. We keep pushing on no matter what," she said. "We are not going to let no one get in our way."
French recalled her continuous struggles working in a male-dominated field, but she acknowledged that her success will pave the way for other women in the community. She linked her struggles to the culture, but finds it possible for it to change with the help of trustworthy allies.
"When [men] talk about standing in solidarity with us, that means voting for us," French said. "You have to stand up. There isn't enough of us to change the culture alone. We need your help and you have to put actions behind it."
Special guest and Richmond resident, Betty Reid-Soskin — who was honored by President Barack Obama for being the nation's oldest park ranger — also spoke at the SIS celebration. She recalled her activism efforts and shared her wisdom on stage.
"We have to step up and take on the responsibilities of caring. Not only for the young, but for humanity," Reid-Soskin said. "Our ability to do that is so essential."
This year was essential for the nation because it marked a century of women's vote.
"It's important for us to acknowledge all of the accomplishments of women and appreciate the fact that there were so many women that came before us that fought so hard for us to have the privileges and power we currently have as women," Beckles said, "We are more powerful than we even imagine. That power can be seen and exerted through the power of [the] vote."
Other special guests for the day included former mayors Irma Anderson and Gayle McLaughlin and the new city manager Laura Snideman, the first woman to hold the position in Richmond.
"Richmond women are an essential part of what will be from now on," Reid-Soskin said. "Without us, the world simply cannot be."