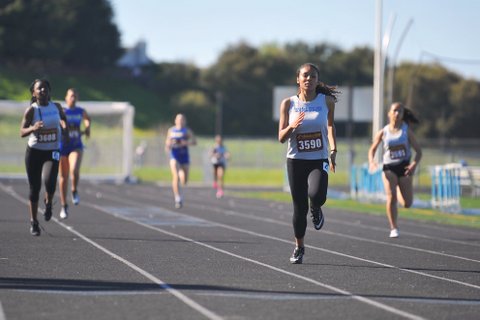 17 Mar

Outbreak Halts Richmond High's Track & Field Season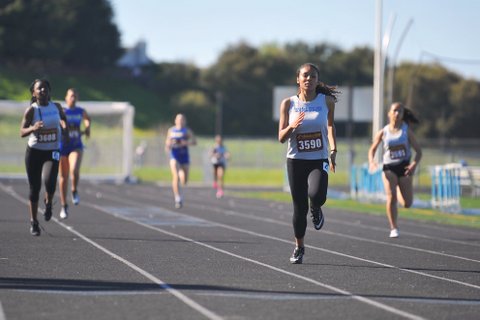 By Denis Perez-Bravo
Just as nearly every sporting event locally and nationwide was being cancelled due to concerns about the spread of the coronavirus, Richmond High School's track and field team participated in its first meet in over three years.
The Richmond boy and girl athletes participated in the Tri-City Athletic League meet at Hercules High School on March 12.
"Richmond High has not had a track team for sometime, so watching them perform was very good," Richmond track and field coach Claudia Yarber said.
Richmond's Irene Mejia and Aleen Rodriguez participated in the girls long jump event. Rodriguez's best was 10-feet 2-inches and Mejia's was a 9-feet 11-inches.
Richmond's boys participated in the 100 meter dash, where sophomore Moani Adams placed third with 11.92 seconds. The boys also competed in the 4×100 relay, the 400 meters and the long jump, where junior Osbaldo Pena placed fifth, the top Richmond score, with a distance of 12-feet 10-inches.
"A couple of them had ran track before, but not recently," Yarber said. "So, they had the basics, but the expectation was for them to come out and run their races… and say Richmond is back."
In recent years Richmond hasn't had a track team because few student athletes were interested, but that changed this year. Some of them have never participated in track and field, but have played other sports like soccer and football. Yarber said these students took this opportunity to challenge themselves to become better athletes.
Unfortunately, the Richmond's track and field team's comeback season has been derailed due to the coronavirus safety precautions the West Contra Costa Unified School District (WCCUSD) is taking. To curve the risk of spreading the incredibly contagious virus, the district has cancelled classes and school activities, including sporting events, until Monday, April 6.
"(Shutting down) will be a big hit for the track team. We shut down, it is going to be hard to get the momentum back," Yarber said.
For junior Daniel Nuñez, one of Richmond's new track team members, there is nothing he can do about the school district shutting down and he accepts that.
"I joined to get faster for football," Nunez said.
The Hercules competition was his first time competing in a track meet. Although Nuñez didn't take first place, he was proud to have participated in the 100 meter and 200 meter dash.
Nuñez placed 4th in the 200 meters, clocking in with 24.77 seconds. Right behind him in 5th was Richmond's Delmare Stevenson, who finished in 26.53 seconds. The Richmond runners were bested by Pinole Valley High sophomore Chauncey Hill who clocked in at 23.66 seconds.
"I was aiming to win, then again it's my first time, but this is not going to stop me from being the best," Nunez said, adding it was nice to participate and get some experience.
Now that official practices and meets have been cancelled until the first week of April, Nuñez and his teammates will have to practice and keep to their diets on their own.
Yarber said things are going to be weird with the closure because there has been no direct communication between her and the district about what the restrictions are between coach and player communications during the school closures.
She just hopes that her team keeps motivated and are ready to come back to their season once school activities resume.
"They are all leaders, they push themselves and motivate each other," Yarber said.