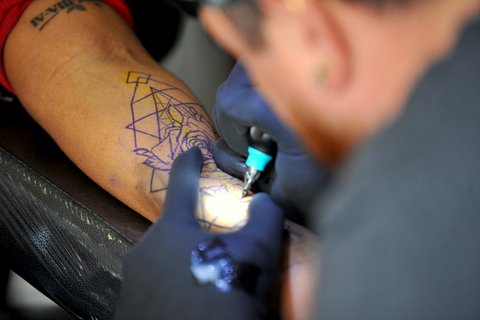 23 Mar

Richmond Encuentra Su Originalidad Con la Ayuda de The Plug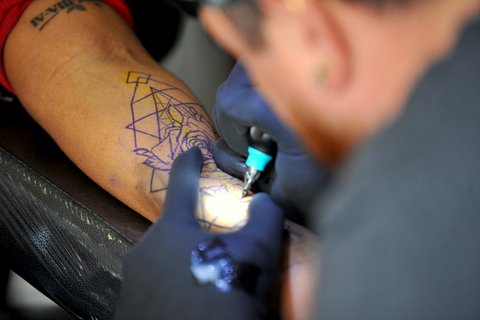 Por Joel Umanzor Jr.
Los tatuajes, perforaciones y modificaciones al cuerpo son muy popular en los Estados Unidos.
Cerca de 35% de los americanos dicen tener al menos un tatuaje, según un reporte de 2019 publicado por Statista.com
Según los residentes de Richmond, un sitio sinónimo con cultivar la creatividad local en esta subcultura es The Plug Tatoo Shop, localizado en la esquina de las avenidas San Pablo y Solano desde 2008.
El residente local Daniel Martínez dijo que se despertó un viernes reciente sintiendo ganas de un nuevo tatuaje. Fue a The Plug para reunirse con uno de los artistas sobre agregar arte a su brazo izquierdo.
"Tengo una hija, así que talvez me ponga su nombre o sus iniciales rápidamente," dijo Martínez. "También estoy aquí para ver si puedo terminar mi manga aquí porque estoy cansado de ir de lugar en lugar. Quiero trabajar con solo un artista".
Jonny Rocket, que ha hecho su fama tatuando personajes inspirados en el anime y videojuegos viejos en sus clientes dijo que el local se enfoca en la colaboración entre los artistas para encajar con su cliente perfectamente.
"Tenemos 15 artistas en total. No somos los que empezamos, y todos traemos algo a la mesa", dijo Rocket.
Agrego que un entendimiento personal y cultural es esencial para que los artistas apropiadamente evalúen si conocen lo suficiente sobre el arte que los clientes quieren.
"Nosotros (artistas) no tomamos todo. Hay muchas cosas que no hago y que no haré", dijo él. "Tengo artistas Latinos profesionales que conocen la cultura, el origen, y crecieron con ella".
Rocket, que es polinesio dice que trata de demostrar el mismo nivel de comprensión a otras culturas que el quisiera que otros artistas enseñaran a su cultura.
"Es la misma cosa cuando muchos de los compas hacen polinesio, puedo decir 'Hey, no hagan eso, o lo otro. Terminaras ofendiendo a mucha gente con esos patrones", dijo Rocket. "No es algo que te enseñaran en la high school".
Él dijo que el ambiente en The Plug es una vibra que le permite tener artistas de cada tipo y estilo y ha crecido a verlo desarrollar desde que llego al local después de completar su aprendizaje.
"Muchos locales de tatuajes tienen un ambiente raro y callado o tienen la música fuerte o talvez rock n' roll", dijo Rocket. "Cada día, cambiamos la música; Todos pueden escoger su propio género. Tratamos de funcionar en el mismo camino, y a lo que se llega es familia".
Al estar en la industria por poquito menos de una década, Rocket dijo que el realismo en los tatuajes se ha convertido más popular en los últimos años pero enfatizó que los tatuajes son un estilo de vida, no una moda.
"Siempre se reduce al realismo y que tan lejos puedes llevar el detalle de un tatuaje. El detalle es el mole", dijo Rocket. "En lo que se refiere a las modas, realmente odio llamar cualquier cosa en la industria del tatuaje una moda. Esto es un estilo de vida porque el segundo que agarras un tatuaje en ciertas partes la gente te mira y te trata diferente y eso es una decisión de estilo de vida que hacen las personas".
Martínez, un cliente que es fanático del arte de The Plug, dijo que sigue regresando por el espacio creativo del local.
"Sigo a estos hombres en Instagram, y me gusta el arte que he visto en sus libros. Es genial", dijo Martínez.
También agregó que esta abierto a todos tipos de estilos en sus tatuajes por su afinidad al arte en general.
"Tengo muchos pensamientos y me encanta el arte, así que no soy muy exigente", dijo Martínez. "Si me gusta y tiene significado profundo o un significado genial para mí, entonces lo escogeré".
Los tatuajes significativos de The Plug no son lo único que ofrecen de arte para el cuerpo. De hecho los tatuajes no son lo que más atrae a la gente.
Las perforaciones, dijo la gerente Rachel "Chop" Stoyanovsky, son un elemento básico de la tienda.
"Probablemente somos la tienda de piercings más asequible en el Área de la Bahía y ese es, por mucho, nuestro servicio más popular que ofrecemos aquí y de donde proviene la mayoría de nuestros negocios diarios", dijo.
La tienda también es uno de los últimos sitios en el Área de la Bahía, junto con uno en Oakland y uno en San Francisco, que ofrecen grillz personalizados para la boca. En The Plug, están hechos por el artista Kevin B. (IG: @grillzbykevin) que ha estado haciendo grillz en el Área de la Bahía durante 20 años.
Kevin, que no quería que se usara su apellido, valora varios accesorios de oro y plata por diente y hace las joyas a mano según las especificaciones exactas del cliente.
Rocket dijo que The Plug celebra esa individualidad y se suma a la creatividad que sus artistas obtienen de la comunidad de Richmond.
"Lo fundamental, todos los que quieren hacerse un tatuaje provienen de diferentes lugares con diferentes orígenes en diferentes momentos", dijo Rocket. "Todos no obtienen lo mismo y en una tienda como esta, una tienda personalizada completa, no queremos que seas otro imitador. Queremos que seas único".
The Plug Tatoo Shop está ubicada en 12592 San Pablo Ave. y está abierta de 11 a.m. a 8 p.m. de lunes a sábado y de 11 a.m. a 6 p.m. domingo.