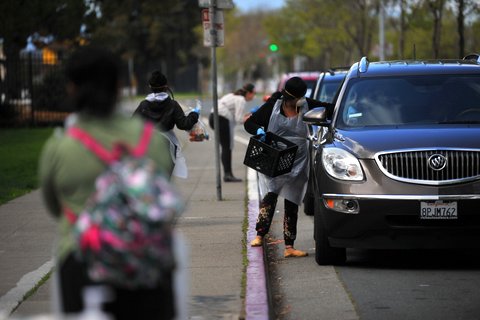 23 Mar

WCCUSD Sites Provide Thousands of Lunches as Schools Remain Closed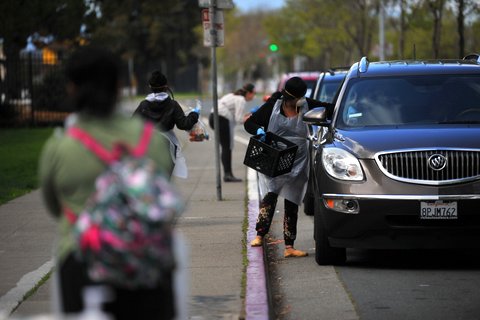 By Denis Perez-Bravo
Nine school campuses distributed bagged lunches to thousands of students in the West Contra Costa Unified School District as schools are closed due to the coronavirus pandemic.
Meal pickup locations are De Anza, Kennedy, Richmond and Pinole Valley high schools; DeJean and Helms middle schools; and Montalvin, Nystrom and Riverside elementary schools.
All students 18 and under can get a meal at one of the schools from 11 a.m. to 1 p.m. They do not have to be eligible for free or reduced price meals.
"We got a hook up," Richmond High School sophomore Joshua Felkins said after picking up lunch with his father and sister in front of Richmond High School.
Felkins said his family is looking to conserve food and having the option to pick-up a school lunch goes a long way.
Last Monday, the first day of distribution, Richmond High gave out 400 bagged lunches. It gave out 700 on Tuesday, 900 on Wednesday and 1,155 on Thursday.
On Friday, Richmond, alongside the other eight campuses, decided to give out double what a family would request, district food service coordinator Barbara Jellison said.
"This will allow them to have food on Saturday. A lot of kids use school as a food source," said Whitney Bostian, an operations assistant with the WCCUSD food service.
According to NoKidHungry.org, around 11 million children in the U.S. live in a home with food insecurities and 22 million children rely on school lunches daily.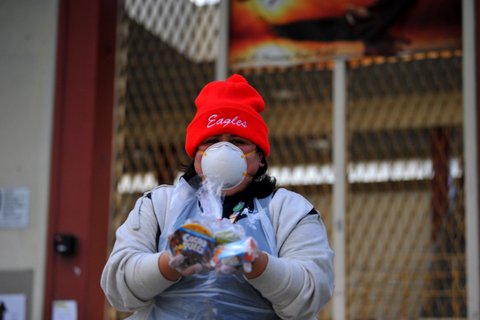 At the front of the Kennedy High campus, volunteers wore latex gloves, masks and plastic aprons, as cars lined up in the make-shift "drive thru" in the student drop-off zone.
People also walked up to the distribution site. Among them were Richmond resident Irene Ellana, 64, and her two grandkids. She was dismissed from her job at a food truck the day before and was told she wouldn't be able to return to work for at least two weeks.
Her grandkids' parents are still working, for now, but her not being able to provide financial support to for her family will hurt them economically, she said.
"If we do not work, we still have to pay bills and rent," Ellana said. "I agree we have to stay inside, but it's a hard time."
But having Kennedy nearby with access to food for them is a "big help," she said.
Kennedy principal Felicia Phillips said people have started to feel more comfortable about coming out to get food, so the numbers of bagged lunches given out are only going to grow. She is thankful that her campus is one of the nine sites keeping students fed.
"We got their back," she said Thursday as she prepared to give out another bagged lunch.
No on-site school means that their service to the community as educators is limited, but Phillips and the volunteers from her school and other schools still want to be involved in helping out.
"It is an honor to serve as a small but important role," Phillips said.
Update: WCCUSD has expanded its food service program to include eight additional locations in Richmond and San Pablo. Meals can now be picked up Monday through Friday at the following times and locations:
Ephesians COGIC
2887 Foothill Ave., Richmond
Noon to 2 p.m.
GRIP Family Housing
165 22nd St., Richmond
11 a.m. to 1 p.m.
Independent Holiness Church
605 S. 16th St., Richmond
Noon to 2 p.m.
McGlothen Temple COGIC
1443 Fred Jackson Way,
11 a.m. to 1 p.m.
Pilgrim Rest MBC
831 S. 43rd St., Richmond
11 a.m. to 1 p.m.
Sion Miracle Temple COGIC
1320 Sanford Avenue, San Pablo
11 a.m. to 1 p.m.
Richmond Roadrunners
492 A Street, Richmond
11 a.m. to 1 p.m.
Zion Hill MBC
5150 Bayview Ave., Richmond
11 a.m. to 1 p.m.