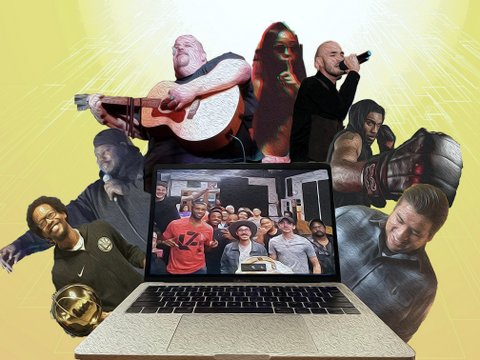 17 Apr

Virtual Talent Show Promotes Richmond Artists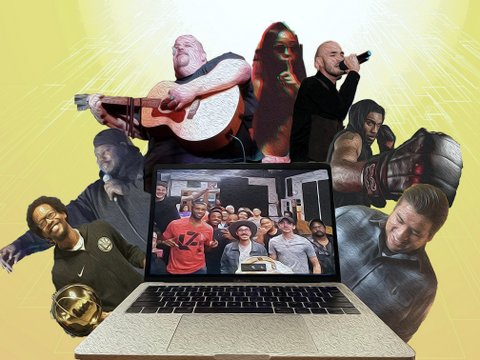 Interview, Denis Perez-Bravo
Community organizer Evan Francis is hosting a free virtual talent show on Zoom to promote local artists at 7 p.m. on April 18.
Francis started the Rich City Talent Show last August at Bridge Art Space. Back then, he gathered a group of performers and 15 people. Seventy people showed up to the second show on Feb. 15.
"We need to bring ourselves up and build an art scene," Francis said.
Before the shelter-in-place, the idea was to constantly promote talents from Richmond and to stamp Bridge Storage Space as a premiere venue for up-and-coming artists because it doesn't charge them to perform.
"There isn't a place like this in Richmond," Francis said.
Growing up in the 2000s during the Bay Area rap's hyphy movement, Francis saw the power that music and performance have to bring a community together.
Francis also rapped during that time as well. But he saw what the movement became: younger artists with smaller followings were overshadowed by the profits mainstream artists brought.
"I hated that we had to pay or put money out just to perform," he said.
With that in mind, Francis contacted the owners of the Bridge about the Rich City Talent Show.
"They welcomed it and I called everyone I knew with talent to put together a show," Francis said.
Richmond Pulse spoke to Francis to find out more information on why he plans to continue his show during the shelter-in-place order.
Richmond Pulse: How are you going to pull off a talent show during shelter in place?
Evan Francis: It is gonna be virtual. I was wrestling how we would do it. I got hit back from performers who were saying, "It's good. Let's do it." During this time, it is important to entertain. If this show goes good, we will do this again in June.
RP: Who will be performing?
EF: About eight confirmed acts: pro boxer Jasper "Smooth Jazz" McCargo, soul singer Nick Willz, rapper BadGil Le Le' country singer Jake Wilson, and comedians Bryant Hicks, Corde Snell, and JD Amanda.
RP: What will be the hardest thing about doing this virtual talent show successfully? 
EF: Just the execution. We are going to do a dry run. I want to help the performers. Doing it over Zoom, we need to have the technical stuff correct. I am hoping there is no glitching.
RP: How will you keep up with social distancing? 
EF: I am working it out where there won't be too many people at the same spot. If people are more comfortable doing it at their home, that will be okay. But if this works out, Zoom could be use a tool we could use after this.
RP: Is there a prize/winner? 
EF: This is more a showcase. This is for pride. A lot of this folks don't have a place to perform here in Richmond. We could help launch artists in the long-term. This is about building an entertainment scene.
RP: Anything else you would like to say? 
EF: The overall mission is to build for the next generation. We are a reflection of our generation, so we must show our talent. To watch the Rich City Talent Show online, go to zoom and enter the meeting ID 979 3944 0134 and password 583165.