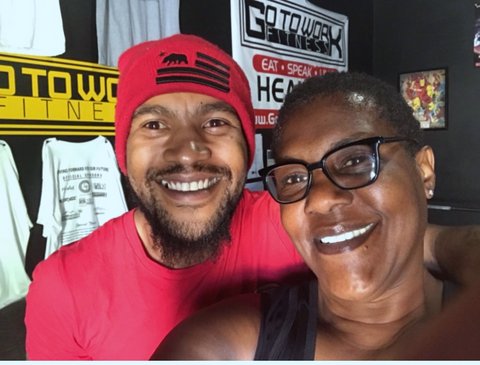 27 Apr

Clients Inspire Trainer to Work Virtually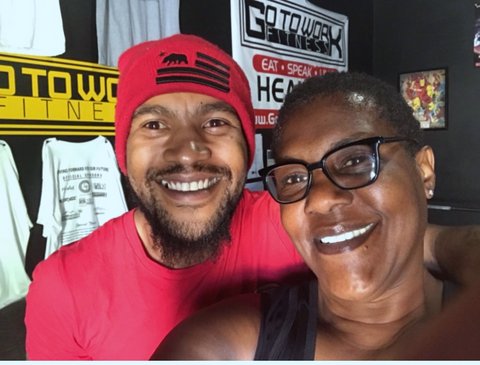 By Denis Perez-Bravo
Yolanda Harris has not let the coronavirus stand in the way of her love of fitness.
Instead, she has been working out virtually using Zoom with 33-year-old Francis Evan of Get To Work Fitness in El Sobrante – her first trainer.
"I need fitness. It is my foundation," the 59-year-old San Francisco State University (SFSU) graduate student says.
Working out helped Harris graduate from Contra Costa College and on to her studies for a Master's degree in public administration at SFSU, she says.
The stresses of life, school, family and now the coronavirus epidemic bogged Harris' energy, pushing her to find solace in fitness.
But the on-going shelter-in-place order stopped Harris from continuing a yoga class she was taking, driving her to seek out Francis.
"I reached out to Francis and asked him to see if he could do Zoom. And now I have sessions with him," she said.
"I am rejuvenated."
Francis, 33, has been active as a trainer all through the shelter-in-place order, using Zoom and offering some in-person work, too.
"I was going to shut down for a second, but my clients were calling me to tell me they wanted to continue," Francis said.
To adhere to social distancing guidelines, only one person is allowed in the physical sessions. Francis says he will not come in physical contact with clients. Sessions are spaced out an hour apart to give Francis time to disinfect all of the equipment.
"If we can do it safely, we could continue," Francis said.
In-person gym sessions are scarce though. Instead he relies on virtual sessions through Zoom and social media programs like Instagram Live.
"Even if we are quarantined, we have to eat, speak and live healthy as we find new ways to do that. I want people to realize health is wealth," he said.
People like Harris who want to progress, he said, but this epidemic can't and shouldn't stop them.
Harris now uses Zoom sessions three times a week to workout with Francis.
"Moving forward, I am going to continue doing Zoom workouts with Francis even after the coronavirus epidemic ends," she said.
Harris had stopped working out with Francis after she moved to San Francisco. But she says she never felt the same passion for working out as she did when she was trained by Francis.
"He is a caregiver in his community. He would always push me to work out, but never reprimanded me. He helped me push for more," Harris said.
Working out was never a priority for Harris before her first workout with Francis.
She had suffered a death in her family in 2009, a death that devastated her and spiraled her into a depression. That same year she had her first hip replacement which did not heal well.
"I began to isolate myself and I had given up on life," she said.
By the time 2014 ended, Harris weighed close to 250 pounds, was in constant pain and cursed her body.
Then she began a journey toward health, working out with Francis in 2015 when she attended Contra Costa College.
But in 2017, she was told she would need her other hip replaced.
Francis went to work, creating a plan for Harris to get from 240 to 185 pounds. And she did.
"My doctor was surprised. I was on my feet two days after my surgery," Harris said.
Her surgery was in the middle of her semester at SFSU, but her body healed fast enough that she was able to resume taking classes with little strain to her grades.
Harris acknowledges she would not have been able to get through surgery, reach educational goals and feel as good as she feels without the physical discipline she got through working out with Francis.
"He changed my life. I know I did the work. But (Francis) walked with me," Harris said.