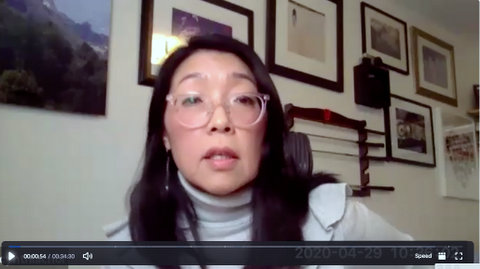 04 May

Asians Face Increasing Harassment During Pandemic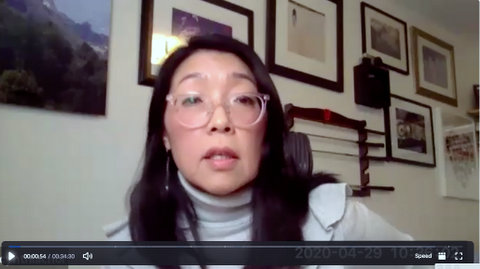 Above: Cynthia Choi, Co-Executive Director, Chinese for Affirmative Action.
By Michael J. Fitzgerald
A surge in racism across the nation in recent months directed at Asians was documented Thursday in a national media teleconference presented by the Chinese for Affirmative Action organization.
Besides presenting raw numbers, the CAA presentation included heart-wrenching personal testimony about one incident of harassment.
A young Chinese American San Francisco woman recounted a March incident in which she was threatened by a middle-aged white male on a city street. He shouted racist epithets, spit on her and called to a passing city bus demanding that the vehicle run the woman over.
She escaped unharmed, but very shaken, she said.
Although Asian-Americans are familiar with discrimination, it has gotten much worse since the coronavirus pandemic arrived, according to CAA's Cynthia Choi.
"The rise in racism from COVID-19 is sweeping the nation," she said.
CAA, the Asian Pacific Planning and Policy Council and Prof. Russell Jeung, chair of the Asian American Studies department at San Francisco State, have established the Stop AAPI Hate program to document incidents of bigotry and xenophobia.
"It was also set up to develop appropriate responses," Choi said. "We have hundreds and hundreds of reports of individuals who are experiencing hate in their daily lives."
Jeung said that in the last few weeks, the Stop AAPI Hate program had received more than 1,500 reports from across the nation, many detailing similar incidents to what happened to the San Francisco woman. "It's going on throughout the country," he said.
With sheltering in place, Jeung said many of the incidents being reported after people go out to shop. Prior to that, public transit and schools were the most common places for these kinds of race-based incidents.
Now, senior citizens are common targets.
"Seniors were involved in more than 13% of incidents in California," Jeung said. "It's intolerable."
He also said women are harassed two to three more times than men are.
While nearly half of the reported incidents did involve Chinese people, Koreans, Vietnamese, and Japanese also have been harassed. "Anyone who looks Chinese," he said.
Jeung and Choi warned that while the numbers are high now, they predict a surge when shelter-in-place orders end.
"We're concerned these incidents are going to rise," Jeung said. "More people will be unemployed. People will be angry because of being sheltered in place for so long. And the Republican party is using U.S.-China relations as a campaign theme. People are going to be more and more angry towards Chinese and towards Asians."
To contact Stop AAPI Hate, visit asianpacificpolicyandplanningcouncil.org/stop-aapi-hate.