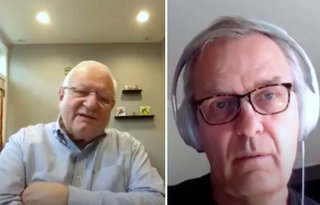 12 May

COVID-19 Impacting Immigration, Migration, World Hunger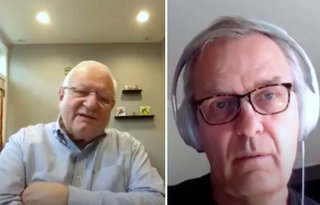 Above: (From left to right) Demetrios Papademetriou (Migration Policy Institute) and Dan Nepstad (Earth Innovation Institute) present during the 5/8 briefing.
By Michael J. Fitzgerald
Migration around the world has essentially ground to a halt because of the COVID-19 pandemic.
"As has overall mobility," Demetrios Papademetriou, president emeritus of the Migration Policy Institute, said Friday in a teleconference with journalists. "Borders have closed down. There is very little international travel. All components of migration have been affected."
Protection systems are weakened, resettlement is very difficult, and few asylum seekers have any way to lodge their claims, he said. Family immigration has almost completely stopped, too. One bright spot is some immigration is still occurring where workers are considered essential: healthcare and agriculture.
But Papademetriou warned that because of job losses and the tremendous economic downturn, remittances — money sent from immigrants back to families in their home countries — are expected to be drastically reduced.
"They will take an enormous hit," he said, citing World Bank predictions.
Earlier this month, the World Bank estimated there would be a $100 billion cut in remittances, later revising it to $142 billion.
"We should be very concerned for the people who receive these remittances, for whom this is essentially a lifeline," he said.
The hour-long session, sponsored by Ethnic Media Services, also addressed world hunger and rainforest-related environmental issues.
Dulce Gamboa of the Bread for the World organization said growing malnutrition worldwide is increasing people's susceptibility to COVID-19 because of weakened immune systems.
And the ongoing economic downturn is expected to double the number of people facing a food crisis.
"We know that more people are worried about being able to feed their families than they are necessarily worried about the coronavirus," Gamboa said.
Bread for the World is lobbying Congress for a humanitarian aid package. If that aid doesn't come from the U.S. or other nations, increased famine is very likely, she added.
The pandemic has also been pushing people into rain forests worldwide to try to survive.
Dan Nepstad, president of the Earth Innovation Institute, said that going into the rain forests, clearing land and then trying to farm is a very "precarious existence," economically and health-wise.
The markets where rainforest-raised products — and captured animals — are sold are risky, too.
"These are informal supply chains, so the farmers' markets often have very little in the way of sanitary, hygienic conditions and precautions," he said.
Nepstad said his organization predicts many people will be moving from cities back to their home territories where a farming element exists. That may including working on family properties, some in rainforests cleared for agriculture.
"Migrations are going to be more severe, putting more pressure on the forests," he said.
Nepstad warned that while the focus in the U.S. is on public health facilities and re-openings of businesses, attention on the likelihood, and source, of future pandemics needs scrutiny now.
That includes research on the panoply of rain forest diseases and viruses that live there.
Nepstad said understanding the viruses in the "incredibly biological diverse" forests is critical to predicting what might come next.