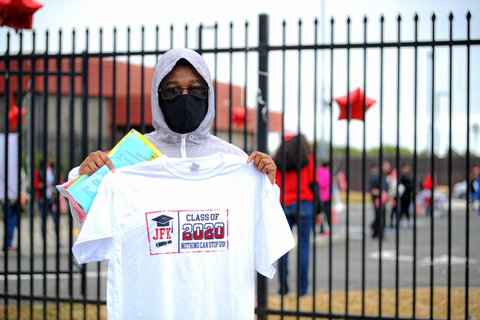 19 May

Kennedy High School Graduation Festivities Kick-Off Despite Shelter-In-Place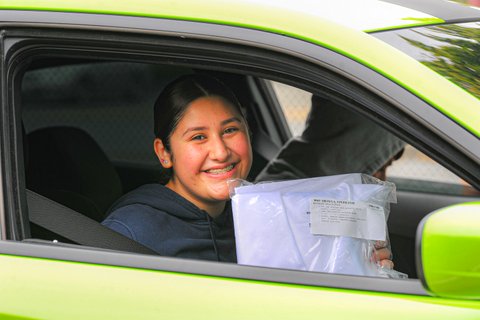 By Denis Perez-Bravo
Kennedy High senior Stephanie Ortega sat in the passenger seat of a car to receive her cap and gown Thursday as school staff lined up to cheer her and her other classmates on.
Ortega, like many of her peers, was excited for her last year of high school, the senior events, and making memories with her friends. But the virus "ruined everything," she said.
Despite her disappointment, she is grateful for her school's staff setting up a cap and gown pickup celebration.
"It feels great, even if it isn't the same experience as in the auditorium, it is still supportive," Ortega said in the parking lot adjacent to Berk Avenue. "As long as we did it, that is all that matters."
There are 205 graduating seniors this year, 69 of them are also graduates of the Information Technology Academy program, Kennedy's principal Felicia Phillips said.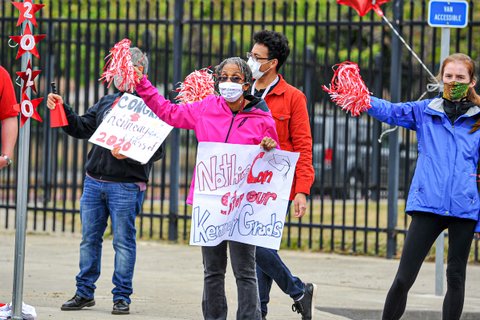 To send them off, cars lined up one-by-one. Once at the front of the line, students were given t-shirts with Kennedy's eagle mascot and a phrase that read, "Nothing Can Stop Us." They also received a class hoodie and the seniors could purchase their cap and gown for $40.
After receiving their care package, Assistant Principal Helene Burke announced the student's name over a megaphone and cheers would explode for them as they drove away.
Bridget Rougeau with Kennedy's Student Services was one of the dozens of school staff that stood and cheered for the students. "They are family and I love them," she said.
As Rougeau saw the graduating class pass by one-by-one, all she felt was care and love. She knows that each and every one of them can do anything they want and said they can all make it to the top.
West Contra Costa Unified School District officials are still planning graduation ceremonies for Kennedy and all other campuses. And an update on graduation ceremonies is hoped to be released this Tuesday, WCCUSD Communications Director Marcus Walton said.
One thing is for sure though, Philips said all ceremonies are going to be the same: no mass gatherings to honor the students, but the WCCUSD and each campus is finding creative ways to celebrate their seniors, like the drive-up event at Kennedy.
"They were happy to get a cap and gown," she said. "It really is a manifestation of their hard work."
Now, Kennedy's staff and the WCCUSD set their sights on the graduation ceremony. And although the virtual commencement will be held online, traditional roles like salutatorian and valedictorian will be honored.
Kennedy's salutatorian is Mariana Taylor Ortiz. CheryMae Nievarez is the valedictorian.
"There is still a festive mood in the midst of the pandemic," Phillips said.