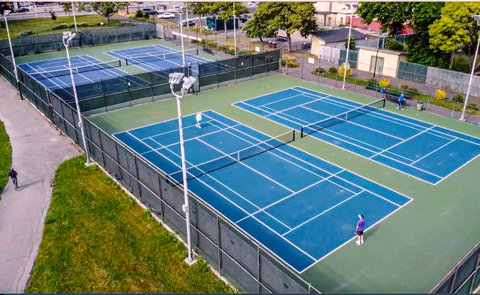 19 May

Tennis Returns to Three Richmond Courts Under Strict Rules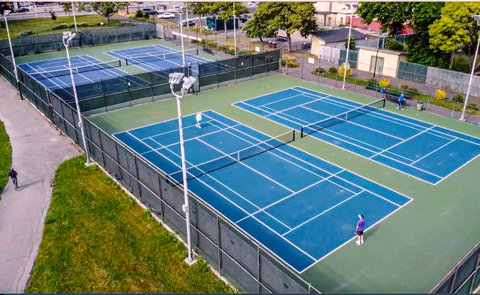 By Denis Perez-Bravo
Three tennis courts in Richmond were opened up to the public  following the new relaxed shelter-in-place restrictions on low-risk activities announced by Contra Costa Health Services on May 11.
The three tennis courts located at Nicholl, Booker T. Anderson, and Hurlburt Tennis and Garden parks are open by reservations and only singles matches are allowed, Richmond Tennis Association (RTA) president Gary Hurbult said.
For night play, the lights at Nicholl Park's tennis court will be on from 6 to 8 p.m. Monday through Friday.
"It's going to be great to get outside and enjoy the sport, itself," Hurbult said.
There are certain United States Tennis Association (USTA) guidelines players will have to follow, he said.
Apart from staying six feet apart and sanitizing their hands and equipment, players are advised to wear gloves and stay on one side of the court at all times, as spelt out in memo by the City Of Richmond.
Players are to only touch the tennis balls they brought themselves, and if a ball is to be returned to another player, it is advised to do so with a racket or by kicking it.
After playing, it is prohibited to congregate and players are advised to leave the court as soon as possible, the memo said.
The RTA, whose various teams compete in USTA Northern California regional competitions, will resume their men's practices at 5 p.m. Monday and Tuesday and women's practices at 5 p.m. Wednesday and Friday, all at Nicholl Park.
"We will have practices and intramural matches," Hurbult said.
As of now, Hurbult said the RTA hopes to resume the tennis culture in Richmond safely, while they await the start of the USTA's regional competitions.
All USTA-sanctioned events, tournaments, and matches in Northern California are suspended through Aug. 1 for both adults and junior players, according to the USTA website.
Alongside Richmond's recreation program coordinator Tetteh Kisseh, Hurbult sent a proposal to the city for their approval on May 1. The Richmond Emergency Operations Center (EOC) approved the plan. The proposal was then sent to the city attorney, who also approved it, Kisseh said.
"Thanks to some great collaboration by Kisseh and RTA, we can be back on the courts," Hurbult said.
To make sure the guidelines are being followed, Hurlburt will be checking the courts periodically. And anytime the RTA holds practice, he or another RTA leader will be present to make sure things run smoothly, he said.
In the proposal to the city, there are no punishments or fines for breaking the rules. But because the courts will be monitored and community members have to register to use the courts, if people are seen breaking the rules, their information will be sent to the EOC, which will decide how to move forward, Kisseh said.
Locals who are interested in playing must make reservations 12 hours before the scheduled playing time, according to the city's memo. Players must register by calling Hurbult at 510-547-8111 or Kisseh at 510-829-1832.
Hurbult said he's thankful the county has made great strides to control the coronavirus and has allowed for the rules to be relaxed, which makes him even more excited about the chance to play tennis again.
"It is all about getting outside and being active," he said.