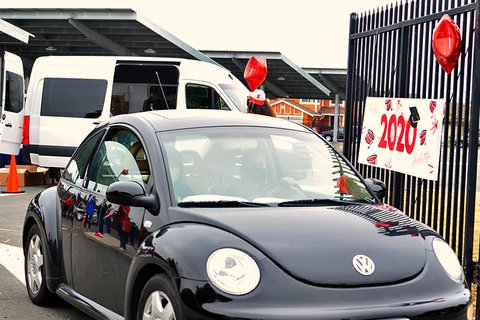 24 May

Graduations to Be Drive-Up, Seniors Get to Walk the Stage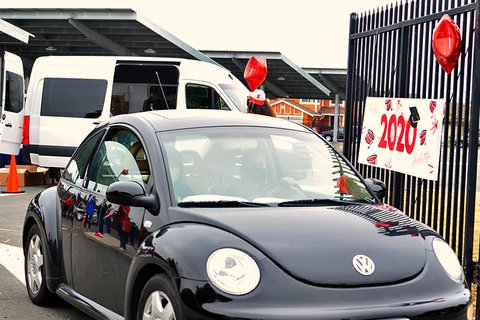 By Denis Perez-Bravo
High school graduation ceremonies in the West Contra Costa Unified School District (WCCUSD) will be car-based gatherings now that the Contra Costa Health Services has modified its shelter-in-place rules to allowed that type of event.
"This Order slightly modified provisions of the Shelter-In-Place Order to allow for certain Highly Regulated Vehicle-Based Gatherings," Contra Costa County Health Officer Chris Farnitano wrote.
For Richmond High, like other schools, cars will enter the campus and drive up, one-by-one, to an outdoor stage.
"They will pull the car up and only the graduate will be able to exit the car," Richmond High School assistant principal John Hillyer said.
Graduates will enter through the south parking lot entrance at 24th Street and Maricopa Avenue and pull up to the decorated stage outside the theater building. They will also have their pictures taken after receiving their diploma.
Richmond High has 285 planned graduates, Hillyer said. And Richmond's honorees are class president Ryan Saechao, salutatorian Sammy Sipaseuth, and valedictorian Miguel Moya.
But because the county's new regulations call for the celebrations to last no longer than three hours and limits the number of cars to 200, larger schools will have to break up their graduation ceremonies into two days.
Richmond High will have their ceremonies from 3 to 6 p.m. June and from 2 to 5 p.m. June 4.
"Small learning communities are good, so every hour we will have different academies graduating," Hillyer said.
That is about 50 students per hour graduating from their respective academies. The different academy groups at Richmond High include studies in media and communications, law, health, engineering, performing arts and English development.
And for the first time, WCCUSD will be working with a video production company to put together a graduation video to commemorate Class of 2020, WCCUSD superintendent Matthew Duffy wrote in an update letter.
Oakland-based media company, Kurieo, was the video company selected and is expected to release the video later in June.
Having this memory recorded is exciting for Kennedy High, principal Felicia Phillips said. She said there were so many events that were "flat out" cancelled for seniors, so this outdoor graduation ceremony is very memorable.
"We were under the impression the ceremony was going to be fully virtual, so we are happy that it is allowed to be car-based," Phillips said. "I know some kids will be completely juiced to walk the stage."