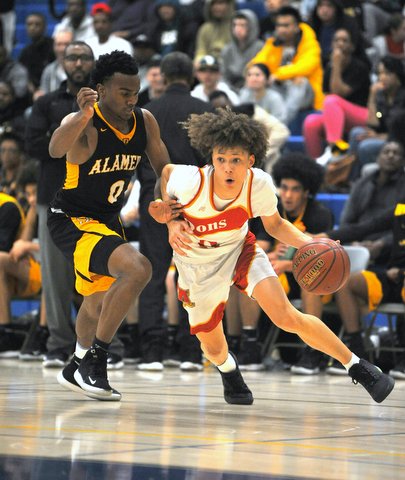 26 May

De Anza's Fagan Commits to College of Marin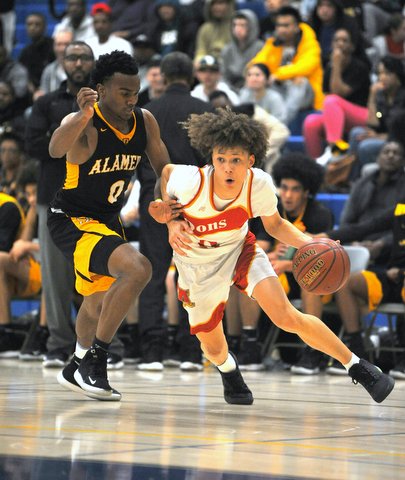 By Denis Perez-Bravo
Since he was seven years old, Daniel Fagan's ambitions have developed on a basketball court, starting on the Richmond's Bay Area Magic youth team.
Now, the graduating De Anza High senior will continue his passion for basketball at the College of Marin.
"It is too soon for me to know what my goals are, but the main thing I want to do is play well and move on to a four-year level," Fagan said.
The varsity guard was a key player in the history-making 2019-2020 North Coast Section (NCS) DII championship-winning team.
For Fagan, the NCS championship game against Alameda High was the most memorable moment in his high school career. De Anza won 47 to 44, and Fagan scored 15 of those points.
Those moments and all the training that came before in his high school and in the many Amateur Athletic Union (AAU) seasons have made him into a leader. He now sees an opportunity to progress and make more memories.
"To play college ball at any level is a blessing," Fagan said.
He knows that the California Community College Athletic Association (CCCAA) — the league College of Marin competes in — will be intense. But he is confident the program and coach Scott Tom will push him to successfully meet the challenge.
"I have past teammates that have played for him. They have progressed in their strengths, and I want to do that as well," Fagan said.
Through watching him play in competitive games, Tom knows Fagan has the three things a strong player needs: skill, feel, and motor.
Tom has seen Fagan play in NCS playoff games where his shooting, defensive, and handling skills demonstrated his mental prowess, knowing when to shoot, pass, or drive.
"Fagan's motor is always running," Tom said. "He always works hard, goes for the ball, rebounds, and mixes it up."
Fagan's weak point, though, is his physicality. At 6-feet, 1-inch and 145 pounds, he has to gain strength and around 15 pounds to be a top player in the CCCAA, Tom said.
But the coach is confident Fagan's work ethic will allow him to do so and, in turn, bring development and maturity to his game during his first year of college.
"I think one of the biggest things is the opportunity to play and get experience," Ton said. "You can drill and practice, but there's nothing like game experience."
Experience in competitive games is all Fagan knows, Bay Area Magic coach Rae Jackson said.
During those first years of his career, Jackson saw Fagan's talent and placed him with older kids. When Fagan was seven years old, Jackson placed him in the nine and under league. By nine, he was playing against 12 year olds.
Despite his physical strength not being up to par with the older kids, he was able to work around that by playing "sound" and being knowledgeable on the court.
"He understands the game and he has played for so long," Jackson said. "It is what has carried him."
Fagan played in Bay Area Magic from his elementary school up to his middle school years. In 7th grade, he began playing in Vallejo-based Team Rampage, another AAU team. He played with Team Rampage until the summer before his senior year.
At De Anza, Fagan played varsity all four years.
Both in his AAU and high school teams, Fagan's mentality has been passed on to his teammates, making him a leader on the court who can get his teammates involved in key moments and plays.
"I've always been like that, I grew up around older people and wanted to be big and bad," he said, "so that has helped and shaped me into who I am."