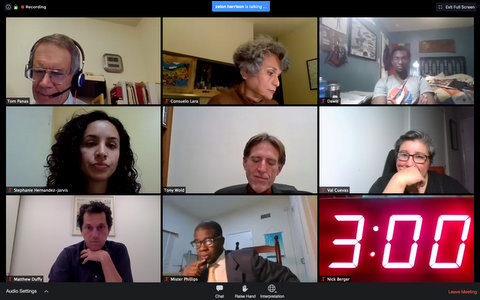 29 May

WCCUSD Board Approves Plan for Invictus, Talks Summer School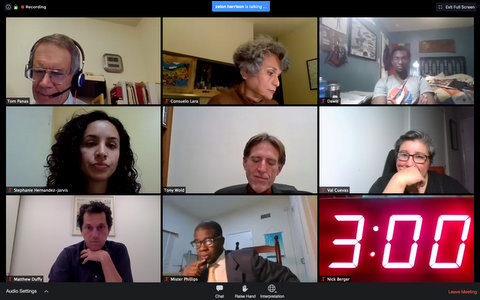 By Edward Booth
The West Contra Costa Board of Education on Wednesday approved a facilities use agreement with the Invictus Academy of Richmond, giving it more space at Juan Crespi Middle School, where both are located.
In addition, the board received a report on how summer school will operate this year in the wake of the coronavirus.
The board voted to approve the facilities use agreement 3-2, with boardmembers Consuelo Lara and Valerie Cuevas voting against. The board added to the agreement that Invictus, a charter school, would need to follow district COVID-19 guidelines — which haven't yet been decided — and that there'd be a stronger clause on dispute resolution.
The agreement leases several teaching spaces within Crespi to Invictus, and designates shared spaces, such as the parking lot and the gymnasium. Sharing locations between traditional public schools and charter schools is often a result of California's Prop. 39, which legally requires school districts to provide sufficient space to charter schools within their district. Voters passed it in the 2000 election.
The space is needed because Invictus, which plans to cover grades 7-12, projects enrollment to grow from 158 students this year to 280 next year, and 768 by 2025-26.
The board voted to add a stronger dispute resolution clause to the agreement because the co-location has proven contentious. Crespi parents and staff characterized Invictus students as disrespectful, and raised concerns about not having enough access to specific facilities like science labs, while Invictus parents and staff said that characterization was inaccurate and they hadn't seen any problems.
The clause in the original agreement is unspecific, said boardmember Mister Phillips, as it consists only of one sentence that says both parties agree to promptly resolve all disputes regarding the agreement.
Phillips said the item was not about whether Invictus is a good school or not, but that it was obvious there were issues between Invictus and Crespi on the campus. To solve this, he suggested the COVID-19 protocols and the updated dispute resolution.
"It is extremely clear to me that there are issues at the Crespi campus between the two schools, Phillips said. "It's obvious. I'm not there to witness firsthand who is right and who is wrong."
Boardmember Consuelo Lara said that the district was in a state of emergency right now because of COVID-19, and should halt the expansion of co-located schools while the pandemic lasts. She referred to a resolution passed by the board in February 2019 which asked for a moratorium on charter schools.
Cuevas said she wouldn't be voting for the motion because she was wary of the implications of the additional language, which were added without the oversight of a lawyer. She suggested the COVID-19 restrictions could potentially be used as a legal argument by Invictus for more expansion.
"I believe in strong language," Cuevas said. "What I don't want to do is have that become legal basis for Invictus to say 'give us more space.'"
The board also received an update on summer school, which will be carried out with distance learning, and the bulk of it will occur from June 15 to July 16, Monday through Thursday.
The programs that will be taking place include high school credit recovery, which is used to fill missing graduation requirements; an extended school year program for special education students with individualized education; and a newcomer program, which is for immigrant students who have lived in the country for less than two years.
To support the summer school program and further distance learning needs, the district will also purchase an additional 5,000 Chromebooks and 2,000 wireless hotspots, according to board documents. Purchasing the Chromebooks will cost the district roughly $2 million, while the hotspots will cost about $500,000.
Tracey Logan, chief technology officer of the district, said 3,500 Chromebooks would be used to fill access gaps for the district's students in kindergarten and preschool, while 1,500 would be used as replacements for broken or lost Chromebooks. She said the focus of acquiring the Chromebooks was to sustain student access to distance learning through the summer and into the next school year.