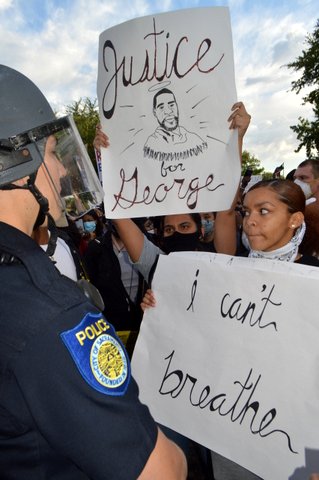 01 Jun

Mourning and Mayhem: California Reacts to the Brutal Killing of George Floyd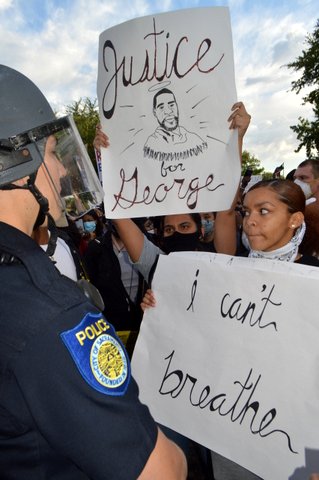 By Tanu Henry | California Black Media | Photo by Antonio Harvey
Protestors and pastors across California as well as angered citizens and politicians — including Gov. Gavin Newsom — have all responded to the violent death of an unarmed Black man in Minnesota.
George Floyd, 46, died in police custody after a White officer, Derek Chauvin, kneeled on his neck for nearly eight minutes during an arrest in Minneapolis on May 25. The cellphone video of the brutal killing has been shared tens of millions of times around the world. In it, Floyd can be heard pleading for help and letting the officers know that he was suffocating.
 "I can't breathe," Floyd cries out to the cops. He also called out for his mama.
 The California Legislative Black Caucus (CLBC) issued a statement after Floyd's death.
 "There were other officers who could have helped him but did not," read the CLBC statement. "They instead preferred to stand by and watch as their colleague killed an unarmed man. There were bystanders who wanted to help him but could not because of the uniforms, guns and badges that stood in the way"
Assemblymember Shirley Weber (D-San Diego), the chair of the CLBC, also took to Twitter to express her grief, horror and support for the victim's family.
 "George Floyd should be alive today," Weber tweeted. The members of CLBC, she told her followers, "stand with his family, the people of Minneapolis, and those speaking out in the name of justice."
Floyd was killed almost a year to the date that the California state Assembly passed AB 392 in May 2019. The bill Weber introduced and championed raised the bar for police officers to justify using lethal force in California. It took effect on Jan 1 this year.
 Across the country, days of fiery protest escalated into violent rioting in every major American city and in some smaller towns, too.
Here in California, the demonstrations have led to the death of a Black law enforcement professional, mass looting, arson, vandalism and billions of dollars in property loss. The protests got so violent and destructive in Los Angeles that Gov. Newsom has declared a state of emergency in all of  Los Angeles County after the city requested emergency aid for the state to activate and deploy the California National Guard.
Assemblymember Sydney Kamlager (D-Los Angeles), who attended a march in the L.A., tweeted, "There are no amount of hashtags or social media posts to remember the effects of the internalized trauma from experiencing repeated police brutality in America. I stand firm in the fight to decriminalize Blackness." 
In Oakland on Saturday, a gunman opened fire in front of the Ronald V. Dellums Federal building, killing a 53-year-old African American Federal Protective Services Officer who lived in Pinole on the north East Bay. Another officer, who is currently hospitalized, was also shot.
 "We are further saddened and outraged by this callous act of gun violence. This crime is under investigation," wrote U.S. Representative Barbara Lee (D-CA-13). "But we should never conflate the actions of murderers with the motives of protestors demanding justice."
 On Thursday, Gov. Newsom said he understood the raw emotion that sparked the protests.
"Over the last few days, we have seen millions of people lift their voices in anger, rightfully outraged at how systemic racism is allowed to persist," Newsom said. "Every single day, people of color are disadvantaged and discriminated against. Black and Latino men in particular face mortal danger all across this country simply because of their race. Every person who has raised their voice should be heard." 
The governor also condemned the violence that has sidelined the protests.
"In California and across the country, there are indications that violent actors may be attempting to use these protests for their own agendas," the governor said. "We are closely monitoring organizing by violent extremist organizations. To those who seek to exploit Californians' pain to sow chaos and destruction, you are not welcome."
Last week, the Rev. Shane Harris, President of the People's Alliance of Justice, attended a rally supporting Floyd's family in Minneapolis. Harris, who is an activist based in San Diego, joined the Rev. Al Sharpton and other activists and faith leaders from across the country.
"A Black man went to death row before he could ever get to court over an alleged nonviolent offense," Harris said. "The County DA's response to whether he's filing charges shows us he must have selective justice in his mind."
Senator Shannon Grove (R-Bakersfield), Minority Leader in the California Senate, says she empathizes with the outrage but called the riots "unacceptable".
"Today our state and country woke up with a mixture of emotions," said Grove. "We feel sadness and grief for George Floyd's family, and we feel anger and frustration with those who would use a tragic event to vandalize, loot, and destroy communities."
 In a solemn ceremony on Sunday afternoon, San Francisco Mayor London Breed took a knee with local leaders in the Mission district in the city. She called for justice and asked the protest organizers to remain true to the spirit of non-violence that underpins their activism.
"Your words mean nothing if your actions are something else," Breed advised. "Stop turning Black Lives Matter into a joke, because it's not. It's born out of pain, it's born out of disrespect and racism."