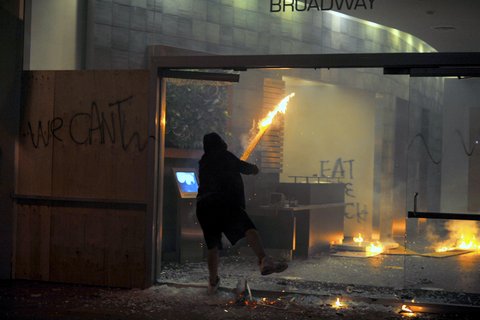 02 Jun

The Difference Between Protesting and Looting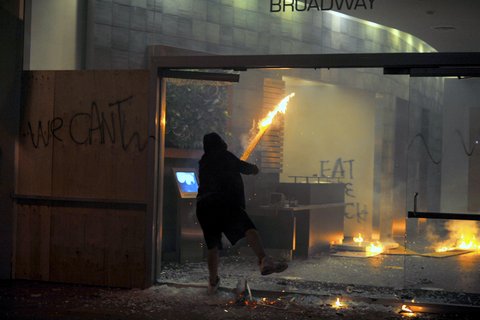 Violence against small businesses mars Oakland's protests, but the message of the Black Lives Matter movement must still be heard.
Commentary, Denis Perez-Bravo
The United States has reached a turning point as millions of people continue to protest police brutality toward its black citizens.
In Oakland Friday night, that message was sent as more than 8,000 people protested the murder of George Floyd at the hands of Minneapolis police officers.
Repercussions, however, followed the massive protest as different micro-riots broke out throughout the city with young men dressed in black destroying small businesses. It was an extension of the Black Bloc movement that uses anarchism to raise awareness of police brutality, corporate greed, and the oppression of civil liberty.
The tactic dates back to the European autonomist movement in the 1980s and gained media attention in 1999's Seattle World Trade Organization protest known as the "Battle of Seattle."
Black Bloc groups have flooded Oakland's downtown during large protests, including the 2011 Occupy Oakland and anti-Trump protests in 2016.
I have been covering protests in Oakland since 2015. I have seen some peaceful protests and some that were violent – yet always energetic – demonstrations. I've learned that any protest should be judged by its greatest contribution, not its worst.
After emigrating from Mexico in 2001 when I was 4-years-old, I grew up in West Oakland, attending Hoover Elementary and Westlake Middle School before my family moved to Richmond because of cheaper rent.
But Oakland has never been far away and remains the place I learned about social justice and activism from the Black Panthers, Dr. Martin Luther King Jr., and Malcolm X.
I know honoring George Floyd in Oakland plants a seed in the already fertile ground of young people hungry to participate in their first mass protest. It lays the groundwork to learn how to organize their community and get them politically engaged through social activism.
Activism is priceless and will save future lives because social awareness breeds open mindedness in the community and can change policies, too.
Friday, protesters blocked the I-880 Freeway. They shut down streets. Some clashed with police at 7th and Franklin and other intersections.
These protesters chanted Floyd's name while standing their ground, even while being tear-gassed by police. Floyd's life was celebrated by the solidarity of different races coming together to protest his death.
This is powerful to a young mind and can steer them toward a path of activism and social justice.
By 10 p.m., however, buildings were ablaze, as well as cars in dealerships and in the streets. The destruction could be seen as an attack on our capitalist structure, but the destruction of small businesses caused concern. Large corporations have exploited minority communities, but destroying their property is not the most efficient way of protesting.
The anarchism that Black Bloc uses does send a direct message to these corporations. Whether these individuals are middle-or-lower-class that shop or work there, the corporations know that the people will not take the exploitation anymore.
I respect that and think it is an acceptable way of protest, if can be organized as much, and it only affects big corporations.
But Friday night the looting was not solely concentrated on corporations. Many black activists and community members did not want violence, fires, or small businesses to be looted.
Protesters wanted to disrupt "fake" peace but not create violence. Protesting creates chaos but violence can overshadow the message – like the actions of those who used the cover of a protesting city to kill 53-year-old Federal Protective Services officer Patrick Underwood.
Instead, black people wanted to create a beautiful struggle that would connect them with the other minority communities in Oakland.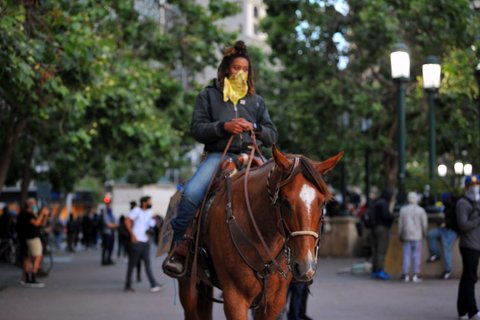 During the early hours of the rally, 25-year-old equestrian Brianna Noble from Oakland rode her horse, "Dapper Dan," around Oscar Grant Plaza carrying a sign that read, "Black Lives Matter."
"Why ride a horse out to a protest?" I asked.
"The message," she said.
She knew it was inevitable – even at 8 p.m. – what the later hours would likely bring.
But Noble said the image of a black person riding a horse with a sign could remind the media how the protest started. More importantly, she could do her part to make the name George Floyd bring forth a movement, not a moment.
Noble rode Dapper Dan as she marched with protesters. But when rioting and looting broke out, she rode back home.
Many videos posted to Twitter show black people trying to stop mostly white Black Bloc protesters from breaking windows and looting, fearing the blame would fall on them.
Sadly, as outsiders return to their homes, Oakland residents were left to pick up the broken glass of small businesses, each shard a tiny cut to the city's economic lifeline.
Jennifer Tran, a 32-year-old Oakland resident who works in the Vietnamese Chamber of Commerce in Chinatown, connected with her colleagues in the Asian community Saturday morning to see if and how they were hit.
They were hit.
Law enforcement had concentrated in downtown Oakland. As more people began wandering through the surrounding area, small groups looted in Chinatown where they was little – if any – law enforcement. With dark streets and a riot blocks away, many small businesses in the Asian community were targets.
Tran saw Friday as a perfect storm because of months of sheltering-in-place. People just wanted to be out and hang out with friends. And they took this protest to do so.
"It was like a First Friday," she said, referring to the monthly five-block street festival in downtown Oakland.
Tran walked with the protesters, but returned to be with her partner, Nenna Joiner, founder of Feelmore Adult Gallery, at her shop to prevent looting. She stayed until 3 a.m. even after police tear-gassed near the shop.
For many Oakland residents, the protests need to continue because the Black Lives Matter movement's message must be spread.
And with continued protests, including an estimated 15,000 people walking from Oakland Tech to downtown on Monday, Oakland is close to doing it big and doing it right.
And the rest of the country will see that. I know it.