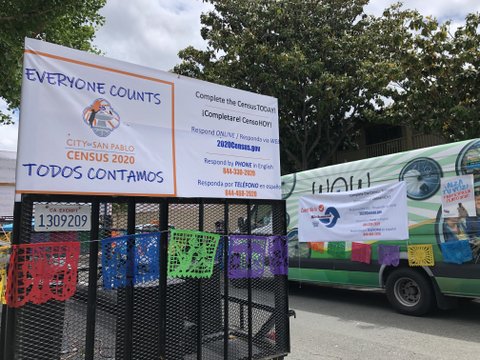 04 Jun

Caravan Promotes Census Participation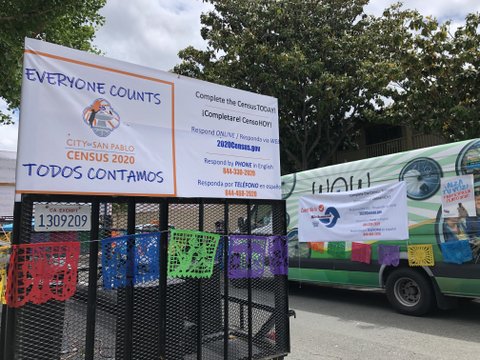 By Maria Bernal
The "Censo de Mayo" caravan rolled through the streets of Richmond and San Pablo Saturday a line of brightly decorated cars that were part of efforts to encourage residents to fill out 2020 U.S. Census forms.
The caravan was meant as a visible reminder for people in hard-to-count areas, those who feel they can't make a difference, and anyone who has not yet filled out a census form to do so – especially people in the Spanish-speaking community.
Outreach groups had planned to work during the Cinco de Mayo festival to reach residents in-person. But the coronavirus pandemic forced those efforts online which made getting an accurate count of people without Internet access a problem.
The caravan began at San Pablo City Hall in the morning. Cars were decorated with papel picado – artisanal sheets of bright tissue paper used traditionally in Mexican culture – along with posters explaining about the census. Caravan participants were encouraged to follow social distancing guidelines and use protective equipment.
Darlene Drapkin, a specialist with the U.S Census, rode her bicycle alongside the caravan.
"Nada que temer, mucho que ganar (Nothing to fear, so much to gain)," Drapkin said. "A lot of the programs that benefit our community — such as the food bank programs, school programs, school lunches, schools, hospitals, WIC — all of those programs are based on Census data."
Census officials say they want a complete count of residents, and that an undercount can have negative effects on the community.
"If the numbers aren't there, and our community is living in the shadows, then the numbers are going to say 'Oh, this community doesn't need these programs as much,'" Drapkin said.
Every person —regardless of age, documentation status, nationality, and location — should be counted in the census, including members of the Latino and African American communities. Drapkin says every uncounted person costs the area about $2,000 per person in lost aid.
Even if people are distrustful of the government, census workers insist personal information is protected under federal law. Title 13 (Section 9 and 214) of the United States Code specifically protects the private information of the census from being published or being used against applicants by the government or courts. Anyone convicted of violating this code can be sentenced to serve time in federal prison.
"We do ask the name, and we do ask the date of birth, but that's as an identifier," Drapkin said. "But the data will not be shared with Homeland Security," Drapkin said. "It's not going to be shared with a landlord. It's not going to be shared with a parole officer."
San Pablo Mayor Arturo Cruz says his city is protecting the rights of all residents.
"Especially the undocumented, too. They shouldn't fear participating in our Census 2020 because this has nothing to do with immigration," he said. "They need to participate also because they live here and they go to school here and work here."
Led by a San Pablo police officer and followed at the rear by a San Pablo fire truck, the caravan made its way through San Pablo Old Town and on to Richmond's Iron Triangle, North Richmond, and Southside neighborhoods.
The route ended at Richmond City Hall where Richmond Mayor Tom Butt, Cruz, Contra Costa County Supervisor John Gioia, and Richmond High Principal Jose de Leon all spoke about the importance of being counted in the Census.
"We have a lot of beautiful projects in the making right now, thanks to the funding. We are asking you to participate," Cruz said. "Those programs and projects that we have create jobs and help the local economy, too. Please participate in the Census 2020 and do your part."
The census form is available in 12 languages and can be completed online, by phone, or mail. Oct. 31 is the last day for households to respond by turning in the form.
Anyone who has questions or concerns about the Census 2020 can call 844-330-2020 to ask questions in English and 844-468-2020 for Spanish. Information is also available at 2020Census.gov.