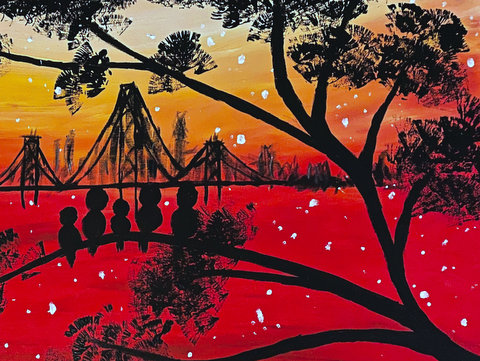 09 Jun

"Don't Let Us Disappear" – Youth Contest Winners Urge San Francisco Parents to Fill Out Census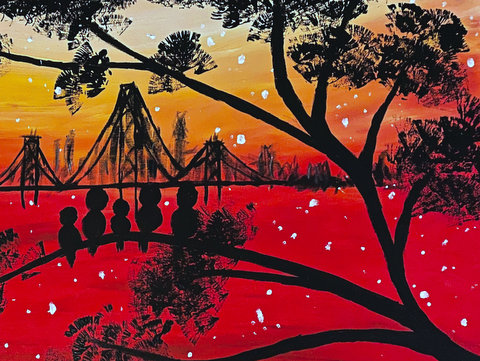 Above: "Red Painting With Birds" by Angelo Gerard Ubas
By Sunita Sohrabji and Sandy Close
At a time when San Francisco lags behind the statewide average in census response rates, youth artists and writers have a special message for those who have not yet filled out their forms: "Don't let us disappear."
The young people spoke at a June 3 virtual awards celebration honoring winners of a census contest for 14-21 year olds dubbed "Why My Family Counts." The contest drew over 100 contestants working in several mediums, including watercolor, charcoal and pencil sketches, as well as poetry, essay, spoken word and video. The contest was designed to engage youth in the process of ensuring an accurate census count.
The celebration opened with a panel of civic leaders and census experts who drew direct connections between young people insisting on being counted and nationwide protests over racist violence.
"Our communities of color and particularly our black community are in pain," noted Adrienne Pon, director of the Office of Civic Engagement and Community Affairs, which sponsored the contest. "Today's event is about more than an art contest. It's about celebrating the voices and creativity of our youth who choose to express themselves … in ways that give us reasons to hope that tomorrow will be a better day, that black lives matter, that we ALL count."
Currently, San Francisco has a response rate of 58% compared with the state average of 61%. The Bay Area overall has a 68% response rate. Last week, the county hit a plateau, registering an increase of only 1%, noted Robert Clinton, OCEIA's project manager for the 2020 census. Clinton noted that tracts of the city which reported high rates of COVID-19 infections also had low census participation rates, as did neighborhoods with the lowest income levels.
Clinton said that the census "is one of the many tools that our federal government has to make us seen as a people but also to erase us as a people." He referenced the long lengths of time people wait on the phone to reach a census operator as well as limited language options.
"The language of the census doesn't really make a whole lot of sense to people who are limited English proficient, who are under educated or who have been marginalized in many other ways," Clinton said.
Stephanie Kim, director of United Way Bay Area, described the census as a tool of empowerment that "gives communities a say in who leads the political institutions that have the power to protect or to harm us.
"Our communities deserve to thrive, not just survive. The same racism that permeates our justice system and sanctions police brutality also has robbed many black communities of the resources they need and deserve," said Kim.
David Tucker, a census expert with the state complete count committee, pointed out that since 1980 California's black population has had a below average participation rate. "We need to use this opportunity that we are under siege for social injustice to speak out. While I know we are getting exhausted, I am encouraged and excited by the messages you are sending out to your families and friends. The census is the thread that binds us all."
Sonny Le, a specialist with the Census Bureau, announced that it wants to activate youth leaders who could become census enumerators in their own communities. Le, who grew up as a refugee from Vietnam in a Tenderloin apartment with three other families, noted that, "For me, the census is personal. Some of my relatives are still facing the same problems of access and services I did in the 1980s."
Youth speakers followed the census advocates with personal stories echoing the importance of the census as a tool of visibility and empowerment.
Angelo Gerard Ubas, 14, said, "I painted a family of birds standing on a tree branch looking at the city skyline which was blurry. I know the census doesn't count animals … but the census will sharpen the image of the city, of who lives here, and help government know what they have to do to improve."
Maygie Li, 21, said her family emigrated from China and moved to Montana where her grandparents helped build the railway. She is currently a student at California College of Arts. In drawing the face of a woman etched against a map of Native lands in Montana, she aimed to uplift an invisible population and show "how we are all connected and need to be counted."
Elijah Ladeki, 18, recited his poem titled "Counted Out," which he wrote "as an opportunity to help my community." The poem describes "all my life" living in housing projects. "I will look at my single mother and wonder why she is stressed/I can't miss out trying to give us a mention/It's been way too long putting our rights on layaway."
Jesse Martin, 15, shared his video of a Thanksgiving meal celebrating his large family, which he calls "a mix of different ethnicities which are the foundation of San Francisco. If we don't get counted, we get silenced."
Bobbi Brown, 21, recited her tribute to the 2010 census: "No one should disappear/Everyone should count/community and fear/that out/2020 Census include all of mine …"
For full texts and paintings by these and other winners, please go to https://ethnicmediaservices.org/myfamilycounts/