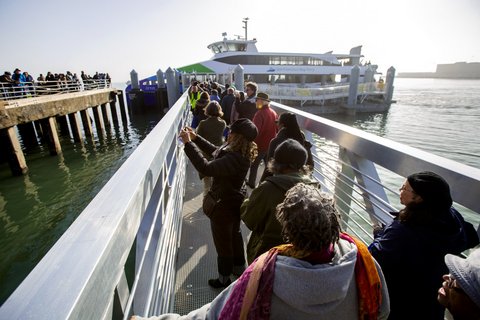 10 Jun

Richmond Ferry Services Set to Return Next Week

By Edward Booth

Richmond Ferry services will resume June 15, with added safety measures, after being suspended for about three months because of the coronavirus.

The reopening was announced today by the San Francisco Bay Area Water Emergency Transportation Authority, which also announced that the Vallejo ferry route will be doubling its service. Once it reopens, the Richmond Ferry is scheduled to operate at key commuting times, with three morning trips and two evening trips westbound from Richmond to San Francisco, and two morning and three evening trips the other way.

 "Our focus right now is helping the Bay Area get to work," said Thomas Hall, a spokesperson for WETA.

Additional safety measures include required face coverings, enhanced cleaning of ferries, social distancing, hand sanitizer availability, healthy crews and touchless payment, according to a press release.

 More specifically, these health measures mean the ferries and terminals will be cleaned regularly with coronavirus-killing products, a maximum capacity for passengers will be enacted, and hand sanitizer and clean bathrooms will be available to passengers. Ferry crew members will also have their temperatures checked before work and will be provided with protective clothing, according to the press release.

 Hall said ferry crews will clean frequently touched surfaces, including tray tables and seat backs, after each trip, and the entire ferry will be deep cleaned each day. Extra time for this cleaning has been built into the ferry schedule.

Hall also said seats will be marked off with a yellow ribbon for social distancing, though families and people from the same household can still sit together.  

"WETA's safety plan is geared toward protecting passengers and crews while helping as many commuters as possible avoid the traffic congestion that's already beginning to return," said Jim Wunderman, chair of the WETA board of directors, in the press release.

Ferry services were suspended March 17 because of the shelter-in place-order issued by six Bay Area counties. Since its opening in January last year, the ferry has carried more than 100,000 commuters, with 95% of them using the ferry instead of crossing the Bay Bridge, according to the Richmond city website.