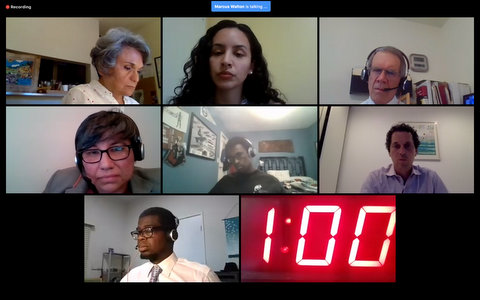 12 Jun

WCCUSD Cuts School Resource Officers, Invests in Black Students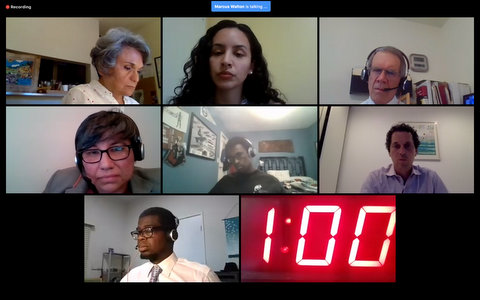 By Edward Booth
The West Contra Costa Board of Education voted unanimously Wednesday to eliminate contracts with law enforcement for school resource officers and to invest the $1.5 million formerly budgeted to pay those officers into a fund to help Black students.
The clause suspending the officers was added by boardmember Valerie Cuevas to a resolution condemning police violence and brutality against Black people and other people of color. Specifically, the resolution condemns the recent killings of Ahmaud Arbery, Breonna Taylor and George Floyd, and asks cities within the district, and Contra Costa County, to end militarized policing practices.
For roughly an hour and a half, public commenters called on the district to get rid of school resource officers. In response, Cuevas added to the resolution that until systemic issues with policing are adequately addressed by the local cities, the district would no longer contract with police departments for SROs.
"Until those [law enforcement] institutions as a whole address where they fall short, I don't believe those institutions belong on our campuses," Cuevas said.
Before Cuevas made her motion, public commenters suggested that the district wasn't doing enough to combat the effects of policing and racism at their schools, and proposed that the board take action by eliminating SROs and using those funds for programs that would benefit students. Commenters shared their negative experiences with police at schools, and some criticized a lack of support from the district for Black educators.
Yolanda Vierra-Allen said the resolution was appreciated, but the African American Site Advisory Team, which she helps lead, had been asking for it for years. She also said passing a resolution is one thing, but institutional racism gets in the way of applying it.
"Passing a resolution is really easy, as we have seen. Getting a resolution implemented is the difficulty," Vierra-Allen said. "And institutional racism is the barrier to getting it enacted. Please, let's fix that."
Cuevas said she didn't need to see the video of Floyd's killing to know that the presence of armed police officers is detrimental to the healthy development of Black and Latino youths. She said that institutions not addressing systemic issues can lead to militarized police practices in schools and that she was done not putting teeth behind the board's efforts to address the resulting damage.
The rest of the board agreed with Cuevas.
Boardmember Tom Panas said the district couldn't continue to operate as it had in the past. It needs, he continued, to fundamentally realign its systems to give underserved communities what they need to thrive.
He said the district had everything to gain and nothing to lose from closing the school to prison pipeline, that it should operate with an anti-racist lens with everything it does, and it needs to take action immediately.
Board president Stephanie Hernández-Jarvis said she didn't want to promote and perpetuate an imbalance of power, which she said the officer system inherently is. She said the board is entrusted with education, not incarceration, adding that the entire policing system needs an overhaul, not just a small reform.
"When you have police officers on campus, no matter the title, that sends a message that there's a clear imbalance of power," Hernández-Jarvis said.
She also called for additional mental health support and an anti-racist educational framework. She said racism and colorism were clearly present not just in policing, but in the district's educational system as well, and the district needed to work to center the voices of Black students and their families.
Boardmember Consuelo Lara said she was 100 percent in favor of ending contracts with police departments. She said the district had programs that needed support and could better use the funds to support school communities.
Boardmember Mister Phillips motioned to approve the district budget, and that the 1.5 million gained from eliminating SROs go to the Practices for African American Student Support & Services budget, which the board approved unanimously.
Phillips suggested that Superintendent Matthew Duffy work as soon as possible to figure out what safety without SROs looks like in district schools.
"When they do reopen, obviously we have to have a plan and we're going to have to do things differently," Phillips said. "I know it's a short window of time, and you probably weren't expecting this, but you guys got to put together a plan, like yesterday."
Correction: A previous version of this article misstated that the board didn't pass a final budget on Wednesday. In fact, the board did approve a budget.