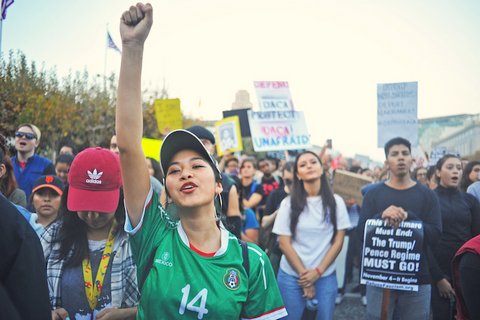 18 Jun

SCOTUS Ruling Gives DACA Recipients a Night of Restful Sleep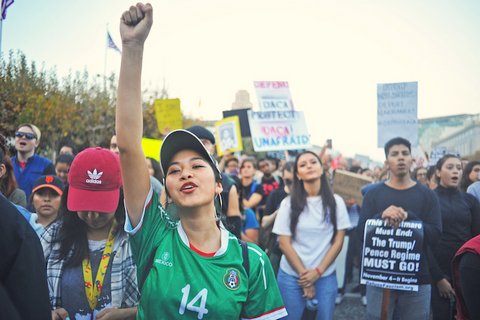 Tonatich Beltran raises her fist in the air as she listens to a speaker during a protest against the phasing out of Deferred Action for Childhood Arrivals program at City Hall in San Francisco in September 2017.  (Denis Perez-Bravo / Richmond Pulse)
Commentary, Anonymous
Editor's Note: A young woman reacts to the Supreme Court's decision Thursday on Deferred Action for Childhood Arrivals, writing for Richmond Pulse about what the ruling means to her. Because of her immigration status, we are withholding her name to protect her privacy.
The U.S. Supreme Court has ruled 5-4 against the Trump administration's efforts to end Deferred Action for Childhood Arrivals, bringing relief to many young immigrants, such as myself, known as "Dreamers."
The DACA program protects recipients — who were brought into the U.S. illegally as children — from deportation and provides us with work authorization. But it is not a direct path to citizenship.
The Trump administration announced on Sept. 5, 2017, that it was ending DACA, which was enacted via executive order by President Obama in 2012. Ever since, many of us have dealt with nail-biting anxiety and sleepless nights caused by the threat of deportation hanging over our heads.
As the COVID-19 pandemic affected court proceedings, not knowing when the Supreme Court justices would make their decision made recipients like me feel a lot of unease.
Current events, especially the George Floyd protests, have been hard to ignore, but agents for Customs and Border Protection and Immigration and Customs Enforcement have been present at demonstrations, putting activists like me in a frustrating situation.
I am being pulled in two directions: I want to support Americans' rights, but then I realize I don't have those same rights as a DACA recipient. I was raised American, but the identity I have for myself means nothing in court or to the private detention centers that profit off of people like me.
One ICE detention center in California has allegedly been spraying the disinfectant HDQ neutral over detained immigrants in unventilated facilities, causing them to bleed internally.
It is unclear what the process would look like if DACA recipients were to get deported. But it is reasonable to fear that we and our families can be sent to detention centers where people go missing, get sick, and die.
The support from our allies has kept us afloat, but it was only with the Supreme Court's decision on Thursday that we found relief to our deportation concerns.
Chief Justice John Roberts joined the more liberal justices Ruth Bader Ginsburg, Stephen Breyer, Elena Kagan and Sonia Sotomayor in ruling that it was reckless and unreasonable for President Trump to end the program because the administration failed to demonstrate adequate legal reasoning. The most conservative justices, Samuel Alito, Brett Kavanaugh, Neil Gorsuch and Clarence Thomas, dissented.
The decision returns the program to its original mandate from 2012 that permits current DACA recipients to renew their status and allows new applications to be accepted.
Financially strained families have worried about their children being deported if DACA protections were lifted. This ruling was a much needed piece of good news during the pandemic, especially with DACA recipients potentially eligible for a federal stimulus payment but not other federal coronavirus aid.
The decision was a defeat for President Trump, whose campaign promises included the termination of DACA. But it's a temporary win for the immigrant community, which has been pushed further into the shadows since the last presidential election.
The decision does not legally preserve DACA, and the Trump administration has hinted it will pursue other avenues to end the program for 700,000 young immigrants. Trump tweeted following the decision, "As President of the United States, I am asking for a legal solution on DACA, not a political one, consistent with the rule of law. The Supreme Court is not willing to give us one, so now we have to start this process all over again".
Until the Trump administration reveals its next actions against DACA, Dreamers can have a restful sleep.