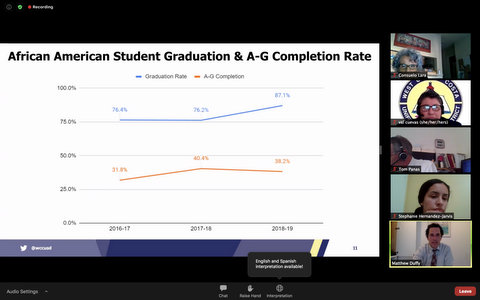 06 Jul

WCCUSD Board Talks Efforts to Improve Black Student Achievement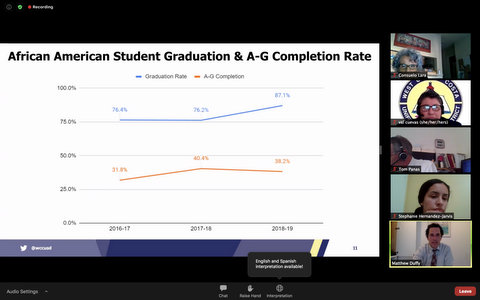 By Edward Booth
On June 30, the West Contra Costa Board of Education received an update from Superintendent Matthew Duffy on Black student achievement in the West Contra Costa School District.
Duffy kicked off his presentation by summarizing efforts made by the district to improve the learning experience and performance of Black students, which has historically lagged behind that of other racial groups. Duffy said district efforts over the last five years have resulted in a better school climate and higher graduation rates for Black students, yet Black students continue to trail their peers in performance.
"Growth has been made in school climate and high school graduation, but academic scores and attendance continue to be significant issues for the district," Duffy said.
About 15% of the 29,000 students in the district are Black, and the graduation rate for Black students grew from 76.4% to 87.1% from the 2016-17 to 2018-19 school years, according to the presentation. The A-G completion rate for Black Students — which refers to a series of classes that students must complete to be eligible for admission to the University of California and California State University systems — improved from 31.8% to 38.2% over the same period.
Among district Black students, Smarter Balanced Assessment Consortium scores, which measure student mastery of Common Core standards, also landed below that of other racial groups. In the 2018-19 school year, only 17% of Black male students and 24% of Black female students, of 2,143 total, performed at or beyond how they're expected to perform on the English Language Arts SBAC test, according to the presentation. For the Math test, only 10% of Black male students and 11% of female students, out of 2,130, met or exceeded the requirements.
District white students, in comparison, met or exceeded the ELA test requirements around 60% of the time, and met or exceeded the math requirements about 50%, according to the presentation. SBAC data for this year isn't available because the exams weren't administered, said Duffy.
According to the presentation, there are 166 Black teachers in the district, adding up to 11.4% of district teachers. Out of 56 district schools, nine have zero Black teachers, and nine have only one, said Duffy.
Duffy also talked about areas where Black students have improved, and areas where the district is continuing to put effort in. He elaborated on successes at Nystrom Elementary and the Kennedy family of schools, and talked about various initiatives and programs that have helped Black students, such as the UC Berkeley TRIO programs and the Rising Scholars program.
Thanks to efforts to create a positive school climate, the suspension rate for Black students fell from 14.7% in the 2015-16 school year to 12.9% in 2018-19, according to the presentation. Black students remain the only racial group with suspension rate higher than 10%, and most racial groups have a suspension rate of less than 5%.
The district had committed to putting $7 million into the Practices for African American Student Support & Services budget because of a resolution in January, but with state budget cuts, the district is now aiming to commit $6.2 to $6.8 million. The district has so far invested $5.6 million, Duffy said.
In terms of where the district is heading, Duffy said the core classroom experience must change for the majority of Black students, as that's where the most struggles are emanating from. Much of the PAASS budget in the 2020-21 school year will be focused on academic tutoring and mental health support, according to the presentation.
Additionally, the district is in the process of hiring a new director of African American student achievement and defining the goals of that position. The district is also looking to organize ethnic studies courses for all high schools, according to the presentation.
Martine Blake, director of family and community engagement for the district, said the district should find a way to incorporate student voices into its plans. She said the district had gained incredible insight from listening to parents, and it could gain even more from students.
"Our parents have even adopted a motto: 'nothing for us, without us,' " Blake said. "I think that same sentiment extends to our students, and that we're missing an opportunity by not embedding their voice in this process."
Student board member Dawit Vasquez-Suomala asked Duffy to explain why the African American SBAC scores were worse each year, and how things would be any different moving forward. He suggested an entirely new approach, one aspect of which would involve trusting African American students to take the lead on educating other African Americans.
"This whole topic is really frustrating to me," Vasquez-Suomala said. "What it seems to me right now is that nothing we're doing right now is helping or working, so why are we doing the same thing over and over again?"
Duffy and several board members agreed with Vasquez-Suomala and Blake about incorporating student voices. Duffy said Vasquez-Suomala shouldn't focus only on the SBAC scores, that there were plenty of efforts going on that weren't represented by those scores, but there's still plenty of work to do.
Board president Stephanie Hernández-Jarvis said she wanted to see the outcomes for students using the programs touted by Duffy, and to look further at the programs so they could expand what works. She said the district had identified a lot it needed to make plans for, but needed to redouble its efforts to focus on making those plans.
"We really have to focus on the things we can change and that we can no longer accept," Hernández-Jarvis said, "like having anti-racist classroom management policies."
Board member Consuelo Lara said the true problem was deeply systemic racism that courses throughout society. Many of the presented interventions were great, she said, but the real work was to identify structural policies that perpetuate systemic racism.
Board member Valerie Cuevas said part of the issue was what the district was willing to sacrifice and prioritize with the money it has. She said the district, though it has good intentions, hasn't been ready to have that conversation in the last five to 10 years.
"Until we start talking about what we're willing to sacrifice and what folks are willing to give up, then we're going to keep coming back to the same place," Cuevas said.
Board member Mister Phillips took issue with Black student graduation rates going up while scores aren't. He said what the district was effectively doing was graduating more students who weren't ready for higher education or the workforce, which, he said, has long been a problem in urban school districts.
"What happens to children when they graduate and they're not college or career ready?" Phillips said.
Phillips criticized Duffy's presentation for featuring many programs that weren't specifically meant to help African American students.
He also disapproved of the focus on trauma in many programs because he said overuse of the word "trauma" can, he said, be used as an excuse for failures to educate Black students. The use of "trauma" can make people think of Black students as "broken" and unable to learn, Phillips said, allowing educators to think they're off the hook for the students' performance.
Phillips added that if he had the choice between students leaving with either academic preparedness or resolved social or emotional issues, he would pick academic preparedness. He said he wanted them to be able to leave the district and get good jobs to take care of themselves and their families. If they're unable to do that, Phillips said, it creates a new level of trauma.
"I'm not saying that trauma is not real," Phillips said. "But our primary goal is to teach these kids so they can get out of our district and take care of themselves."