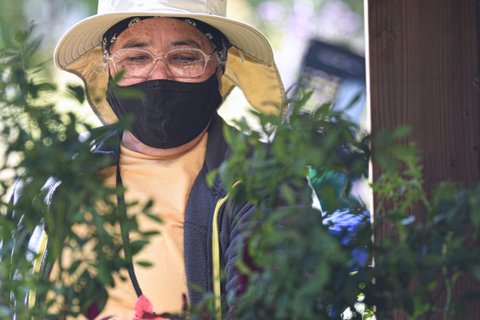 30 Jul

Lifelong Nature Lover Finds Passion at Verde Garden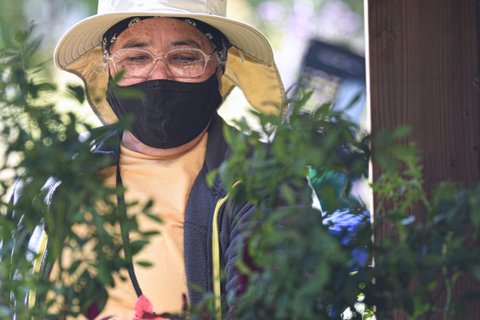 (Photos by Denis Perez-Bravo / Richmond Pulse)
By Denis Perez-Bravo
Bienvenida Meza found a taste of home as an instructor at North Richmond's Verde Elementary School garden after a long journey from her home country of Honduras.
"Nature brings me joy," said the 63-year-old Richmond resident.
Meza has been planting, growing and harvesting while educating kids about nature at Verde Partnership Garden for 18 years. She has also raised caterpillars into butterflies yearly for different classes in the school. Even without classes in session, she has had butterflies cocooning in her home.
Meza grew up surrounded by nature. Back when she lived in Nueva Armenia, Honduras, in the '60s, agriculture was the way of life for her parents and grandparents.
"My grandmother would pick seeds and make soup out of it. My dad would grow beans, maize and sorghum," she said.
In Honduras, Meza attended to animals more than she gardened, but she would regularly pick fruits from her family's lush garden.
By 21, she married and moved to Honduras' capital, Tegucigalpa, where she lived for nine years. In that time, she had three kids: Katya, Carlos, and Hector.
But Meza said city life was hard to adjust to because she missed rural life in Nueva Armenia, where fruits, vegetables and animals were not simply bought but raised.
In the 1980s, her husband claimed asylum and qualified for refugee status in the United States. After finishing the immigration process, he moved to Pinole where he lived and worked at Gables Motel. He returned to Honduras in the late 1980s when Meza and their three children were allowed to come to the U.S. through a land port of entry.
By that time, Meza was in her 30s and had moved back to Nueva Armenia. At first, she did not want to come to the U.S., she said. A land journey would mean she would have to make the 2,300 mile trek with her three kids to the U.S. border. She dared not to think of leaving the kids in Honduras, either. She knew she had to stay with her children.
Influenced by family, she made a last-minute decision at her husband's send-off during his last day in Honduras to emigrate as a family. They traveled north through Honduras, Guatemala and Mexico, before rooting themselves in Northern California.
The family came to Pinole where Meza worked at the Gables Motel with her husband. She would water the plants and do other groundskeeping jobs and remembers working with roses, marigolds and succulents.
Meza's family continued to grow, and during her first years in the U.S., she became pregnant with her fourth child, Francisco, and then with her youngest, David.
The Meza family moved around, looking for a place to settle down, and found a home to rent in North Richmond in the 1990s.
Her children eventually began attending Verde Elementary. Meza volunteered at the school to be closer to them and began taking English as a Second Language classes there so she could help them with their homework.
At the time, a group of Asian women, who took separate ESL classes at Verde, had set up a garden. Meza took interest and signed up to volunteer because she understood the value the garden served the community, and she wanted to show children the importance of nature.
"Kids learn about plants and learn how to grow and cook their own food," she said.
That's why, when Meza teaches children about all the different green life at Verde, she becomes an "encyclopedia," her son, Francisco, now 30, said.
He remembers seeing his mother constantly educate herself.
"She spent a lot of time buying books and researching," Francisco said.
Book after book, Bienvenida Meza would dive into different aspects of plants, animals, trees and more. And that is good, her son said, because her knowledge about nature is needed in North Richmond.
"She is important because she is good with the 'bad' kids," Francisco said.
Education can fail kids who don't fit well in traditional schooling. Some kids need to move around and be out in the open, Francisco said.
Growing up in North Richmond, children don't have a lot of safe spaces to express themselves, and Francisco said the garden has been therapy for them.
Francisco has been working in the garden since elementary school. Today, he continues to find value in volunteering at Verde. He said instructors like his mother use the garden to interact with the children in North Richmond and give them a paradise to work in.
The Verde Partnership Garden is currently operated under the nonprofit Urban Tilth and has been funded by many programs. Bienvenida Meza said the garden serves as a learning space but also provides food for the community through giveaway programs at the school.
Currently, she works the garden less than usual. On a normal schedule, she would work eight hours Monday through Friday.
Meza hopes to continue teaching at Verde until the foreseeable future, as the garden has become an oasis that she has invested decades in and has produced so many memories.
"I'm happy that I saw kids grow up in the garden whose parents I also taught," she said.