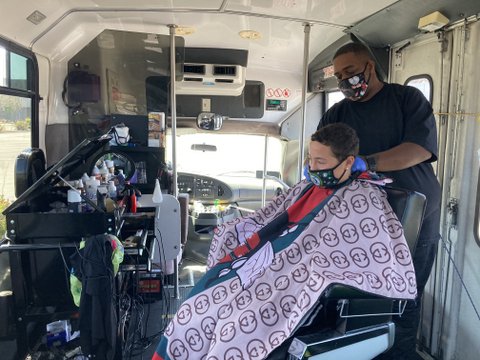 05 Aug

A Barber Revolution Starts With a Bus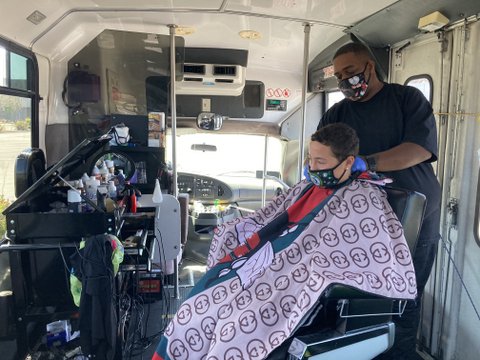 Barber James Miggins opened Lé Tour de Fade, a barbershop on a bus, partly in response to the pandemic. (Joel Umanzor Jr. / Richmond Pulse)
By Joel Umanzor Jr.
Since the closing of many "nonessential" West County businesses in March, one of the most impacted industries has been hairdressing and grooming.
On July 29, the California Department of Public Health released safety protocols for hair salons and barbershops to begin operation again. Yet, after almost five months of closures, the landscape has changed for many stylists and barbers.
James Miggins is one of many barbers who has had to adapt to COVID-19 and has done so by converting a 23-foot minibus into his own personal, mobile barber chair, called Lé Tour de Fade, in response to the health department order that indoor shops remain closed.
"The only thing they said we could do was work outside," Miggins said. "But how many people are actually going to have the setup to work outside? Everybody doesn't have a big parking lot. Everybody doesn't have a back area. You can't just say, 'Go work outside,' because it isn't that easy."
Miggins, known around the barbering community as Boo Billions, said COVID-19 has forced many in the hairstyling industry to reconsider certain norms, which has pushed him to try to develop new practices.
"I have a feeling that I can revolutionize barbering," Miggins said. "I don't think barbering will be back in the building. I just feel bad for people who have shops right now, because you're stuck. I feel that the old traditional barbershop is dead, and nobody wants to be in a cooped up building."
According to Miggins, although there had already been signs that the industry was moving awy from the traditional barbershop and salon settings to a more individualistic business approach, COVID-19 greatly magnified these changes.
"There were many things pointing to handling your business by yourself," he said. "All that having four, five barbers is over. I had said this before corona even came — 'I think barber shops are going to die' — because there are too many people you have to worry about."
Miggins has developed Lé Tour de Fade over the last five months in light of these industry and health changes. Around the end of last year, he was at a crossroads with barbering just before the pandemic struck.
"I ended up closing my shop down, me and my business partners, who had a shop in Pinole," Miggins said. "Everybody wanted to go their own way, and so around November, December I was kind of bouncing around. I was losing my mind, tell you the truth, because I didn't know where I was going to go."
Miggins said he was in unfamiliar territory because it was the first time since he became a barber that he had nowhere to cut hair.
"At this point in time, Pinole was my only source and where I had built all my clientele from," he said. "Everybody from the surrounding areas always came there, and they relied on me. It was hard on me because I felt like I was letting my people down."
It was during this time that Miggins said he felt as if he needed to step away from barbering and entrepreneurship and was actively looking into other ventures and career changes.
But motivating words from those close to him were what kept him afloat and his passion alive. Born and raised in Vallejo, Miggins recounted speaking with his cousin, Earl "E-40" Stevens, asking his successful family member for a job opportunity.
"I called him and I asked him for a job. I said, 'Cuz, I'm tired of this barbering, and I'm ready to do something different,' " Miggins said. "He laughed at me and said, 'Nah, I can't give you a job. You're the biggest entrepreneur I know. You can't work with anybody,' and I think that was the point where I sucked up everything, all my wounds, and I just got back and went for it. Then I bought the bus."
Through some local searches and networking, Miggins was able to locate an older Black owner of a local transportation company and was able to take advantage of a law requiring that industry to acquire newer buses every five years.
"He had a lot of buses just sitting there and he gave me a great deal on one because he wanted to see a young businessman succeed," Miggins said. "Everything has been a blessing. Every step of this has been a blessing. It's been from nothing to something."
Miggins attributed his sustainability during this new venture to his visibility within and engaging of the community. He said that is because of his relationship with his customers, including the majority of the merchandise he sells.
"These are all my customer's hustles. They just want me to help them get up," he said. "It's all part of just working with your customers, becoming a family."
Having been on the road for just over a month with his blue bus, Miggins has gone from Vallejo to as far south as Oakland to service various communities around Solano, Contra Costa and Alameda counties. He says his goal is to eventually get back to familiar ground.
"I think one of my biggest dreams with even having this bus is going back to where I started the 'House of Blends' up there in Pinole off of Fitzgerald Drive and parking right there," Miggins said. "Getting the business back with no overhead because I had a solid base right there."