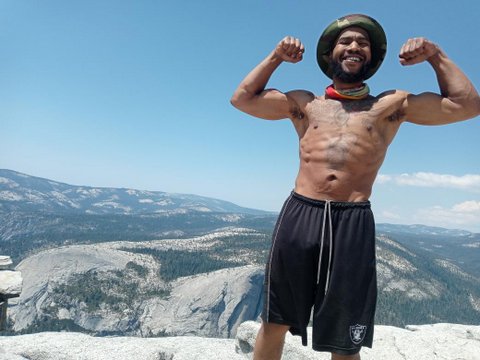 20 Aug

Climbing Half Dome Mountain, 'It Was Just Me and the Sky'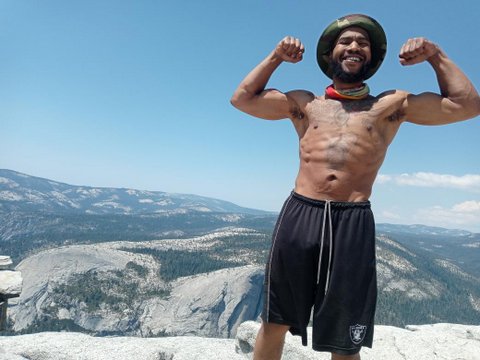 "You know how many people use the metaphor of being on top of the mountain? Well, I have actually been on top of the mountain," said personal trainer Evan Francis, who recently climbed Half Dome at Yosemite. (Photos by Logan Reyes)
Interview, Denis Perez-Bravo
Even during these uncertain times, personal trainer Evan Francis, 33, of Go To Work Fitness continues to find ways to challenge his body and mind. This month, he hiked up Half Dome Mountain in Yosemite National Park. Rising nearly 5,000 feet above the Yosemite Valley and 8,000 feet above sea level, the arduous climb almost broke Francis, but willpower drove him to the summit. The 10-hour hike is an adventure into wilderness full of nature, and safety is not guaranteed. The journey to the summit includes a 12-mile hike, a mile of stone steps and a steep 400 feet ascension using two metal cables. Richmond Pulse talked with Francis about his experience.
Richmond Pulse: Why did you decide to climb Half Dome Mountain?
Francis: That was a challenge that was laid down to me. My friend Logan is a traveler. He has encouraged me to travel around the world too. We were scheduled to go to Egypt but that got canceled because of COVID-19. So we were looking for the next challenge and Logan suggested Half Dome. I was like what the heck is that? And he said, "A mountain that you have to use cables to climb up," and I said let's go.
RP: What did you know about the hike up the mountain, and how did you prepare for it?
Francis: I knew we were gonna be high up. The elevation is about 8,000 feet. I knew that it was going to be 24 miles, and so cardio was going to be a big thing. I am big on that anyway, so i felt prepared for that, but nothing prepares you for actually getting up there and doing it.
RP: Who did you share the experience with?
Francis: Half Dome is one of the rarest climbs in Yosemite. You can't just do it; you have to have a permit. Me and Logan entered a lottery. And on our way there, we didn't get the lottery. So we were thinking of hiking to this other place called Clouds Rest, which is also a mountain, but it is not Half Dome. It's not the same thing. So seven miles committed to hiking Clouds Rest, we met some travelers that had a permit (for Half Dome) and two open spots. They were able to give us those two spots, [and] we were able to change courses and do it. To me, luck doesn't exist. This was fate, it was supposed to happen.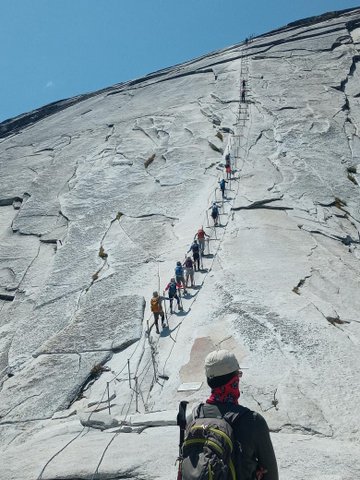 RP: How was the climb up to the cables?
Francis: Overall, it is 12 miles just to get to the peak where you are about to start climbing this thing. In-between, you are encountering waterfalls, huge depths of granite and different terrains. We encountered a bear. We were 20 feet away from it, and 20 feet is close enough.
The upwards trek is the hardest thing I have ever done. You wanna stop sometimes. Once you get 12 miles in, you will see the peak. Before you can get to the cables to do the big climb, you have to go a mile in rock steps. You would be surprised how many people turned away because it was too high or too risky.
RP: Was it hard to climb the rock steps?
On those granite steps, you can't walk them because it's easy to fall so you have to crawl them. There, up 8,000 feet in the air, it was just me and the sky. The trees and everything else is below me. I got light headed and I threw up on the steps while I'm crawling. I almost got tapped out. I rolled over on my back and laid on the mountain, looking at the sky, and my body was telling me, "You are done."
RP: Your mind wasn't, though?
Francis: My mind told me to shut the hell up. I got clients, friends and family that look up to me. If I told my training partner that I quit, I couldn't have faced her. So it was a thing where I had to tell myself to get up, finish the mile on the granite steps and go to the cables to finish that too.
RP: You dug deep and got to the cables, how did you do then?
Francis: There are only two cables, one on each side, and you have to pull yourself up. It was one of the hardest things. But I was not turning around. It is about 30 minutes to climb up to the peak.
RP: Once you took your first steps into the summit, how did you feel?
Francis: That was one of the biggest accomplishments of my life. You know how many people use the metaphor of being on top of the mountain? Well, I have actually been on top of the mountain. I was able to see everything. I took pictures of the ledge just looking at everything below.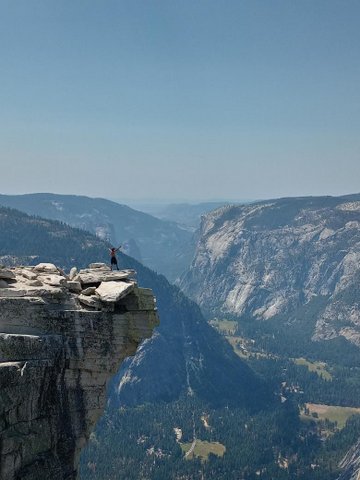 RP: For someone reading who wants to conquer a mountain, how can they begin to prepare?
Francis: I have been telling people since I got back that the biggest thing is to challenge yourself and know that this is what you want to do. I saw people older than me that were able to do it, and I saw younger and older people that couldn't do it. It is about preparation and willpower. The me now could do it, but the 2012 me was 76 pounds heavier, with less self-esteem and no confidence in myself.
RP: Anything else you want to say about this trip?
Francis: We had breakfast at Ahwahnee Hotel. John F. Kennedy, Queen Elizabeth and a few other people have dined there, and it is regal, royal and all that. I sat there and ate this $50 buffet. I'm sitting outside in a lawn chair eating breakfast with my friend while overlooking the mountains. I looked around me, and all over the hotel, beside the person serving food, I was the only person of color there. What that meant for me was that I want to push my boundaries even more. It is so rare for them to see us out there. So it is our job to unlimit ourselves. If I can be a beacon, motivate people to get out there, push their limits and unlimit their lives, that is what this was all about.