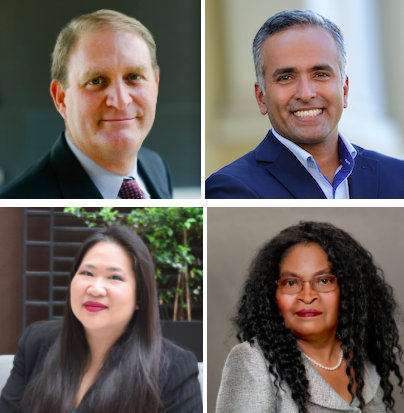 26 Aug

Election Experts, Activists Urge People to Vote Early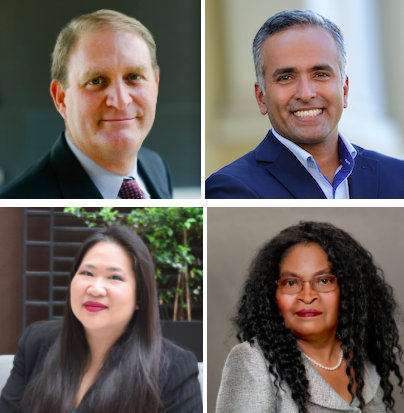 Clockwise from top left: Nathaniel Persily, Healthy Elections Project, Stanford University; Karthick Radakrishnan, Founder and Director, AAPI Data; Andrea Miller, Founder, Reclaim Our Vote; Terry Ao Minnis, Senior Director of Census and Voting Programs, Asian Americans Advancing Justice | AAJC (Ethnic Media Services)
By Michael J. Fitzgerald
Voting early is the best — and possibly only — way to ensure your vote will be counted in the upcoming Nov. 3 election.
"Vote early. Do everything early," Stanford University law professor Nathaniel Persily advises.
"Request an absentee ballot early if you are going to do that. Vote that absentee ballot early. Vote early in person if you can. And if you are voting on Election Day, make sure to get there early or at least in the middle of the day."
Persily, who is also a political scientist, made his comments during a teleconference with members of the media Friday on elections, the right to vote and the obstacles voters face this year.
The teleconference was sponsored by Ethnic Media Services.
When the COVID-19 pandemic hit, its potential effects on elections became clear almost immediately, he said.
"We need to move as many voters as possible to vote by mail and we need to retrofit our polling places as much as possible to avoid risks for voters and poll workers," he said. "And this is not as easy as people think."
The short timeline to get the election system adjusted is probably the biggest obstacle, he said.
"If we had two years instead of three more months, we would be able to meet this."
The need for younger poll workers is a critical part of getting ready for the election too. Traditionally most poll workers are in their 60s — or older — the highest risk category for serious illness from COVID-19. And many have already indicated they aren't willing to work the polls this fall.
"We need to shore up our polling places," Persily said. "We are going to see a loss of 25% at least in polling places."
Plus, he said, mailed ballots cast by people of color could be less likely to be counted because of errors made in the mail balloting process if it is unfamiliar to them. Signature errors are also expected to be a problem.
>>>Read: Props to You, Californians: A Preview of What's on Your November Ballot
Teleconference speakers also said language barriers, fears about mailed ballots versus in-person voting and lack of funding for needed protective supplies are all issues in this election.
Andrea Miller of the Center for Common Ground in Virginia outlined how voters are often disenfranchised by complicated voting laws.
"We refer to a number of states as 'voter suppression states' because their rules for voting and for removing people from the rolls are not at all progressive," she said.
Most of these states have strict voter I.D. requirements and no automatic voter registration.
She said Texas voters would be removed from the voting rolls if they fail to renew their registration every two years. The removal can also happen if people don't vote regularly in federal elections, though that rule is not something the state makes clear.
Miller said she believes this lack of clarity is no accident.
"People believe that when they register to vote they are registered forever," she said. "But nowhere when you register to vote does it say that. This is a really severe bait and switch."
To combat voters being taken off active voting rolls, Miller's organization tracks the voters who have been deregistered and contacts them to let them how to get re-registered.
In 49 states, voters can check their voter registration status online, she said
In California, that can be accomplished at https://voterstatus.sos.ca.gov/.
She suggested it's also critical to get younger people involved in the election process to be poll workers, particularly as digital voting technology gets more and more sophisticated.
"We need to build a national vote force of younger poll workers," she said. "Our younger people — 18 to 40 — this is their generations' equipment and comfort level."