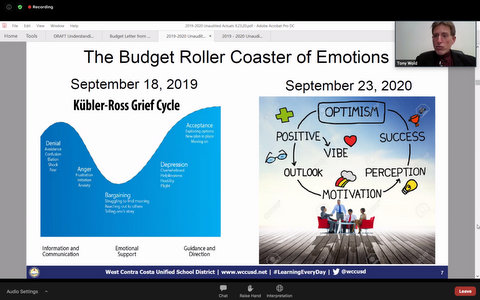 25 Sep

WCCUSD Budget Expected to Break Even After Year of Major Cuts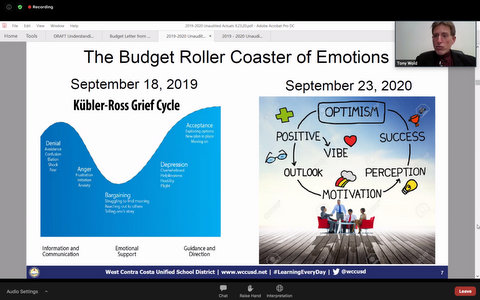 (Screenshot captured by Edward Booth / Richmond Pulse)
By Edward Booth
On Wednesday, the West Contra Costa Board of Education received a report on last year's budget that indicates it broke even after filling in a roughly $40 million deficit.
Tony Wold, the district's associate superintendent for business services, gave the board a presentation on the 2019-20 school year unaudited actuals — a year-end snapshot of the budget required by the State Superintendent of Public Instruction, with all revenues and expenditures accounted for. It's the only time an accurate picture of any district's finances can be seen, said Wold.
Wold said the district ended up with a relatively small budget surplus of about $372,000 for the 2019-20 school year and is budgeted to break even in the 2020-21 school year by using federal CARES act funding and by dipping into its Other Post Employment Benefits trust, which it did to balance the budget for 2019-20.
In September last year, Wold revealed the district was facing a roughly $48 million structural deficit, and about $40 million needed to be filled in the 2019-20 budget. To achieve this, the board decided to make about $30 million in cuts to ongoing expenditures and pull about $16 million from its post-employment benefits trust. This move essentially pushed a portion of the deficit into the future, and the district projects it will need to reduce expenditures by an additional $18 million for the 2021-22 school year.
Should voters pass Prop. 15 in November, it would raise an estimated $6.5 billion to $11.5 billion each year for schools, community colleges, counties, cities and special districts, according to the state Legislative Analyst's Office. The proposition would raise an estimated $10.4 million to $18.5 million for the district, said Wold, and could help fill the structural deficit entirely.
The district received approximately $34 million from the federal CARES act, Wold said. Without this infusion of funds, the district would have had to lay off more staff, reduce salaries and significantly reduce services.
The CARES act also covered technology costs for students and staff, including Chromebooks and Wi-Fi hotspots. It also covered professional development and the cost of staff attending Friday sessions to learn about systemic racism and racial bias, as well as distance learning, said Wold.
In other news, the board voted 3-2 to pass a Learning Continuity and Attendance Plan for the 2020-21 school year, with board members Mister Phillips and Stephanie Hernández-Jarvis voting against. The 31-page document outlines the district's priorities for a distance learning plan during the current school year, while the COVID-19 pandemic lasts, and is intended to balance the needs of all stakeholders — teachers, parents, students and communicators.
Phillips said he supports an independent study option for the remainder of the school year because distance learning isn't working for everybody. Some families, he said, are keeping their children out of school because they don't want them to get stuck in distance learning.
Phillips said an independent study option would be particularly good for younger students. Putting such a plan into action would also increase average daily attendance, he said, which helps determine funding for school districts.
"Not only is this a win for the families because this allows them to do an independent study option and get their children off Zoom if it's not working for them," Phillips said. "It also would also help the district increase its ADA because then the parents can say, 'Well, we're going to enroll in school because we know we don't have to do the Zoom.' "
>>>Read: School Board Candidates Call for Equity and Transparency
Earlier in the meeting, Superintendent Matthew Duffy said there are approximately 661 fewer students in the district than last year. Duffy also said the monthly attendance average had also decreased from 94.2% last year to 92.6% this year so far — partially because 1,000 students are considered absent for the purpose of average daily attendance because they're missing required immunizations, though they're still attending distance learning classes.
Hernández-Jarvis said that, despite the board having discussed the learning continuity plan in three subsequent meetings, the members need more clarity on the input they've received. She said the current plan seems unfinished, and that the Los Angeles Unified School District LCP, for instance, is about 20 pages longer and contains more specific information. She suggested that the plan be revisited before it's due to the county Sept. 30.
"I keep on coming back to this idea that the LCP that we have right now is a working draft," Hernández-Jarvis said. "There's still a vagueness that I don't agree with."
Wold said the LCP is a guiding document, and much of the work to create specificity can't be completed by the deadline. He said if there's a specific task or framework missing, they'd want to add that.
Phillips said what he'd brought up was structural, so he'd like to see those changes in the document. He said he supported coming back with the LCP before Sept. 30.
Board member Valerie Cuevas said there would be more opportunities to add things later on. She said the board had missed its opportunity to add what it wanted to the LCP, even though a special meeting was held to discuss it. She said it was time for the board to pass the LCP and work on it later.
"Let's just keep moving our work forward," Cuevas said.