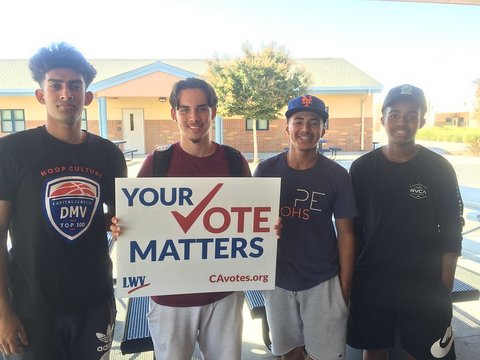 30 Sep

Young Voters Share What It Takes to Get Them Engaged With Local Issues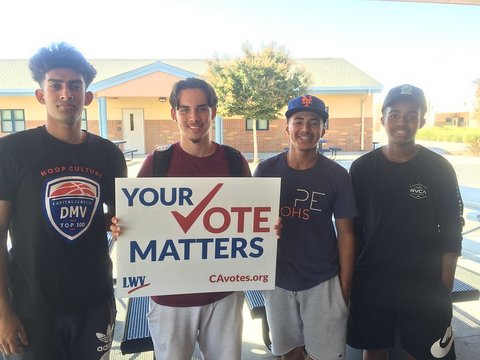 (League of Women Voters of California / Flickr / Creative Commons 2.0)
By Joel Umanzor Jr.
As eyes turn towards the election in November, political experts have pegged the youth vote as a key demographic in deciding the outcome between Democratic candidate Joe Biden and President Trump.
According to the United States Census Bureau, the 18-29 bracket is the only age group to increase voter participation since 2012.
For 20-year-old Carlos Perez, a first generation voter in his family, there is high anticipation for the upcoming election. But participating in in social justice movements this summer has refocused his voting power on more local issues.
"I didn't feel too motivated, at first, to vote for the city issues because I felt that, coming from an immigrant house, you don't see anyone voting," Perez said. "I was the only one in my household that was able to vote, but I was only encouraged to vote for president because that's what we think about being the most important issue."
He is not alone in feeling this way. Local elections have historically not been prioritized by younger voters.
According to a national study conducted by Portland State University titled "Who Votes for Mayor?," residents across 50 U.S. cities aged 65 and older were 15 times more likely to cast a ballot in local elections compared to voters aged 18 to 34.
For Perez, this lack of participation comes from a lack of knowledge about local candidates and issues.
Perez said he has felt more recently that the races for City Hall have been on his radar, but people have to actively research them.
"I feel like the information is something that you have to go and look for. It is not really being put out there," Perez said.
Martinez resident Samuel Esteban, 26, said he doesn't really see information about local political issues in his day-to-day life.
"The only thing that I really see locally are the signs that I see out on the corners or in front of people's houses," he said. "I'm sure I could easily go out and find public information but a lot of people — especially me, I'm in construction — don't want to go out walking to find these people."
Esteban wishes local candidates would maintain a larger community presence, whether in face-to-face meetings or community engagements at local places.
"If they are going to be a local politician, they should make an effort, or their people should make an effort, to reach the people in the community," Esteban said. "It's like I have to watch a four-hour thing on C-SPAN to understand why you want to run or pass a law."
Some first-time voters, including 21-year-old Kashmere Fritz, say they see a notable rise in interest in the election among their peers, as more are engaging with the issues and demonstrating about things that might affect them.
"I've seen many young people engaging in the (primary) votes and all the protests and movements recently," Fritz said. "I think as of this time, compared to previous times, everyone is focused on making a difference and making their voices heard in a way they can to improve the community in what has been going on lately."
Fritz said that she leans on family, primarily her sister, to get information about national and local politics although she plans on doing her own research as the election approaches.
Perez said he has seen multiple candidates for City Hall frequent the recent events he has been a part of, which has made him more informed about their positions yet still leaves a lot to be desired.
"I feel like seeing younger, fresh faces make you feel like you are able to approach them more," Perez said. "It allows you to feel like you can have conversations about issues that you relate to."
Perez said local candidates could use social media could to better engage younger voters and answer questions about their platform.
"I feel like if any of my friends told me, 'Hey, this candidate responded to me on Instagram,' I feel like it would be talked about a lot," Perez said. "I think it sucks that my generation is like that where you have to engage on social media for us to feel like we can respond or have a connection too."
For Fritz, the benefit of social media is that it allows anyone on a platform to organize support for a particular candidate.
"By doing my own research, I could find a candidate and, afterwards, support them through social media, helping explain to others what is going on with this particular candidate," Fritz said. "Get others to go out, vote and support too."
Perez added that because social media plays a large part in many young people's lives, it becomes part of their identity, which makes it a necessary tool for candidates to be able to connect to his age group.
Yet for Esteban, who is entering the latter part of his 20s, although social media may be an easier way to engage constituents, there still needs to be person-to-person interaction at community events. He also suggested using media to humanize candidates and their platforms.
"They need to go where people are at. If there are a bunch of people at a demonstration or public event, they should try to be there," Esteban said. "I think they could sit down in an interview with actual questions from the public for two to three hours like a podcast. You understand people's perspective a lot better when you have someone sitting down and actually having a conversation."