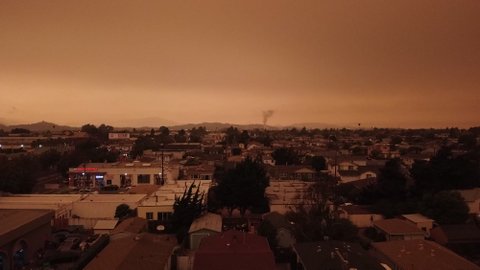 08 Oct

Richmond's Most Vulnerable Can't Escape Dangerous Air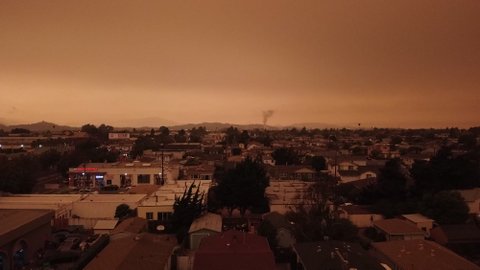 (Denis Perez-Bravo / Richmond Pulse)
By Maria Bernal
Bay Area residents are caught in a difficult situation as they try to protect themselves from wildfire smoke, heat waves and COVID-19.
The air quality in the Bay Area on Aug. 19 was reportedly the worst in the world. Gov. Gavin Newsom said breathing in the air dirtied by area wildfires "is equivalent to smoking 20 packs of cigarettes."
"The health consequences of these things are very real," Dan Peddycord, Contra Costa County's director of public health, told Richmond Pulse.
Peddycord also advised the public to pay attention to their indoor air quality over time and follow recommendations to "stay inside, shelter in place, so to speak."
The ash from the wildfires can cause inflammation in the lungs and body that can, in turn, irritate the eyes and cause a runny nose and cough.
Richmond resident and activist educator Marisol Cantú, who describes herself as "immune suppressed," said she felt symptoms despite staying indoors and wearing a mask.
"I was waking up with severe headaches and at a moment's notice, I would get really itchy or dry eyes. My nose was constantly running," Cantú said. "I had this dry cough that I couldn't shake. It was more difficult to breathe, simply because of all of the particles in the air."
Peddycord recommended steps someone could take "in your own home that help improve the indoor air quality."
For example, he said, "you can put things like towels at the base of your doors so that the smoke from outside doesn't drift inside even if you're in an apartment." He added that portable air purifiers could also help.
Peddycord also said that people who live in apartments should consider talking to their building's owner or facilities person about things they could do over time so that residents "have the opportunity to have better indoor air quality."
The outdoor air quality around Richmond ranged from moderate to unhealthy for sensitive groups on Sept. 30, due to the fires in Napa and Sonoma counties.
The air quality has been an especially complicated situation for people whose livelihoods depend on working outdoors.
Tania Jacobo, who has worked for Urban Tilth for five years, has harvested food for Richmond residents while the fires continue to burn.
Jacobo was asked to stay home during days where air quality was most toxic and is thankful she has an employer who thinks about her health.
"We are trying, even though it's impacting us in ways you know we might be risking our health," Jacobo said. "We have to do this for our community."
Farmworkers have had to work through the poor air quality and in scorching heat to provide for their families and survive the current economic recession. And some don't even have that option. Jacobo said she was grateful to still have work.
"A lot of people got laid off from their jobs, and so it was kind of a blessing … that we still had this area to come to and to do what we're doing," she said.
Jacobo also said she knows that if they can work, many people will out of necessity, despite the risks.
"Sometimes, they go through that phase where they're like, 'Well, I gotta pay my rent, but I need food for my kids. I need to pay this. I need to pay water and gas,' " she said.
Jacobo said the ash left by the fires has blanketed crops, affected the soil and increased work for farmworkers.
"It sometimes affects the growth in the speed of how things grow, and just the nutrients that they need and usually it takes all that away," Jacobo said. "When we would see the ash, we would try to give back to the soil, so we would add natural fertilizers."
The shortage of N95 masks exposes outdoor workers to health risks caused by poor air quality, but employers can help reduce the risk factor.
Peddycord said those in construction or public utilities and other workers who have to be outside even when the air is especially bad should first ask themselves, "Do I have risk factors for exposing myself to poor air quality?" If the answer is yes, then he suggested working with one's employers to find ways to keep them inside "during those really bad air quality days."
He added that some people need to take extra caution when the air is bad.
"People with cardiovascular disease, for example, are at greater risk for adverse health outcomes related to exposure to really bad air quality," Peddycord said.
The poor air quality from the fire also decreased the humidity and raised the Bay Area temperature from low 90 to mid 100s on Oct. 1.
Jacobo, who gave birth recently, said she was concerned about protecting herself and her baby from the unhealthy air and the stifling heat.
"I was closing all my windows. I just had a baby a couple of months ago, so I was just worried more mostly about her. I literally wouldn't go out with her," Jacobo said, adding that when she went out, "I tried to just cover myself as much as I could, but it's hard because you're sweating. It's hot."
Heat and bad air both commonly affect people's health, separately and together.
"Chronic exposure to high heat is oftentimes where we see adverse health outcomes, and also where we see adverse health outcomes related to poor air quality exposure," Peddycord said.
He warned that these kinds of circumstances are likely here to stay.
"While prevention is really important, we also need to recognize that these sorts of events may be with us for a number of years to come," Peddycord said. "We're going to continue to experience extreme heat, more, more consecutive days." Everyone will need to plan to "live in that sort of an environment," he continued.
Although the environmental changes may be harder to change, Peddycord reminds the public that the course of COVID-19 depends on the actions of residents.
"I think all of us in the public health community recognize that we want to proceed with great caution, and that the battle against this virus is far from over," Peddycord said. "Really, the course of this epidemic is in the hands of the public."
The public coming together can be especially important for immunocompromised people who might feel alone without a support system, Cantú said, which could affect their mental health during environmental disasters.
"I think for people that are immune suppressed or immune-compromised in any shape or form," Cantú said, "there is an added layer of not simple concern, but of anxiety, nervousness, depression and isolation that happens during that."
Many are finding it hard to keep themselves safe from the changing environmental hazards during the pandemic.
"It's a difficult situation, trying to keep yourself away from that because you can't — it's everywhere," Jacobo said. "There's nowhere you can actually go and stay away from all this because it's just, it's everywhere."