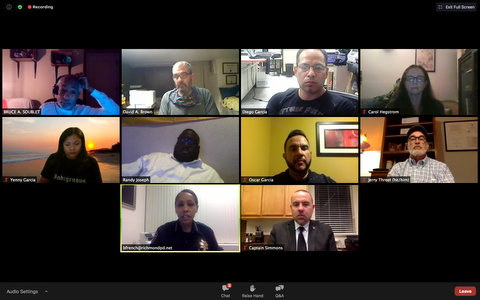 09 Oct

Police Commission Upholds Allegation Against Virgil Thomas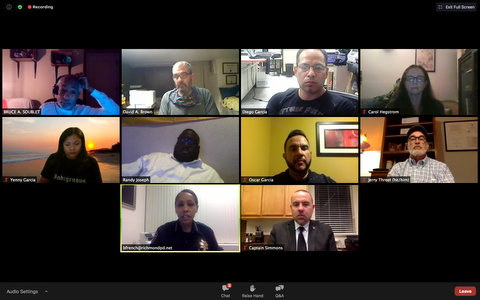 The Richmond Community Police Review Commission met virtually to vote on allegations against Sgt. Virgil Thomas, who died in August. (Screenshot captured by Edward Booth / Richmond Pulse)
By Edward Booth
The Richmond Community Police Review Commission voted Wednesday to sustain one allegation of unreasonable force against late Richmond Police Sgt. Virgil Thomas, and didn't come to a conclusion on another, after hearing the results of an investigation into his fatal shooting of Eric Reason last year.
Thomas fatally shot Reason in Vallejo in November 2019 after the two men argued over a parking space. In security footage of the shooting, Reason confronted the off duty Thomas before retrieving a gun from his car. Reason brandished the gun at Thomas and began walking away. In response, Thomas pulled out his own gun and fired multiple times at Reason, who started to run away. The video footage shows that Thomas scaled the length of his car and again shot repeatedly at Reason as he fled.
The commission voted 2-2-2 to uphold an allegation of unreasonable force against Thomas for the first set of shots fired at Reason, effectively making no decision. Then the commission voted 4-0-2 to sustain an allegation of unreasonable force for the second set of shots, including the one that ultimately killed Reason.
Thomas died from complications of COVID-19 in August, but the commission voted early last month to continue its investigation of the shooting. Some commissioners suggested dropping the case, or putting it on the back burner, out of respect for the families on both sides of the shooting.
The commissioners voted during a roughly two-hour closed session, and Assistant City Attorney Bruce Soublet announced the results at the end of the meeting. Soublet said the commission's investigative officer, Jerry Threet, recommended that the commission separate the two sets of shots that Thomas fired at Reason. He didn't say how each individual commissioner voted.
In other news, Commissioner Randy Joseph gave a presentation on reimagining public safety from the Richmond Reimagining Public Safety Working Group, which he's a part of. The presentation was the same given to the Richmond City Council last month.
Commissioner Oscar Garcia said he was a little disappointed not to have been asked to be a part of the group, and Commissioners Carol Hegstrom and David Brown said they weren't asked either.
Garcia said the group could have benefited from working with the Richmond Police Department and the Contra Costa County District Attorney's Office, as some of the reforms outlined by the group are already happening. Garcia said the group might be duplicating efforts.
Commissioner Yenny Garcia said Joseph should work to keep the commission in the loop about what the community group is doing.
Joseph said the group is working to make future meetings a transparent, open process. He also said the group wanted to do the work of theorizing what reimagining public safety could look like to start conversations and negotiations around the issues.
"These are negotiating points, not something set in stone," Joseph said.