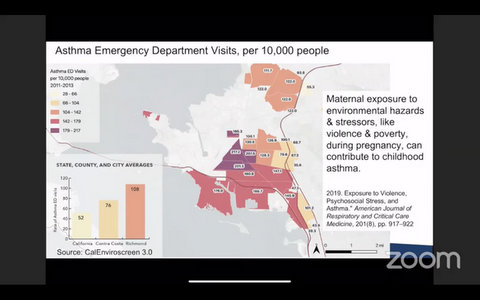 20 Oct

Informe de equidad en salud muestra áreas de mejora y preocupación para Richmond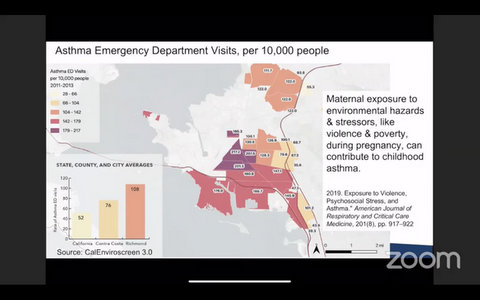 Por Edward Booth
La esperanza de vida ha aumentado, los homicidios con armas de fuego y los asaltos han disminuido, y Richmond ha introducido una serie de programas para ayudar a mejorar la equidad en salud durante los últimos 20 años. Pero algunas medidas, como las tasas de asma en Richmond Central, no han disminuido tan rápido como esperaban los expertos.
Eso de acuerdo a un informe de progreso presentado al Concejo Municipal el 29 de septiembre sobre la ordenanza de Salud en Todas las Políticas centrada en la equidad de salud de la ciudad. (El informe completo se puede encontrar en los documentos de la agenda de la reunión).
La premisa de la ordenanza, aprobada por primera vez en 2014, es que las decisiones tomadas fuera del cuidado de la salud y los sistemas de salud pública —áreas como vivienda, transporte, desarrollo económico, justicia penal y educación— tienen un impacto significativo en la salud, dijo Jason Coburn, profesor de UC Berkeley, durante su presentación al concejo.
Corburn dijo que el enfoque de la ordenanza es lograr la equidad en la salud en Richmond, lo que significa que todos deben tener los recursos y la oportunidad de estar saludables.
"Es realmente una estrategia general, no una política, y reconoce realmente que la salud, como estamos viendo ahora con esta pandemia, realmente ocurre fuera del sistema de atención médica de muchas maneras", dijo Corburn.
El informe de 58 páginas cubre seis áreas: gobernanza y liderazgo; desarrollo económico y educación; servicio completo y comunidades seguras; entorno residencial y construido; salud y justicia ambiental; y salud, hogares y servicios accesibles de calidad.
Los datos utilizados en el informe provienen de fuentes que incluyen la Encuesta sobre la Comunidad Estadounidense; CalEnviroscreen 3.0; Encuesta de entrevistas de salud de California; el Departamento de Policía de Richmond; Richmond transparente; la Encuesta Comunitaria de Richmond; y el Distrito Escolar Unificado de West Contra Costa.
El informe también profundizó en algunos casos prácticos para cada área temática al cubrir los antecedentes de algunos de los programas, cómo han progresado a lo largo de los años y cómo se vinculan con la equidad en salud.
El programa de becas Richmond Promise, por ejemplo, se utiliza como un estudio de caso para el desarrollo económico. Proporciona a los beneficiarios de becas, que son estudiantes universitarios de Richmond, $1,500 al año durante el transcurso de su carrera universitaria y orientación sobre cómo hacer su camino y triunfar. El informe dice que el 70% son estudiantes universitarios de primera generación y el 65% proviene de hogares de bajos ingresos.
El informe vincula explícitamente el programa con la equidad en salud en una sección que habla sobre cómo ayuda a los estudiantes con destino a la universidad a obtener los recursos para tener éxito, lo que, a su vez, apoya la salud de los residentes de primera generación y sus familias al brindarles acceso a trabajos seguros y bien remunerados.
"Además de cubrir los costos que no puedo pagar de mi bolsillo, saber que el equipo de Richmond Promise está ahí para mí y me ayudará a orientarme continuamente por el extraño mundo que es el campus universitario realmente es una gran diferencia", comenta un beneficiario de Richmond Promise en el informe.
El informe enumera muchas tendencias persistentes: los homicidios con armas de fuego y los asaltos disminuyeron, y la esperanza de vida aumento en los últimos 20 años y una tasa de pobreza estable a pesar de la disminución del desempleo.
Coburn y el personal de la ciudad dieron una descripción general de cada área temática y muchas de las tendencias.
Corburn se centró al principio de la presentación en las desigualdades que aún existen, particularmente por raza y etnia.
Una estadística que no ha mejorado tanto como se esperaba es la tasa de visitas al departamento de emergencias de asma por cada 10,000 personas, dijo. Citó un estudio de 2019 en el American Journal of Respiratory and Critical Medicine que indica que la exposición materna a los peligros ambientales y los factores estresantes, incluida la violencia y la pobreza, puede contribuir al asma infantil.
"Ahora sabemos que cosas como el asma y muchas enfermedades crónicas no son causadas por una sola exposición", dijo Corburn. "Lo que sabemos ahora sobre la biología del estrés, y lo que estamos viendo también con COVID, es que el estrés crónico, incluido el racismo, realmente puede dañar el sistema inmunológico".
Coburn dijo que la ciudad ha logrado un progreso significativo en algunas áreas, incluido el liderazgo dentro del gobierno de la ciudad y las colaboraciones con organizaciones comunitarias.
Se deben considerar esfuerzos más enfocados para abordar las inequidades raciales y de salud, de acuerdo con las conclusiones, y la comunicación pública de los resultados debe realizarse de manera continua, como mediante el uso de Transparent Richmond, el sistema de datos abiertos de la ciudad.
"Hay algunos avances, algunos avances reales", dijo Corburn. "La salud en todas las políticas no debe verse como una política única de la ciudad, sino enfocándose en la salud y la equidad en la salud como algo que se puede abordar y mejorar constantemente a través de diferentes estrategias sobre las que la ciudad tiene cierto control".