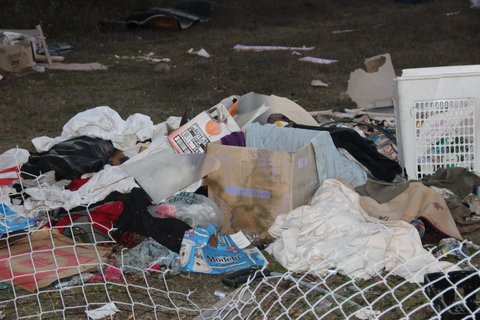 28 Oct

It's Time to Open Our Eyes, Speak Up and Get Up & Clean Up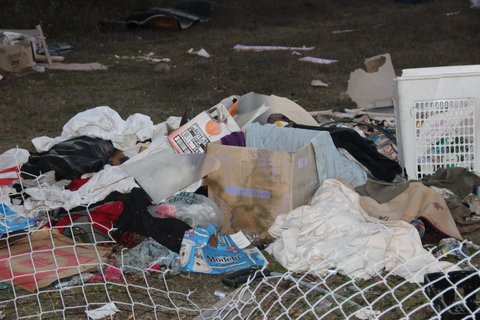 Illegal dumping is an ongoing issue in Richmond as seen in this pile of garbage in a North Richmond lot in 2015. (Danielle Parenteau-Decker)
By Ronvel Sharper
When someone says "Richmond," what comes to mind? Do you see a town with potential? Or a cesspool that is full of trash? Well, the latter is what other cities think of Richmond, according to La'Tanya Dandie — yes, that Ms. Dandie, who is running for city council.
I embarked on a journey Oct. 20 to the San Pablo and Macdonald avenues overpass near the Richmond Target. I have to admit, I did not know what to expect when I was contacted by Dandie, who had organized a Get Up & Clean Up event. But when I got there, I was absolutely appalled at what I saw.
The space was practically bio-hazardous. There was so much trash I could barely see the dirt. There was more plastic, papers, old toys, and even VHS tapes than actual earth. I participated a bit, grabbing rusty metals in disgust. I rummaged through the gunky junk until another volunteer, Daniel, yelled out that he had found a hypodermic needle and to be extremely careful from there on out.
Looking around, I spotted two shelters: one on top of the tiny hill in the back of the area and the other between two branches, like a tree house. It was really a cool display of ingenuity and creativity, but it still bothered me to see. No matter the creativity, these people have been banished to live here, and that disgusts me. I don't get how everyone wouldn't feel the same way. Do people actually see this as acceptable? Even those who are only slightly less poor will ignore or even belittle those at the bottom of the ladder. People really don't see any issue with this? The line between homelessness and the poverty you and I and other regular people might go through is thinner than many of us would like to admit.
Dandie, Daniel Barth and Mike Vasilas took the lead on the Get Up & Clean Up event because they decided that what they were seeing was unacceptable.
Dandie, 47, is running to represent District 6, though this story is not about her political aspirations but the love she has found for Richmond.
"I'm from the east of Detroit, Michigan, and Richmond feels just like where I came from," Dandie said. "It's [homey], comforting and neighborly. This is where I want to be."
Dandie explained why cleaning up this overpass, in particular, was important.
"This is an entrance to Richmond, and the first thing you see is garbage," she said. "What would people think of the rest? When people enter Richmond, it should look like and feel like home."
Dandie went on to remind people that while the mess may come from elsewhere, it is still Richmond's problem.
"Richmond has become a dump site for outside cities like Sacramento and San Francisco. Since no one is reporting it, this illegal dumping is, [in effect,] legalized," she said. "The community can help by picking it up. It isn't ours, but it is our city, and we should try to keep our city clean."
Like this North Richmond trashcan, seen in 2015, suggests, "Richmond has become a dump site for outside cities," said La'Tanya Dandie. (Danielle Parenteau-Decker)
Dandie pointed to the trash situation as an example of "NIMBYism," the "Not in My Backyard" mentality shown when people raise a fuss over something in their immediate range but are fine with it if it's farther away. People don't want trash in their city yet don't do much about it, she said.
On Oct. 1, Dandie caught someone from the California Department of Transportation by chance, she said, and asked what Caltrans was going to do about the overpass.
"They were just trying to get a plan together and they said this area was on a list," Dandie said, adding, "They gave me no time and date."
So she started taking and posting pictures, which led to people asking her, "What are you going to do about it?"
Not along ago, she had no plan, she said, but she started getting ideas in July while fixing the homes of veterans and older adults. Those seeds of ideas eventually developed into the cleanup.
But simply cleaning up the area is not enough. Illegal dumping will continue unchecked, Dandie said, if people won't speak up.
"If you see something, say it. This is not about 'no snitching.' Everyone complains about cameras and they break said cameras, then it costs the city to fix them. Yet everyone sees things like this and doesn't say a word," she said. "Then they complain to the city about the trash."
Ultimately, Dandie said she hopes the cleanup helps bring the community together.
"I hope this event brings awareness to the community that someone cares," she said. "If one cares, then everyone should care."
Daniel Barth, 57, leads Safe Organized Spaces Richmond, a community organizing network that helps clean up the city. It employs unsheltered people and pays them $15 an hour for 15-20 hours a week to help beautify Richmond.
Barth said SOS Richmond started with a desire to support people living in encampments, helping them to remain there instead of bouncing from place to place or going to a less safe place. In doing so, the organization recognized that giving opportunities is the No. 1 way to do that.
"Our public agencies have limited resources, so we need community-based efforts to work in partnership with these agencies to create a cooperative way of supporting rather than removing folks that have no other place to go," Barth said. SOS ultimately decided to take matters into its own hands and hire the homeless to help keep them off the streets.
Due to the pandemic, more people have lost their homes but cannot stay in communal shelters, so they're forced to live on the streets, Barth said. That, in turn, adds to the waste in the community.
Homeless people "have no resources," Barth said, and the trash around us is "a result of having no resources."
Mike Vasilas, 38, who is running to represent District 5, said he was primarily at the cleanup not as a city council candidate but another representative of SOS Richmond, or the "Streets Team," as he likes to call it.
Vasilas said he wants to take care of the "most blighted entryways to our city." He also said he hopes this event will help people better understand the homeless crisis throughout our region by showing them how "public property is being inhabited with unsheltered folks, and we are trying to uplift the lives of the unsheltered by helping sanitize the areas they inhabit, ultimately cleaning up our city."
After helping clean up the overpass and talking with these people, I thought about Dandie's comments about NIMBYism. The way I see it, we need to change or everyone's backyard will be ugly.
Correction: An earlier version of this story included a quote from Daniel Barth regarding Caltrans and homeless people. Barth has told us that those were not his words, so that quote has been removed and the story updated accordingly.