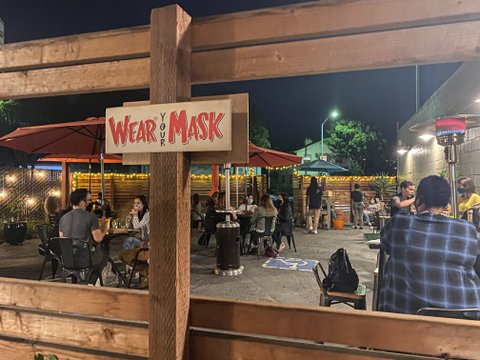 05 Nov

County Responds to Rise in COVID-19 Cases With Restrictions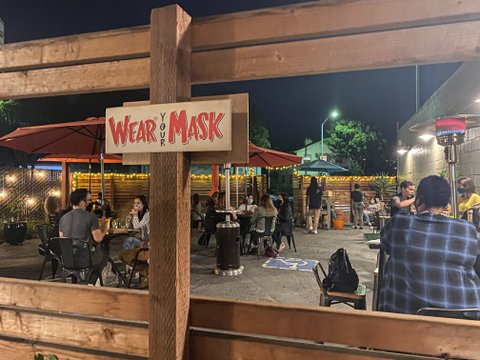 Outdoor bars in Contra Costa County, such as Richmond's Factory Bar, must serve drinks as part of a meal to remain open. (Denis Perez-Bravo / Richmond Pulse)
By Edward Booth
Contra Costa County Health Services announced new restrictions Wednesday in response to a recent rise in COVID-19 cases.
The county moved to the state's orange reopening tier Oct. 27, indicating that transmission of COVID-19 is moderate and expanding what sectors of the economy can reopen, and at what capacity. But since that date, the average number of new cases in the county has grown substantially, putting the county at risk of falling into the more restrictive red reopening tier as early as next week, according to a press release.
Recent case rates are increasing into the red tier level of 4.9 daily cases per 100,000 people. The orange tier benchmark requires less than 4 daily cases per 100,000 people.
Dr. Chris Farnitano, the county health officer, issued a new health order Wednesday to rein in several activities permitted by the orange tier. As a result of the order, indoor dining is now only allowed at a maximum of 25% capacity or 100 people, whichever is fewer, down from 50% capacity or 200 people. It's the same for indoor movie theaters and religious services.
Additionally, outdoor bars are now prohibited — except under restaurant guidance, in cases where drinks are served as part of a meal. And cardrooms and satellite wagering sites are no longer allowed to operate indoors, according to the order.
Farnitano also issued an order limiting the number of spectators at professional or college sporting events to 25 people, with no more than three households represented, consistent with the county's guidance on private social gatherings, according to the press release.
The orders go into effect on Friday; any area not covered remains restricted by the orange tier guidelines, according to the press release.
"We believe these measures are necessary to reduce the spread of COVID in our community," Farnitano said in the press release.
The United States appears to be entering a second wave of the coronavirus, recording a record of roughly 102,826 new cases for Wednesday, according to Johns Hopkins University, and 1,097 COVID-19 deaths on the same day. Though much of the surge is occurring in midwestern states, California is also facing increasing cases and deaths.
California Health and Human Services Secretary Mark Ghaly said during a press conference Wednesday that the state had recorded 5,388 cases on Nov. 4, with a seven day average of 4,471. He said California's test positivity of 3.3% is well below the national positivity rate of 6.7%. California saw a 13.5% increase in hospitalizations and a 19.5% increase in Intensive Care Unit admissions in the 14 days before Wednesday.
The Contra Costa press release notes that the state allows counties to impose stricter standards, and most Bay Area Counties have made the decision to do so. San Francisco County pulled back on reopening last week to combat the rise of cases despite being in the least restrictive reopening tier. And Alameda and Santa Clara counties have both issued stronger restrictions than required by the state. All three of these counties are essentially operating with red tier restrictions, the press release notes, despite being in the orange or yellow tier.
In Ghaly's Wednesday update, only one county moved up a reopening tier, and two slid backwards into more restrictive tiers. He said this was the first week where only one county had advanced in the state's reopening system. But in comparison to the rest of the country, Ghaly said, California is holding steady.
"Although we're seeing some trends up here in California, those trends are modest, steady," Ghaly said. "This new wave of cases that we're seeing across the nation is not something that we are yet facing here in California."