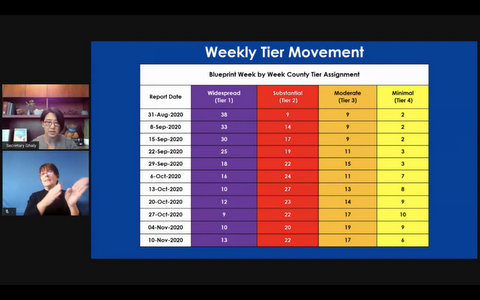 10 Nov

Contra Costa Falls Back to Red Reopening Tier as COVID-19 Cases Rise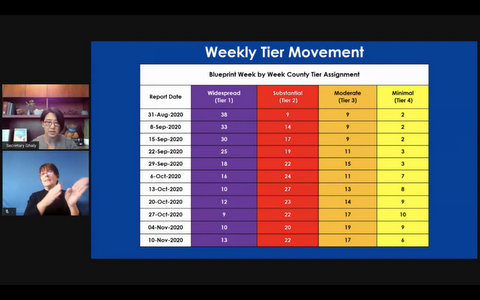 For the first week since the color-coded reopening framework was introduced in August, no California county was able to improve its standing and some, including Contra Costa, even slid backward. (Screenshot captured by Edward Booth / Richmond Pulse)
By Edward Booth
Contra Costa County moved back into the more restrictive "red" tier in the state's color-coded reopening system Tuesday, introducing further restrictions to help mitigate an ongoing rise in COVID-19 cases.
For the first time since the reopening system was introduced in August, none of California's 58 counties moved up a tier or reduced restrictions. Instead, three counties downgraded to the most restrictive purple reopening tier, five fell into the red tier, and three moved to the orange tier.
Contra Costa County is averaging 5.3 cases per 100,000 people in the past seven days, well above the 4 per 100,000 required by the orange tier, according to a press release issued by the county Tuesday. The county remains below the 7 cases per 100,000 people that would move it back to the most restrictive purple tier.
In response to the rising number of cases last week, Contra Costa County Health Officer Chris Farnitano issued a health order to put in place several red-tier safety restrictions — including capacity reductions for indoor dining, movie theaters and religious services — even though the county was in the orange tier at the time. Those restrictions remain in place, and additional restrictions will come into effect Friday.
The additional restrictions include occupancy reductions in several areas and a ban on communal pools, amusement parks and most live outdoor theatrical, musical or artistic performances, according to the press release. Indoor family entertainment centers, such as bowling alleys, also can't operate indoors, and gyms and fitness centers must scale back indoor occupancy to 10%.
Office workspaces are also required to operate remotely. Retail stores that operate indoors need to scale back occupancy to 50% or 100 people, whichever is less. Indoor shopping malls must also reduce occupancy and reduce food court occupancy to 25% or 100 people, whichever is fewer. The same rule applies to higher education institutions in regard to indoor lectures and student gatherings.
Outdoor playgrounds and schools reopening for in-person instruction are not affected by this change, the press release notes.
California Health and Human Services Secretary Mark Ghaly said during a press conference Tuesday that it was difficult to say whether the rise in cases constitutes a statewide surge, but cases are definitely rising.
Ghaly said the coronavirus was getting much worse in other areas of the country. On Monday, the United States surpassed 10 million cases, according to data from Johns Hopkins University. Hospitalizations across the country hit an all-time high of 61,964 on Tuesday, reported The New York Times.
Ghaly said he's consistently heard concerns from county health officers about the role private gatherings are playing in the spread. Even though counties vary in their risk factors, Ghaly said, private gatherings are a particular and ongoing concern, especially with winter approaching.
"We tend to take our guard down. We think it's safe because we know the people even though we haven't seen them in some time," Ghaly said. "Those sort of actions, we know, increase risk."
On Monday, Bay Area health officials issued joint guidelines to help make holidays and travel safer. The guidelines suggest people celebrate virtually or with members of their household only. It goes on to suggest that if in-person gathering happens, it's best to keep interactions outside, under two hours, with no more than three households, and with no participation in multiple gatherings with many different households.
The regular safety recommendations of physical distancing, wearing face coverings, and washing hands often also apply, according to the press release.
"When people who live in different houses or apartments are together at the same time in the same space, risk of COVID-19 spreading goes up, even when the people are relatives or friends. Please celebrate safely this year and protect yourself and your family by including masks, keeping a distance, and staying outdoors," said Farnitano in the press release.