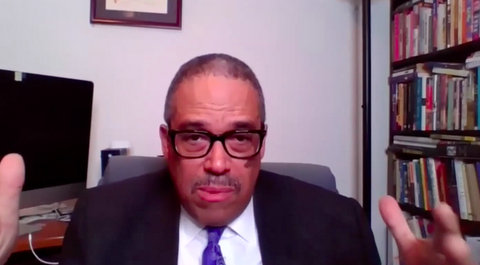 12 Nov

Doctor Urges Universal Masking, Testing and Targeted Approach to COVID-19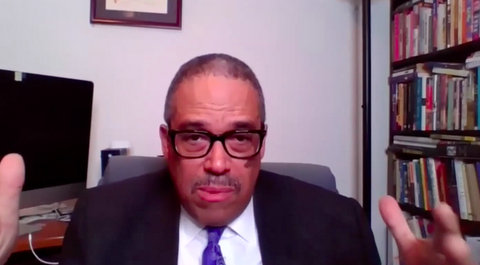 Interview, Joseph Marshall
Editor's Note: Dr. Joseph Marshall, host of Street Soldiers Radio on 106 KMEL, interviewed Dr. Andre Campbell, an ICU doctor and trauma surgeon at Zuckerberg San Francisco General Hospital, about COVID-19 and how the virus is impacting the community. The following is a transcript of that conversation, which aired Nov. 9. It has been condensed and edited for clarity.
Dr. Joseph Marshall: What's the state of the virus today? What does it look like right now? We know it's exploding, but what can you tell us about how it looks now here in the United States and worldwide?
Dr. Andre Campbell: We are about nine months into a pandemic. The last pandemic we had was one hundred years ago in 1918, but the 1918 pandemic went on to 1920. We are really in the first couple of innings of what's going to be an extra-inning fight against this virus. In the United States, as of today, we have 10 million cases. We have 237,000 deaths. Every day, about a thousand people die.
What's going on is in the middle of the country — it's like a forest fire out of control. Much like the fires that we had here, that's what's going on with the virus. It's pretty much everywhere now.
The problem is, we've had an absolute lack of national leadership. There is no national plan. The plan is let it go, and that is not a plan. The plan has to come from the federal government. They have the dollars. They can turn on the [Defense] Production Act to make enough masks, to make enough vaccines when it comes time. In the meantime, everything we're doing is a stopgap. But simple things like masking, social distancing and making sure we wash our hands, those are the things that will protect all of us. If we all mask in the United States, we probably would save 800,000 lives.
This thing is really totally out of control, and we have had an absolute national failure. Now, what is encouraging is the president-elect will have a team of expert physicians, led by Dr. Vivek Murthy, the former surgeon general. So we will listen to the science. All this stuff has become political, and there's nothing political about wearing a mask and keeping your distance.
JM: It doesn't seem like we, in the United States, have taken this thing seriously. Do you have any idea why? I know some parts of the world have.
AC: This thing became very real in March when one of my good friends, who's a doctor, his wife's a nurse, she went to a baby shower in Louisiana, and the four of them got it and two died in the hospital. This was in March. And she's dead. This is somebody I know. The virus is disproportionally affecting the African American population. One in 920 African Americans have died from the virus. One in 1,100 Native Americans have died from the virus. One in 1,300 Latinx people died from the virus.
>>>Read: Asian Americans Have Disproportionately High Mortality Rate From COVID-19 In California
There are countries that are taking this very seriously. China took it very seriously and got it under control. They were ruthless. But my best example, I think is, is New Zealand. The prime minister, [Jacinda Ardern,] she's an amazing woman and a great leader. She is tough. And she stamped it out. They're living normally in New Zealand because there's so few cases. There are places you can do it. But we have to have a collective will to do it. And that's part of the problem. We have all this mixed messaging. When the president gets it, he gets a million-dollar drug. He gets the antibodies. He got steroids, and then he got some other antiviral treatment. Not everybody gets access to treatment. He got the best treatment in the world, and not everybody can get that.
The virus attacks you, and you have this massive response. It basically attacks the lungs. That's why people can't breathe, and the blood circulation causes clots. I mean, there's all these things. There's COVID toes; that's associated with people having strokes. There are people who have had the disease, now six months ago, but they are still having symptoms, and those are called long-haulers.
This disparity for African Americans and Latinx is just really a function of what has been amplified in the real world, because we know that the outcomes for cancer are different for African Americans and trauma is different. And the outcomes with other diseases are different, and COVID-19 just amplifies that.
JM: Is it an illness where you can't predict how it's going to actually affect a person?
AC: Well, the problem is that we don't know. They think that something like 30% of people are asymptomatic. When the ICUs get overrun, the hospitals get overrun. That's when you get in a situation where you have refrigeration trucks outside of hospitals. Basically with remains of people who expired as a result of that because the hospital is just overwhelmed. New York is still in shock from that. We never had that here. I mean, at Zuckerberg San Francisco General Hospital, we've had about 113 cases in the ICU. We've had 17 deaths or so. We've had probably 35% of the hospitalizations in the city and county of San Francisco roughly. A lot of people come to the hospital, and they don't go in the ICU with that. It's really hard to predict who's going to get it and who's going to die. I mean, young kids are dying, teenagers dying. You know, it's not just people are over 65 with comorbidities of high blood pressure, diabetes, heart disease, cardiovascular disease, it's everybody. So it's a complicated disease and we're still learning about it.
JM: What if the public doesn't want to participate in the vaccine trials?
AC: Anthony Fauci — who I think is a foremost expert on this — he and the CDC director, [Robert] Redfield, estimate that in second quarter of 2021, we'll have a vaccine for everybody. It's not going to be soon, but it'll be there.
The reason why people aren't participating in the trials is because they're scared. It became politicized. They need to get a certain number [of participants]. They've got to have underrepresented minorities involved, and they were having trouble getting that. People were like, 'I'm not going to be a guinea pig,' but we're going to have to sort of do it. In the spring, it may become partially available to healthcare workers.
In the meantime, we're going to have to wear a mask and protect each other by doing that. That's the way they did it 100 years when they didn't have all the stuff that we have now.
JM: Is a federal mask mandate the way to get this under control?
AC: Now, the problem is the federal mandate is going to be up to governors to in place, which is the problem because there's all these mixed messages. We don't have to shut things down if we wear masks and we do a targeted approach where, let's say there's an outbreak in [San Francisco neighborhoods] the Mission or Western Addition or downtown or South of Market or Sunset, you go in and trace the outbreak, and then shut things down locally. In the short term, it should be normal for people to wear a mask. This is not political. This is about science. You can reduce your incidents of infecting others or getting infected significantly by wearing a mask.
JM: Can you talk a bit about testing? When should we get tested? How often?
AC: To get out of this, we need to test upwards of a million or 2 million people. And we're probably about [800,000] or 900,000 last time I heard, although it sort of came down and it's gone up. So you have to be testing more people. We have to have a national mandate for testing, and we can test our way out of this by figuring out who has it and who does not. We have to get organized, we have to test people, and we have to make sure that we're doing it the right way. The test is very uncomfortable, but you've got to get the thing if you think you have it. If you're sick, stay home. Don't go to work if you have  a fever or other problems, like shortness of breath or cough. And it's sometimes indistinguishable from the flu. So that's why it's so complicated.
We need to test more. We need to have universal masking. People need to wash their hands. We need to stay away from each other.
I'm always trying to shake people's hands. That's how we are — we shake hands. In my office, I have Purell, I have alcohol wipes, I have Clorox wipes, I got everything. I'm trying to do it as best I can, but it is hard. It is very difficult to get through this. This is something that's going to require a lot of intestinal fortitude, particularly [from] folks who are just tired of this. You have to think twice before you do stuff. You've got to make sure you're trying to protect people. You've got to wear the mask.