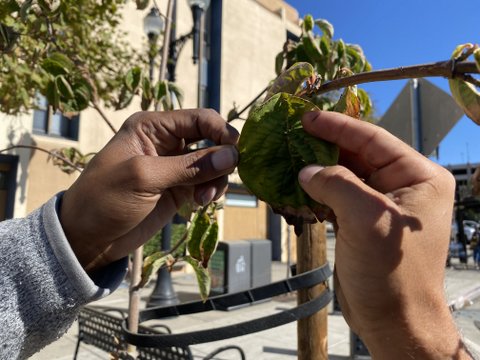 08 Dec

Urban Forestry Expands Richmond's Roots, Literally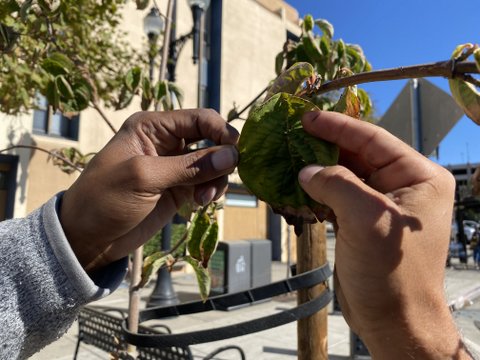 Groundwork Richmond staffers plant and tend to trees around Richmond. (Denis Perez-Bravo / Richmond Pulse)
By Denis Perez-Bravo
As another Friday came around, the Groundwork Richmond team dug a hole to plant its fourth tree of the day — an Arbutus unedo, or strawberry tree — at Atchison Village.
The strawberry tree is well-suited to the foggy, cool weather in the Bay Area and, along with other trees, it helps perform an array of services for the residents of Richmond.
For Dovie Arnold, Jacksun Cooper and Andrew Avina, planting is just the first step of the around-the-clock effort needed to allow an urban forest to flourish in Richmond. On Fridays and Saturdays, the team plants trees. From Tuesdays to Thursdays, they water young ones around the city and monitor their health.
On Nov. 6, the team visited Atchison Village, an affordable housing cooperative. As Avina and Cooper planted the trees, Arnold logged each one's information into a database. He also canvassed the area to find people interested in adopting a tree.
After an application is approved, residents must commit to watering a tree in front of their home for the next three years. For those interested, Arnold records their information and the planting spot's location so the team can come back.
Residents who adopt a tree through Groundwork Richmond must commit to watering it for three years, (Denis Perez-Bravo / Richmond Pulse)
"We have over 800 trees that we need to plant in the next four years," Arnold said.
Those 800 trees are only a fraction of the 13,000 they eventually hope to get into the ground. But Arnold says Groundwork Richmond's current staff size and funding make that difficult.
Groundwork only has seven people: Arnold, Cooper, Avina, Lorena Castillo, Jayson Johnson, Caleb Turner and Lorenzo Plazola.
In 2020, Groundwork had a budget of $1,348,000, according to Johnson, its operations director. It gets funding from sources including Chevron, the Trust For Public Land, Cal Fire, the National Conservancy and the National Park Foundation.
The team tends to trees planted in areas that Groundwork identifies as lacking tree coverage, underserved neighborhoods and areas at risk of increased surface temperature. Atchison Village, which sits two miles from the Chevron refinery and even closer to railroads and industrial complex buildings, is one of those spots.
The close proximity to impervious surfaces — such as pavement and concrete, which absorb heat during the day and then re-release it at night — put the 1,519 residents in Atchison Village at risk of higher temperatures than Richmond Heights, which is surrounded by green areas.
In the last 30 years, the temperature on Richmond's impervious surfaces has increased 6%, according to a report by NASA's DEVELOP research group. That's expected to continue to rise with the increasing air temperature.
"The trees we plant help cool down the city and take away pollution," Cooper said. "They are going to make our community healthier, and my kids are going to be better off because of it."
According to a 2016 study by the Nature Conservancy, trees create a cooling effect because they transpire water, meaning trees take some of the sun's heat and convert water into vapor rather than increasing air temperature.
Trees also cool cities by providing shade. Areas with enough trees to form a canopy also benefit from an increased cooling effect. According to the study, trees can effectively cool the surrounding air by 0.7 to 5.4 degrees Fahrenheit, depending on the location and time of day.
Trees also clean the air by reducing pollutants and absorbing carbon dioxide, resulting in decreased greenhouse gas emissions.
They can also improve mental health and provide other indirect benefits, but to enjoy these fully, Cooper says, more trees need to be planted.
Groundwork Richmond plants a tree in Atchison Village, an affordable housing cooperative. (Denis Perez-Bravo / Richmond Pulse)
The city has a list of more than 13,000 spots where new trees could go. Planting a single tree can cost up to $750. Additional watering, pruning and general maintenance costs run the total expense up to $1,200 per tree. To plant trees in all locations identified, it would take $16.9 million, according to TransparentRichmond.org's online database.
But many of the different community grants that fund Groundwork Richmond are slated to run out in 2024.
One of them is the Environmental and Community Investment Agreement between the city and Chevron.
In 2014, the City Council approved the agreement, which required Chevron to contribute $90 million through 2024 to programs to improve air quality and enhance public health and safety while allowing the refinery to move along with its modernization project.
The urban forestry program, led by Groundwork Richmond, has been allocated $2 million from the agreement over 10 years. Groundwork receives around $100,000 a year from the city to plant and maintain trees. At the close of fiscal year 2017-18, the urban forestry program had nearly $1.7 million left in funding that needs to be used by 2024.
From 2015 to 2018, $325,217 in ECIA funds had been used to plant 342 trees, according to the 2018 ECIA Annual Report.
Over a 40-year period, it is estimated that those trees will store nearly 3.5 million pounds of carbon dioxide and save 75,528 kilowatts per hour of electricity, the report said.
The anticipated benefits of adding trees more trees is part of the growing initiative to cut down harmful pollutants in Contra Costa County and in the state.
In California, Assembly Bill 32, the Global Warming Solutions Act of 2006, brought on a statewide initiative called the California Climate Investment, which funds strategies to ease air pollution, especially in disadvantaged communities. The state took another major step against air pollution when Gov. Gavin Newsom signed an executive order Sept. 23 that requires all cars sold in the state to be zero-emission by 2035.
Although trees alone won't solve air pollution issues, planting more will surely be part of the overall solution, Johnson said.
"We are in the infancy stage of making Richmond an urban forest," he said. "The goal is to plant 10,000 more trees."
Groundwork is moving toward that goal with the Ten Thousand Trees Project, funded by grants from the Cal Fire Urban and Community Forestry Program. The most recent of those grants were awarded in 2017 and 2019 for roughly $400,000 each.
As of 2020, 22,242 trees have been planted by the city and its partnering nonprofit organizations, including Richmond Trees and Pogo Park.
According to an online database, the most frequently planted trees in Richmond are London planetrees, callery pears, blue gum eucalyptus and coastal live oaks.
There are also 359 strawberry trees in Richmond.
"Some trees have slightly different benefits, but they are all good for the environment," Cooper said.
As he waters and plants trees through Richmond, Cooper has seen that the community appreciates the work that Groundwork does. He hopes more people will use the free tree adoption service it provides and volunteer to help.
"We are going to continue planting trees until there isn't any room for more," Cooper said.