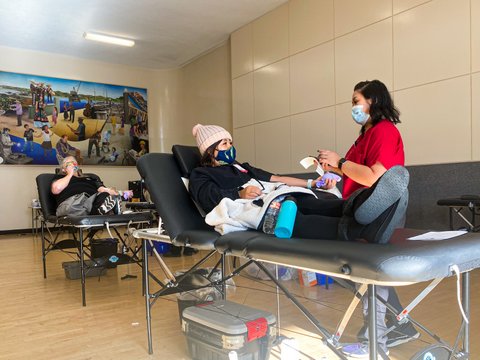 10 Dec

Blood Banks Face Deficit Because of COVID-19 Pandemic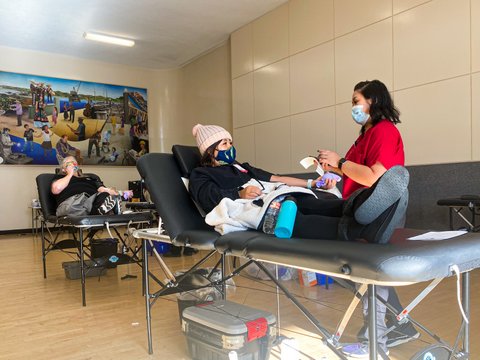 Amid a surge in positive coronavirus cases, part of the Richmond Civic Center was cautiously converted into a Red Cross blood drive center on Dec. 1. (Denis Perez-Bravo / Richmond Pulse)
By Joel Umanzor Jr.
The American Red Cross held a blood drive Dec. 1 at Richmond City Hall amid a crucial time for blood banks all over the country.
Because of the COVID-19 pandemic, blood donations are way down this year. According to a July article published by the National Institutes of Health, 29% of blood centers have less than a one-day supply to meet regular demand.
Before the pandemic began, blood donations were already in short supply. According to an article published in January in the journal Transfusion, researchers found that fewer than 5% of Americans who were eligible to give blood had done so. The July NIH article said those "figures have likely worsened" with physical distancing requirements and concerns over visiting blood centers making people even less likely to give blood.
Christine Welch, biomedical communications director of the American Red Cross, said that the organization is anticipating an increase in the need for blood this holiday season.
"The need for blood doesn't stop for holidays," Welch said. "Between Thanksgiving and Christmas, more than 1 million blood transfusions will be given in the United States. Donations of all blood types are needed to ensure hospital shelves remain stocked."
For some communities, including those who have sickle cell anemia or with rare blood types, this shortage means that blood drives, such as the one at City Hall last Tuesday, have an added importance.
This year's blood shortage weighs heavily on Fred Robinson. The 47-year-old Richmond resident has sickle cell disease, which means he needs transfusions regularly.
"It's been really stressful this year, especially since the coronavirus hit in March," Robinson said. "It really is another added concern on top of all of the craziness we've experienced this year."
It's not just the number of donations that matters. Having donors from a diverse range of racial and ethnic backgrounds is crucial.
According to the Centers for Disease Control and Prevention, 1 in 365 Black or African Americans and 1 in 16,300 Hispanic Americans are born with sickle cell disease, which affects approximately 100,000 Americans.
People with the disease not only need blood but a very specific donation, said the Red Cross' Welch.
"Patients with sickle cell disease depend on blood that must be matched very closely — beyond the A, B, O and AB blood types — to reduce the risk of complications," Welch said. "Some of these rare blood types are unique to specific racial and ethnic groups, and because of this, sickle cell disease patients are more likely to find a compatible blood match from a blood donor who is of similar racial or ethnic background."
Coronavirus research is also heavily dependent on blood donation. The Red Cross is actively petitioning individuals who have had the virus and successfully recovered to donate blood.
"As COVID-19 hospitalizations increase, hospital demand for convalescent plasma has also grown," Welch said. "COVID-19 convalescent plasma is a type of blood donation given by those who've recovered from this coronavirus. Their plasma contains antibodies that may help patients who are actively fighting the virus."
There are still plenty of hurdles to overcome to getting more research on these antibodies, which include getting individuals to the blood drives and keeping people safe while they donate Welch said.
"Because of the various restrictions and desire to keep everyone safe, we encourage donors to schedule appointments beforehand, online or by downloading our app," Welch added. "We have had to focus more efforts on alerting donors of blood drives online."
Mike Reynolds, who lives a short distance from Richmond's Civic Center , said he tries to give blood three times a year.
"I'm on the app for the American Red Cross," Reynolds said. "They give us locales where blood drives occur, and this one was two blocks away from me, so it was very easy."
To find the nearest blood drive and schedule an appointment, people looking to donate blood, plasma or platelets are encouraged to either visit redcrossblood.org, download the Red Cross Blood Donor app or call 1-800-RED-CROSS.