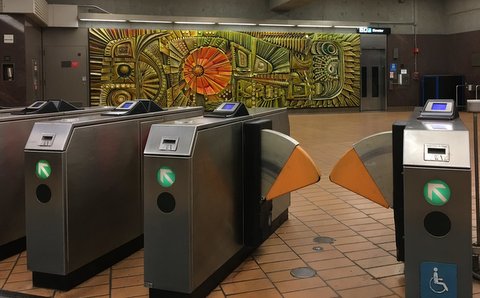 15 Dec

BART Embraces Touchless Payment, Completes Clipper Card Shift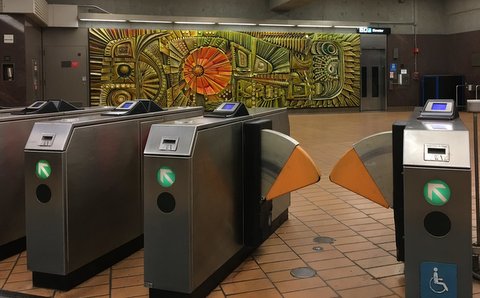 All BART stations, including this one in Richmond, have stopped selling paper tickets. ("Richmond, California BART station" by The West End on Flickr under CC BY-NC-ND 2.0 license)
By Joel Umanzor Jr.
Bay Area Rapid Transit announced a major move in contactless payment in a press release on Monday, part of the agency's ongoing efforts to give riders a safer experience during the pandemic.
All BART fare machines now sell Clipper cards only and will no longer offer paper tickets. According to the release, BART had transitioned all stations as of last week. This transition began August 2019 when four stations stopped selling paper tickets and has expanded across the entire system. The pandemic prompted BART to speed up the process. Additionally, the Pittsburg Center and Antioch stations, which opened in May 2018, have only ever sold Clipper cards.
Moni Duran of El Cerrito, who works in the evenings as a security guard in Oakland, said she had seen the transition coming for a while now.
"I noticed a while back that the options for paper tickets were limited, so I eventually got one of the cards," said Duran, 22. "It's faster, but I could see how people who don't use BART often might not want to have to buy one."
Although the sale of paper tickets has been discontinued, BART still allows riders to enter and exit using paper tickets they already had. Passengers with paper tickets will still be able to add fare to be able to exit the fare gates after riding, according to the press release.
Genoveva Lugo of Berkeley, who was on her way to a business meeting in San Francisco, says she doesn't ride BART often but appreciates the transition to a more contactless experience. Because of the unforeseen impacts of the pandemic and the dangers it presents to those who rely on public transportation, Lugo said the move was probably overdue.
"I have a vehicle to get around locally, but if I ever need to go to San Francisco, I hop on the train," she said. "I feel for the folks who have to get on a train everyday because of the fact that you don't know exactly who you will be encountering when you get on any train or if that train has been properly sanitized, but this is a step in the right direction."
BART accelerated the change to Clipper-only, which has been the prioritized method of ticketing in the region by the Metropolitan Transportation Commission since 2010, once the issues with COVID-19 rose earlier in the year. The MTC makes decisions on the planning and financing of transportation projects in the Bay Area and has Clipper affiliates at 23 transit agencies, including the SF Bay Ferry in Richmond, AC Transit and WestCAT buses, which operate in West County.
BART encourages passengers to add value to their Clipper card online to avoid touching fare gates and fare machines.
Clipper cards can be purchased at any BART station, online at clippercard.com or at several retail outlets in the Bay Area. The card itself costs $3. Then, you can add a dollar value and/or passes from specific agencies. Clipper cards do not require any personal information, but they can be registered online. If you lose a registered card, Clipper will replace the balance on a new card for a small fee.
BART is also offering refunds to riders who still have paper tickets that are worth more than $1. Riders can either present the ticket to a station agent or mail their ticket and refund request to: Refunds, BART Treasury Department, P.O. Box 12688, Oakland, CA 94604-2688.