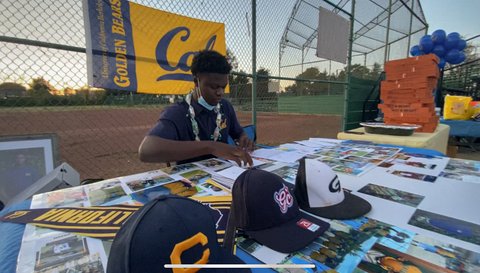 27 Dec

El Cerrito Star Signs With UC Berkeley Baseball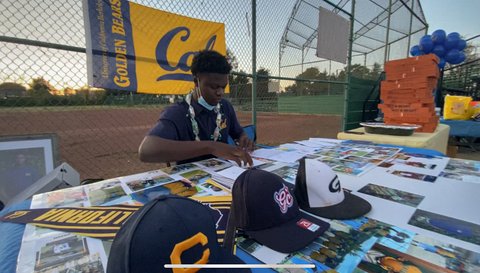 RJ Green, at Nicholl Park on Nov. 20, will go from the El Cerrito High baseball team to the UC Berkeley Golden Bears. (Denis Perez-Bravo / Richmond Pulse)
By Denis Perez-Bravo
A childhood full of baseball at Nicholl Park propelled El Cerrito High School outfielder RJ Green's love for the game into a passion he will continue at UC Berkeley in the fall of 2021.
Surrounded by his mother, Sharee Taylor, friends, family and former coaches, Green returned to his childhood stomping grounds Nov. 20 to sign a letter of intent to play for UC Berkeley.
Green sat near home plate at a table decorated with photos of himself in different games. The UC Berkeley flag and blue balloons with the Cal logo in gold lettering waved in the air.
"It was at Nicholl Park when I realized I could hit a baseball really good and be able to dominate on the mound," Green said.
There, he fostered his talents as he learned the rules and techniques of baseball as a member of Richmond Little League.
In his first years of playing, Green excelled on the field because of what he would do during practice, said Mark Torres, 55, who was his Little League coach.
Green is respectful, which makes him very teachable, added Torres, president of the Richmond Little League since 2007.
Throughout his years working in Little League, Torres would see 300 kids practicing to play baseball each year. But in that mix, there are kids who go deeper. While they learn baseball, they also start to build life skills, he said.
Green went on to play for the Wheelhouse Academy GameChangers and the NorCal Baseball Club, both traveling teams.
Those teams have taken him to different states and even twice to Cuba, where he trained under the GameChangers program Kids2Cuba.
And in his high school career, Green has been a key player on the El Cerrito varsity baseball team, which he has been a part of since his sophomore year.
That first year was one of the few times El Cerrito head coach Kenny Paysinger saw Green struggle. Varsity quality pitching proved to be a challenge for Green, at first, but his level-headed nature kept him focused.
"He ended his sophomore year batting over .300, which is pretty good for a sophomore," Paysinger said.
Green continued to grow every year and was doing "phenomenal" on the field, the coach said, but more than that, he kept working in the dugout, picking people up and spreading positivity.
"His leadership is big for us and makes him the heart and soul of El Cerrito," Paysinger said.
Paysinger and many of Green's former coaches shared memories of coaching Green during the gathering at Nicholl Park. Green's family and friends remembered attending games and experiences they shared while supporting Green.
"Thank you to everybody here that has played an important part in RJ's life that has got him to where he is at right now," Taylor said.
Now, there are new memories to be made at UC Berkeley's Evans Diamond baseball stadium, she said.
"I am really looking forward to Cal games. All high school years I was quiet, I am not being quiet at the Cal games," Taylor said.
But before he moves on to UC Berkeley and the Pac-12 Conference, Green has one more season with El Cerrito High School to finish.
Despite the coronavirus, Green is optimistic that he will be able to finish his senior year playing baseball.
"I want to dominate and have fun while I can," he said.
>>>Read: Cut Short: Kennedy High Senior Devon Gilbert on His Final Season
To get ready for the coming season, Green, a fast 6'3", 160-pound outfielder, visits the gym every day to work on his physical strength.
Green has also taken it upon himself to do early morning workouts, which he expects to be part of the UC Berkeley schedule. He has started consistently working out at night as well.
But he is not focused solely on his physical readiness. He is also working on his academics and preparing himself for the workload he will encounter in college.
Green is confident in his ability to balance the high levels of athletics and academics at UC Berkeley, something he says he has always wanted.
"I deserve this. I worked hard for it and it has always been my dream to go to Cal," Green said.
Though it would be a long ways off, Green could follow in the footsteps of a notable El Cerrito High school alum who just so happened to share his last name. The late Elijah "Pumpsie" Green, who grew up in Richmond, became the first Black player for the Boston Red Sox six years after he graduated from El Cerrito.