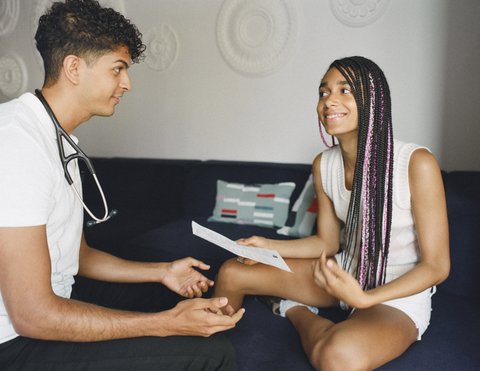 06 Jan

With Line Moving, Some Question Getting COVID-19 Vaccine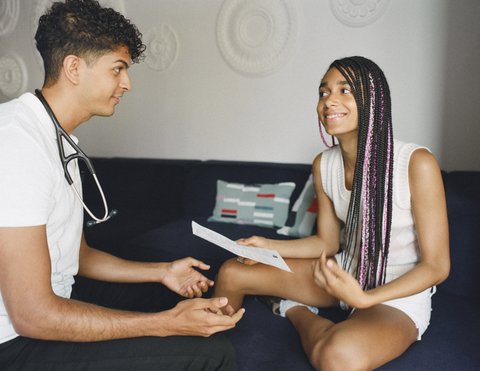 ("Woman asking her doctor questions" by Heather Hazzan for Self Magazine, licensed under CC BY 2.0)
By Maria Bernal
The coronavirus has infected millions, killing more than 350,000 in the U.S. alone. A vaccine could be the only thing to bring the pandemic to an end. Yet many — including some Richmond residents — are reluctant to get the newly developed shots.
"I think some people are wary about it," said Mitzi Pérez-Caro, a Richmond high school teacher and former Pulse contributor. "And that's completely understandable, just because it's kind of uprooted all of our lives."
But Pérez-Caro and her husband — who is on active duty with the Army in South Korea — both intend to get the vaccine when it is available to them.
Despite widespread uncertainty surrounding the vaccine, she is not alone among Richmond residents.
"I am personally committed to receiving the vaccine so long as it is administered following the guidelines set by the researchers who conducted clinical trials using those same guidelines," Kaitlin Denver, who has lived in Richmond for 18 years, said in an email to Richmond Pulse.
The U.S. Food and Drug Administration on Dec. 11 authorized emergency use of a COVID-19 vaccine developed by Pfizer and another developed by Moderna a week later.
For now, COVID-19 vaccines are not available to the general public.
"I would say that most of the people I know are planning to get the vaccine when it is available to them," said Denver.
A Centers for Disease Control advisory panel recommended that healthcare workers should be inoculated first, but the decision on how to distribute vaccines is ultimately up to state governors. Certain health workers are among the first people eligible to receive the vaccine in California.
The Pfizer-BioNTech vaccine requires two doses given three weeks apart. After the first dose, the vaccine is 52% effective in people age 16 and older. That jumps to 95% after the second dose, Dr. William C. Gruber, senior vice president of Pfizer Clinical Research and Development, told the New York Times. A study by the New England Journal of Medicine backs up those numbers.
The Moderna vaccine also requires two doses, but administered four weeks apart. With both doses, it is 94.5% effective in adults 18 and older, according to the FDA.
Moderna said none of the 30,000 people in its efficacy trial became severely ill. Only 11 participants became infected with the coronavirus and displayed COVID-19 symptoms.
Paul Offit, a vaccine researcher at the Children's Hospital of Philadelphia and member of an independent committee that advises the FDA, told Science magazine those results were "absolutely remarkable."
In Contra Costa County, Richmond and San Pablo are among the cities most affected by the pandemic. As of Wednesday morning, Richmond leads the county with 7,041 cases and is second with 41 deaths. Adjusted for population, Richmond ranks third with roughly 6,331 cases per 100,000 residents, while San Pablo leads the county with approximately 11,062 cases per 100,000 residents. Overall, San Pablo has reported 3,475 cases and 18 deaths.
Contra Costa County has relied on essential workers, many low-income, to maintain the economy, but it has been at the expense of their well-being.
"We have people that are essential workers, people that have to work and to provide for their families," Agustin Palacios, the La Raza Studies chair at Contra Costa College, said.
The government and political leaders have "failed miserably" at keeping people informed and providing for people "when they need to stay home," Palacios, a Richmond resident, said.
Workers who cannot stay home aren't the only people getting infected and putting others at risk. Young people are less likely to be seriously affected by COVID-19, leading many to exhibit irresponsible behavior and "exposing people in their family" to a deadly virus, Palacios said.
"People have not taken COVID as seriously and continue to see one another to host parties, etc., but they're very wary of taking something that can prevent the virus," Pérez-Caro said, adding she is frustrated by the need to physically distance, which has prevented her from seeing her husband.
Regardless of the cause, COVID-19 cases are alarmingly high, yet that's not enough to convince some people the vaccine is worthwhile.
Andrea Gomez, a licensed vocational nurse at UC Berkeley, said she does not want to get the vaccine because of the lack of research on how it might affect children.
"As a mom, because of my son, I wouldn't take it because I just don't know what I'm going to bring home," said Gomez, whose son is 1 year old.
Dr. Anthony Fauci said COVID-19 vaccine trials in children would start in January "with children who are a bit older and then work" down to younger children.
"You're going to be able to do all the things you've been asking me about. You're going to be able to hug. You're going to be able to kiss. You're going to be able to have fun with your family. But the only way we get there is if we get a broad acceptance of the vaccine," Fauci said in response to questions from children during CNN's Sesame Street ABC's of COVID-19 town hall.
Like Gomez, some Richmond residents are wary of the new vaccines, though they appreciate the progress that has been made.
"I think for emergency use, it's okay, it's good. It's a step in the right direction to getting closer to opening everything," said Luis Lopez, 28.
Other people say they understand the reluctance but believe the vaccine is necessary.
"There are still many unknowns so I can respect why people would be hesitant, however, I think it is important for people to read the research, listen to medical experts, and demonstrate a social responsibility to keep themselves and others safe," Denver said.
Palacios similarly said he trusts the data and believes the vaccine is safe.
"Look at the science," he said. "See how many people were in the trials. By the time we get it, so many people would have gotten that vaccine that if there were any major reactions, we would know."
Palacios added that the benefits outweigh "the small risk," considering more than 400,000 people will likely die of COVID-19 in the U.S. "by the time this is over."
When the vaccine becomes available to the general public, the professor said he would without a doubt get it. He is eager to see his loved ones without the risk of exposing them to a virus that could kill them.
"It means that I can go and visit my family — my extended family and my grandma — and not worry about her getting COVID," he said.
People need to act responsibly because we can't always know the effect we have on others, he added.
"Just because I don't see it and you don't see it yourself doesn't mean that you're not somehow part of it," Palacios said.
Throughout the pandemic, many people's health has indeed been negatively affected by the actions of others. Some hope that will become a good thing.
"Everyone is free to do what they want to do and do their own research, so they can decide on what they want to do with their body," Lopez said. "I would actually feel that I wouldn't need to take [the vaccine] because the people around me have already been vaccinated."
Lopez is among those depending on herd immunity to protect them from the coronavirus, but many experts say that's not a route for most people to bank on.
"For most people, herd immunity isn't a good alternative to getting vaccinated," wrote Dr. Noreen Iftikhar on Healthline.
When enough people are vaccinated against a disease, herd immunity can protect the general population, including those who cannot get vaccinated or for whom a vaccine isn't effective. That's why it's important for as many people as possible to get vaccinated.
"I would like to get the COVID-19 vaccine to keep myself, my family, friends and community safe," said Denver. "Safety is really the No. 1 priority."
The currently available vaccines have been shown to keep the recipient from contracting COVID-19, but whether they can prevent the coronavirus from spreading is still being studied.
So Denver said she "would be willing to wait," if a vaccine that is shown to stop transmission were "made available in a relatively short timeframe."
Fauci said at a Harvard University event Dec. 9 that if 75-80% of the U.S. population gets vaccinated, then our society could achieve herd immunity by the end of summer and "normality" towards the end of 2021.
U.S. officials recently ushered in a new rule that could encourage as many people as possible to get the vaccine. The federal Equal Employment Opportunity Commission said in guidelines issued in December that companies could require their employees to be vaccinated against COVID-19.
Some people are open to getting the vaccine but worry about how it might affect them.
Side effects of the vaccine vary but include those associated with most vaccines: tiredness, headaches, chills, fever and nausea.
Two healthcare workers in Alaska, however, exhibited severe allergic reactions after receiving the Pfizer vaccine. That news has some concerned.
"From what I've heard, there may be multiple side effects depending on different people," Lopez said. "The possibility of side effects is just enough to scare me away from wanting to try it."
It is important, however, to put these reactions into perspective as all pharmaceuticals can cause side effects, ranging from mild and common to severe but rare.
The FDA relies on multiple levels of clinical trials to determine whether a drug's benefit outweighs the risks of any potential side effects. While a few bad reactions to the coronavirus vaccines have gotten a lot of publicity, millions of other vaccinations have gone largely unnoticed.
Pérez-Caro said she knows two people in the medical field who have gotten the vaccine, and "so far, they've been healthy."
The FDA also gave medical providers a standard warning to not to vaccinate anyone with "a known history of a severe allergic reaction" to any ingredient in the vaccine. The CDC, on the other hand, says people with serious allergies could be safely vaccinated, though they should be closely monitored for 30 minutes after each shot.
Lopez is also worried about how quickly the vaccine was made, but the FDA said it has "not sacrificed scientific standards, integrity of the vaccine review process, or safety."
"In the first wave of anything that's brand new, whether it be a new piece of technology, or a new car, there's always going to be growing pains," Lopez said. "So I think being on that first wave is just, just a little too risky for the result of being vaccinated against COVID."
Dr. John Swartzberg, a professor of infectious diseases and vaccinology at UC Berkeley, told Richmond Pulse that the COVID-19 vaccine was "developed quickly because there was an enormous amount of resources" compared with what "typically is done with the development of a vaccine."
Techniques developed over "the last two to three decades" created a foundation for researchers to develop the COVID-19 vaccine, Swartzberg said, adding the pandemic itself also moved the process along.
"Enormous amounts of cases made it radically easier to determine the vaccine efficacy," Swartzberg said, "because you didn't have to wait long to see how well the vaccine was protecting people because so many people were becoming infected."
Swartzberg understands people are hesitant to get the vaccine because there is only three months of data but, he said, "that 3-month period of time suggests that they're safe and comparable in terms of safety to other vaccines."
But Gomez said she wants to see more research done in the coming months before she would consider getting the COVID-19 vaccine. In the meantime, she said, she plans to rely on the flu vaccine and her body's immune system.
 Even as the coronavirus takes lives and overwhelms hospitals, many people remain reluctant to take such a new vaccine.
 "I do understand why people are hesitant, but in terms of doing the calculus, it's important to recognize that there's a known real threat," Swartzberg said. "The longer we wait to give [vaccines] the more people are going to die."