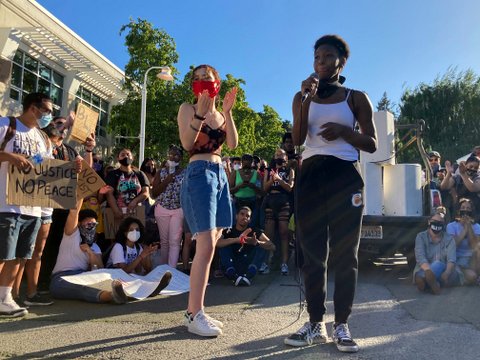 21 Jan

2020 Was a Nightmare, but We Need to Celebrate the Successes Big and Small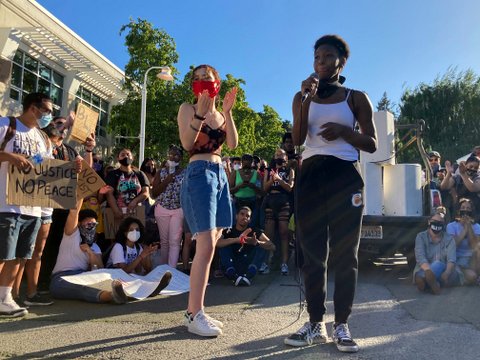 This police brutality protest organized by writer Kimyatta Newby was both one of her most noteworthy accomplishments and a reminder of society's ills in 2020. (Denis Perez-Bravo, Richmond Pulse file)
Commentary, Kimyatta Newby
You know what? To be completely transparent, 2020 sucked. Society is a mess. It was revealed to the public — or at least to those who didn't know already: The way I see it, the government is a cesspool of exploitation. Plus, I lost what was supposed to be the most teenager-soaked year of my life. Yet as much as I would like to sulk and complain, I don't want to reiterate how bad that year was. I don't want to look at the year and only feel pain. I want to acknowledge some highlights from my year and from everyone's year.
I graduated from Middle College High School alongside the rest of the class of 2020. I was accepted to the illustrious Howard University and finished my first semester there. I met some amazing people virtually and in person. I made some summer memories even through the quarantine. I learned a lot about myself and strengthened my views and had to rediscover my passions separate from school. I basically had to rediscover who I was outside of my school identity and how I wanted to move forward from that.
My school identity put me in positions of control, trying to dominate whatever was in my path. While I am a steadfast person, trying to control everything gets overwhelming and exhausting. Outside of school, my life was still school — I was never detached from it. The sprinkles of separation were muddled and still were reminiscent of school. Unlike high school, college provides detachment. It helps students figure themselves out apart from what they are told by others because no one is telling us now. We're all just wandering aimlessly learning about ourselves, which is interesting.
One of my most noteworthy accomplishments came when the year was finally almost over. In December, my county recognized my efforts in the community. I won a humanitarian award for different works such as spending time after classes to mentor high school freshmen, tutoring neighborhood kids and organizing a protest against racism and police brutality. I've received awards before, but this one is different because it isn't about me. It isn't for me either. The hours I put into research, volunteering, organizing and supporting aren't for me. It's for my family, my friends and my community because that's what I've been fighting for. So thank you to the Black community. This is for you all.
We can't forget, though, the year wasn't some blessing in disguise. Let's be real: It was a complete nightmare with only moments of our heads above water. 2020 had the shine knocked off of it. It revealed a lot of things to a lot of people. A reflection of what society really was: dysfunctional and barely scraping by.
There were some moments, however, where society didn't completely fail us, beginning with the Supreme Court. It didn't end DACA, and it extended civil rights protections for LGBTQ folks. A lot of people adopted animals, with animal shelters across the country reporting they were empty. We had a massive drop in carbon emissions, and we sent the most advanced rover to Mars.
Last but certainly not least, the entire continent of Africa has eradicated wild poliovirus. Yes, let's not pretend 2020 was mystical, but we can try our best to acknowledge the successes big and small. Give yourself a breather, a break, a moment to be proud of yourself for making it through another year. We can wallow in the chaos and we can celebrate ourselves for completing 2020. Regardless, I can't wait to put 2020 away. Rest in power to those we lost, and I wish everyone the best in 2021.