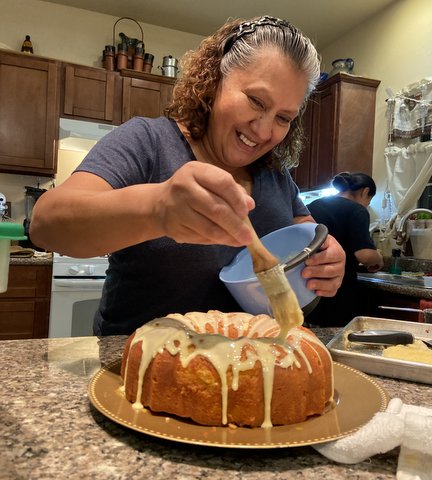 01 Feb

Pandemic, Social Media Give Home Food Businesses a Boost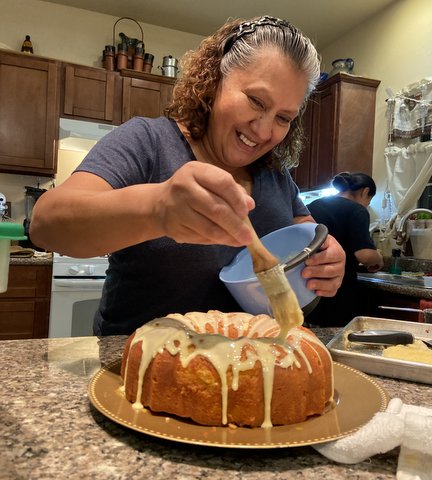 Isabel Coba worked in catering before the COVID-19 pandemic. Since losing her job, she started selling food from home. (Juan Coba for Richmond Pulse)
By Maria Bernal
As you travel the residential neighborhoods of Richmond, you're bound to see people selling food from their driveways.
With so many people losing their jobs and looking for new ways to support their families, Richmond's underground food culture has grown during the pandemic and become more visible on social media.
Bertha Bravo, whose son is a reporter and photographer for Richmond Pulse, started selling homemade food from her kitchen after she lost her job as a housekeeper.
"I made the decision to sell food because I was left without a job," she said in Spanish. "I told myself that I would try to sell food from home. And with the help of God, we will be OK. I practically grew up cooking."
She offers Central American dishes such as pupusas and Guatemalan tamales for pick-up and delivery within Richmond. Customers can use Instagram messaging to place their orders and arrange to get their food.
Bravo announces her menu each week on her Instagram page, @comidatradicionales.
She said she hopes to one day open a restaurant or a food truck and continue selling food to the community.
Bravo started her business because of the pandemic, but people have been turning to their kitchens to make money for some time now.
Ranisha Scott is a Richmond resident who lost her job in 2017 and was driven to start her own food business.
Scott's business, Tasty Eats Catering, turned 4 years old this January. She said the pandemic has brought her more orders than ever before because people who work from home "can't go out and get food."
She does not think her business would exist without social media. She uses the handle @tastyeatsbynini to share dishes including crispy chicken with a Southern twist, shrimp and desserts on Instagram and Facebook.
Scott said people want to try her food "just based off of the photos and the videos" that she posts. She also said she has noticed a lot of other people selling homemade food through social media.
"There's so many people selling food, period, on Instagram and Facebook," said Scott. "I've gotten so many customers through Instagram and Facebook. It's unbelievable that people can kind of trust you enough to buy food from you."
Online tools have become essential for these home cooks. They use Facebook and Instagram to reach new customers, promote their dishes and advertise their locations and hours. Customers, in turn, can order through direct messaging and pay using apps such as CashApp or Venmo.
Scott said she is constantly learning because there are "always different things coming out about how to safely prepare food." She did not have a mentor and had to research how to get permits on her own.
"I've gone on Pinterest and Google, have asked for [information on food permits], and I'm just trying to learn everything I can about how to safely prepare food: 'What do I need to do to actually sell food?' and things like that," said Scott.
California law AB 626 established "microenterprise home kitchen operations," allowing home cooks to apply for permits to sell food made in their private kitchen, if such enterprises are authorized by their city or county. AB 1616 allows people to prepare "non-potentially hazardous food" in home kitchens also known as cottage food operations.
According to Contra Costa Health Services' environmental health division, six cottage food operations are registered in the city of Richmond.
An environmental health representative told Richmond Pulse they were "unaware of any local laws in the city of Richmond that address MEHKOs or CFOs" and that they have not noticed any home food business trends because they have "been heavily involved in the COVID pandemic response."
Before the COVID-19 pandemic brought social events to a halt, Isabel Coba worked in catering. After losing her job, Coba started cooking and selling Mexican food from home.
Her son Jesus helps her run her @cobas_delight Instagram page.
Jesus Coba said their Richmond-based home food business, which represents the strength and resilience of his Mexican heritage, and others like it expose people to different cultures.
"It's beautiful," he said, "To not learn or get to taste or see other people's cultures in life is missing a big piece of the puzzle."
The food Isabel Coba makes is strongly influenced by Poblano cuisine. While she can't always find the ingredients from Puebla, she tries to stick to the traditional recipe that was passed down to her. She says the authenticity of her food has helped her business stick out online and build a reputation.
With her business gaining success, she said she feels like she "lost time working for others" when she could have worked for herself. Jesus said he is inspired by his mother's "hustle" and that he sees home food businesses as an opportunity to uplift communities of color, which are often disproportionately affected by the pandemic.
"I don't care if it's Richmond, Oakland, Frisco, like, just brown people — we're trying to keep our own economy, you know," said Jesus Coba. "I gotta help my family."