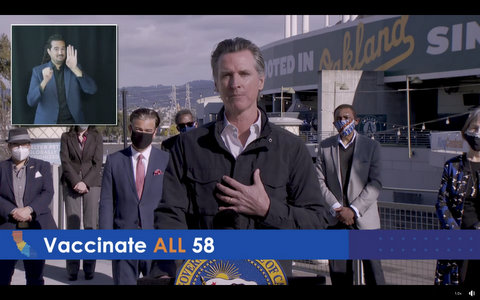 03 Feb

Oakland Coliseum to Become Mass Vaccination Site as California COVID-19 Cases Drop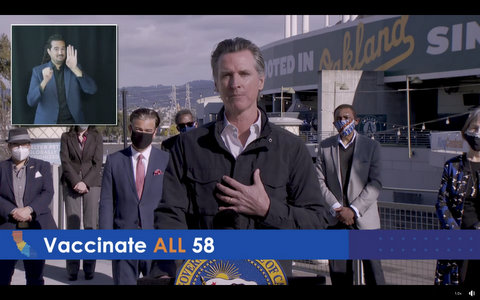 The state plans to open a mass vaccination site at Oakland Coliseum on Feb. 16 and to administer 6,000 COVID-19 vaccine doses each day there, Gov. Gavin Newsom said Wednesday. (Screenshot captured by Edward Booth / Richmond Pulse)
By Edward Booth
Gov. Gavin Newsom announced Wednesday during a press conference that the Oakland Coliseum will become a mass coronavirus vaccination site, set up by the Biden administration and state, that will open within the next few weeks.
A minimum of 6,000 vaccine doses will be administered at the site each day once it's set up, said Newsom, and the state hopes to open the site Feb. 16. California will also open a site at Cal State L.A. The California sites are part of a Biden administration pilot program that will establish over 100 mass vaccination sites across the United States.
"The whole idea is to speed up the throughput, the efficiency, maintain an equitable lens in terms of the application and distribution of the vaccines," Newsom said. "Equity is the call of this moment. The reason this site was chosen was the framework of making sure that communities that are often left behind are not left behind."
Newsom said the state and federal government will work with Alameda County and local officials to set up and run the site and hire people from the local community to administer doses.
Additionally, Newsom announced that a COVID-19 vaccination app, MyTurn, will fully launch statewide in a few weeks. The app has been piloted for two weeks in Los Angeles and San Diego. It allows users to be notified when they're in line for a vaccine dose and schedule receiving the dose. The notifications for vaccine availability are currently available, while scheduling to receive the vaccine isn't yet.
These announcements come amid a falling number of COVID-19 cases in California, and a similar drop in hospitalizations. Newsom said the state reported over 60,000 cases Jan. 4, a historic number. Wednesday, Newsom said, the state is reporting 10,501 cases. The statewide COVID-19 testing positivity rate peaked Jan. 7 at 14.3%; it's now down to 6.1%.
COVID-19 hospitalizations are down 29.5% over two weeks, and intensive care unit hospitalizations are down 21.5%.
Overall, the state has tripled the number of daily vaccines across California. Newsom said the state has also reallocated vaccines that aren't being administered. For example, he said, half of 170,000 vaccines that CVS had that weren't being administered were sent to Kaiser to be used in low-income communities.
Additionally, issues with vaccine supply will soon be less prominent, Newsom said. The state will receive 1.06 million doses of the vaccine this week, and California is averaging over 1 million vaccines administered each week, he said.
Newsom said the state is closely monitoring the presence of new COVID-19 variants in California. He said there have been 150 reported California cases of a variant that was first identified in the United Kingdom, 960 "West Coast" variant cases and no cases of a variant first identified in South Africa to report.
"The virulence, the transmissibility, of those variants are obviously a concern," Newsom said. "That's why we have to continue to be cautious. That's why we have to continue to be mindful. That's why we have to continue to do the things we know we need to do in terms of physical distancing and continuing to wear our masks."