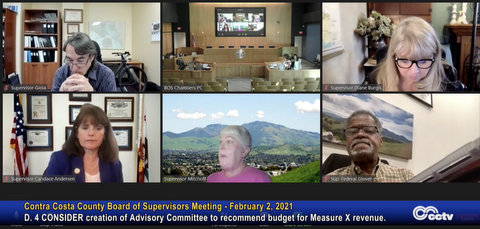 04 Feb

County Supervisors Place Temporary Cap on Third-Party Delivery Fees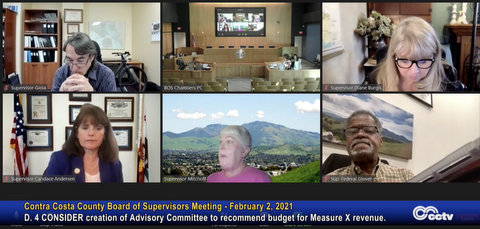 The Board of Supervisors on Tuesday approved a 15% cap on third-party restaurant delivery fees. (Screenshot captured by Edward Booth / Richmond Pulse)
By Edward Booth
The Contra Costa Board of Supervisors on Tuesday unanimously approved a temporary 15% cap on fees charged by third-party delivery services, such as DoorDash, on food orders and deliveries from restaurants in the county.
As a result of the ordinance, third-party delivery firms cannot charge restaurants more than 15% as an additional fee of the total cost of an order given by a customer. Third-party delivery firms also can't charge restaurants more than 10% of the order for other services such as processing online orders. The ordinance will end once indoor dining becomes allowed at full capacity in the state again, or if the board votes to end it.
The cap was put in place because restaurants in the county and throughout the state have suffered economically because of the COVID-19 pandemic, according to the staff report. Restaurant employment in California as of last November is at least 20% lower than in February, according to the National Restaurant Association. Restaurant sales fell 4% nationally between October and November last year, and sales remain more than 20% below where they were in February last year.
As a result, dozens of Bay Area restaurants have permanently closed. Many restaurant customers have come to rely on third-party food delivery companies because of restrictions limiting in-person dining, according to the staff report. But the fees charged by these services threaten the profitability of restaurants in the county, particularly those that are small and family owned.
>>>Read: Coronavirus Affecting Local Food Scene
Tim Ewell, chief assistant city administrator for the county, said there was broad support for the countywide cap while it was being developed from the Public Managers Association, a local association of city managers and the county administrator. Three cities in the county — Lafayette, Walnut Creek and Danville — previously passed similar ordinances, he said, and those have priority over the county ordinance.
Supervisor Diane Burgis said DoorDash representatives requested the supervisors to modify the ordinance by establishing a 20% — instead of 15% — cap, and by terminating the ordinance when 50% indoor dining is allowed. The representatives also requested that the ordinance not protect chain restaurants. (The passing ordinance makes no distinction between chain restaurants and locally owned restaurants.)
Supervisor Candace Andersen said she was in favor of eliminating the ordinance when 50% dining becomes allowed. She also said restaurants themselves could be raising their prices, so customers might not see a big difference in cost with the ordinance.
Andersen added that her favorite way of ordering from her favorite restaurant during COVID is to drive to the restaurant, call it up and have the restaurant deliver her food to her trunk. That way, she said, there's no extra fees either way. But Supervisor John Gioia said that isn't possible for everyone.
Gioia said the problem with making a distinction between chain restaurants and local restaurants is that some chain restaurants are locally owned, and they're at risk during the pandemic as well.
Public commenters were largely supportive of the ordinance. Kevin Wilk, mayor of Walnut Creek, said the city decided to pass its own ordinance in October to help local businesses. He said the pandemic had given third-party delivery services a tremendous boost, and some have increased their delivery fees during the pandemic. Restaurants that can't open for in-person dining yet — including the vast majority of restaurants in California — have felt forced to acquiesce to these third-party restaurant delivery fees because they face the possibility of closing otherwise.
"While we normally would not get involved in the free market economy that drives competition, we felt it was important in this instance to help save some restaurants from closing," Wilk said.
Josh Anijar, executive director of the Contra Costa Central Labor Council, said the organization fully supports the ordinance. He said gig workers working for third-party delivery companies are part of an exploitation model that continues to hurt both the workers and small businesses trying to stay open and provide a service.
"DoorDash, Instacart and all these app-based companies have made record profits and record amounts of money off the backs of gig workers that have no health insurance and no ways to fend for themselves," Anijar said. "It just outrages me to think that not only are they hurting these small businesses, but they're hurting the workers as well."
In response to a comment made by a DoorDash representative, Gioia said it appears DoorDash is still doing robust business in Walnut Creek, despite the 15% cap.
"In fact, my understanding is they haven't pulled out of any market that has this cap, Gioia said. "So they are able to survive."