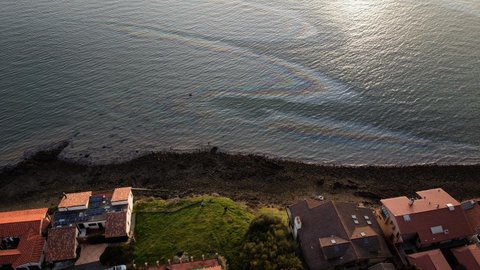 10 Feb

Chevron Oil Spill Is Under Investigation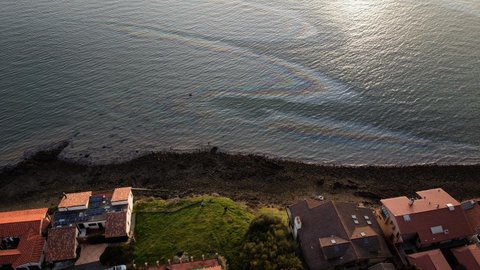 A pipeline leak bled more than 500 gallons of petroleum products into the San Francisco Bay off the coast of Point Richmond on Tuesday. (Denis Perez-Bravo / Richmond Pulse)
By Denis Perez-Bravo
Chevron refinery spilled more than 500 gallons of petroleum products after oil began leaking at the Richmond Long Wharf around 3 p.m. Tuesday.
A leaking pipeline bled five gallons of crude oil a minute into San Francisco Bay from 2:40 p.m. to 4:30 p.m., Contra Costa County Supervisor John Gioia said.
The East Bay Regional Park District has closed all South Richmond shorelines until cleanup efforts have been completed where petroleum washed ashore. The cause of the leak has not been determined and an investigation is underway, Gioia said.
The damage done by this spill has not been estimated yet, he said, but when the cost is known, it will be Chevron's responsibility to pay the "cleaning costs and litigation of harm," Gioia said.
The Richmond Fire Department, Chevron Fire Department and a Contra Costa County hazmat unit responded to the incident.
Chevron said in a statement on Twitter that it was "fully cooperating with authorities including the U.S. Coast Guard and" California's Office of Spill Prevention and Response.
Gioia said Chevron did not do enough to notify the community and that there was "not enough information" available to the public.
He took to social media to update the public and said California State Assembly member Buffy Wicks told him she was going to introduce a bill to increase fines and penalties against corporations.
"I hope this doesn't happen again. This is not good at all," 8-year-old Point Richmond resident JJ Davis said.
He said he smelled "car exhaust" as he watched the sun set on shimmering rainbow colored waters with his father, William Davis, 37, on a hill on the coast of Point Richmond near the San Rafael Bridge.
Life for fishermen, other residents and the local ecology will be disrupted.
Davis, like many of his neighbors, is worried about the damage to wildlife, including local fish and the seals that eat them.
"This was unexpected," Davis said.
He found out about the spill on NextDoor where neighbors who had a view of the spill were talking about it, he said.
Moving forward, he hopes Chevron will explain the oil spill. 
"I hope for transparency on how it happened and open communication between the refinery and the community," Davis said.