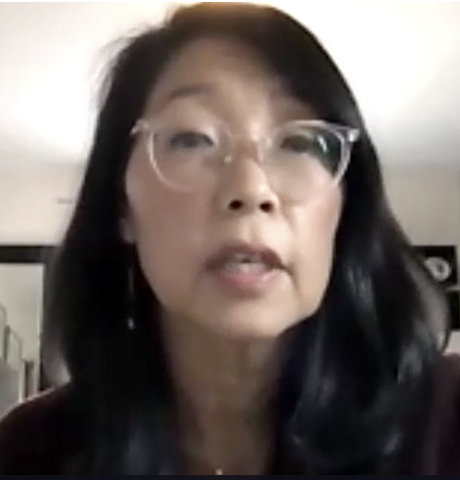 11 Feb

AAPI Community Plans 'Days of Action' This Weekend in Oakland, SF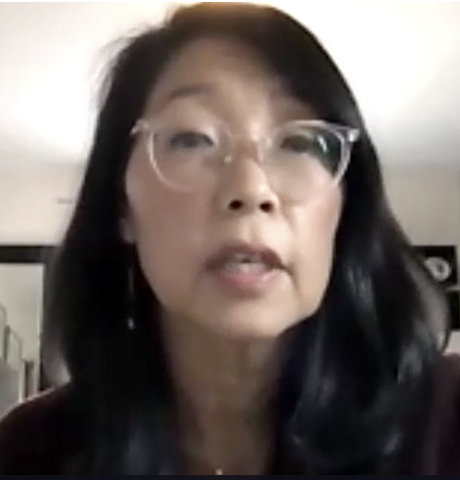 "Our community is fearful of being in public alone, simply going for a walk, or living their daily lives," Cynthia Choi, co-executive director of Chinese for Affirmative Action, told reporters Tuesday. (Screenshot captured by Michael J. Fitzgerald / Richmond Pulse)
By Michael J. Fitzgerald
Two "Days of Action" have been declared for this weekend in Oakland and San Francisco, during which Asians and Pacific Islanders are asking people to stand in solidarity with them following recent violence against members of their communities.
Vicha Ratanapakdee, an 84-year-old Thai man, died after being shoved to the ground last month in San Francisco. In Oakland, a man was caught on video pushing a 91-year-old man. Police say that man also knocked a 60-year-old man and 55-year-old woman down on the same block. Arrests have been made in both cases.
"The impact on the AAPI community has been devastating," Cynthia Choi, co-executive director of Chinese for Affirmative Action, said at a press conference Tuesday.
"Our Chinese, Vietnamese, Thai elders to Asian American youth, our community is fearful of being in public alone, simply going for a walk, or living their daily lives,"said Choi. These incidents are stark reminders that urgent action must be taken to protect our AAPI community from hate, discrimination, and violence."
The attacks have gained widespread attention.
Prior to the arrest in the Oakland attack, actors Daniel Dae Kim and Daniel Wu offered a $25,000 reward for information leading to an arrest and conviction.
The Oakland event will be Saturday from 3 to 5 p.m. in Oakland's Chinatown.
The San Francisco event will be Sunday from 11 a.m. to 1 p.m. at Civic Center Plaza.
At the virtual press conference, a statement signed by 50 organizations was presented, denouncing attacks against AAPI community members and urging action.
"In the past year, we have seen an escalation of violence and other incidents against Asian American communities," the statement says. "The Stop AAPI Hate reporting center documented 2,808 hate incidents in 2020. Over 700 of these occurred in the Bay Area."
>>>Read: Asians Face Increasing Harassment During Pandemic
The organizations collectively ask that San Francisco and Oakland leaders take a series of steps to help stop the incidents.
Those steps included:
Ensure victims and survivors of all backgrounds and language abilities receive full supportive services so they can recover and heal.
Expand intervention and prevention-based programs and invest in basic needs and community-based infrastructure that we know will end the cycle of violence and keep all of us safer.
Resource cross-community education and healing in Asian American and Black communities that humanizes all of us rather than demonizes or scapegoats any community of color.
At the press conference, Ener Chiu of the East Bay Asian Local Development Corporation said he believes if people can connect better with the each other, hate incidents will diminish.
>>>Read: Hate Incidents On the Rise, Unlikely to Disappear After Election
"It's difficult to shove a senior citizen to the ground if you see yourself in them, if you have a relationship with them," Chiu said. "It's difficult to racially profile someone if you're not afraid of them, and can see that person as an individual."
It all comes down to communities finding ways to get people together, he said.
"We need to invest in community safety infrastructure and people who can bring those different communities into relationship."
Stanley Pun, co-director of Oakland's AYPAL group said improving relationships will be difficult, but said he has faith in community-based solutions.
"While there are no easy solutions, we know our power is rooted in our communities, the relationships we build, and the power we collectively grow together," Pun said.
"That cannot happen without investment in resources for healing, justice, and accountability."
For information about the Oakland Day of Action, contact oakchinatowncoalition@gmail.com​.
For information about the San Francisco Day of Action, contact ​info@caasf.org.​
You can also visit the Action Network to RSVP for the Oakland and San Francisco events.