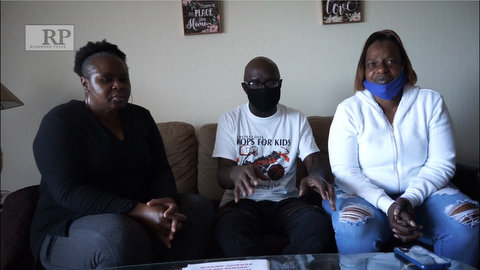 04 Mar

Antoine Whittley's Family Keeps Up Search for Him and Closure

Story and video by Denis Perez-Bravo

It has been three weeks since Antoine Whittley went missing, and his family is still looking for closure.

The 17-year-old Richmond resident has not been seen or heard from since exiting a rideshare car on the Richmond-San Rafael Bridge on the night of Feb. 10.

With help of the Richmond community, his parents, Tanetta Morgain and Anthony Whittley, have been getting the word out online and throughout Richmond and San Rafael.

The family, Richmond residents and staff at Kennedy High School, where Whittley was a student-athlete, meet at the intersection of Maine Avenue and Marina Way South everyday at 3:30 p.m. to pass out fliers and raise awareness of the ongoing investigation.

Morgain said she fears that someone has taken her son and "won't let him go."

For now, though, she can only speculate. Neither police work nor her own findings have given her a definite answer to what happened to her son. She believes Whittley didn't fall or jump off the Richmond-San Rafael Bridge, as police suspect.

"My son is not in the water," Morgain said.

According to the initial police investigation, the last contact Whittley had before getting in the car was with his best friend K.J.

The night Whittley went missing, he visited K.J.'s home at Maine Avenue and Marina Way South.

K.J. told police that he and Whittley ingested marijuana edibles and "possibly include" hallucinogens, Richmond police Sgt. Aaron Pomeroy said. After hanging out with friends, Whittley told K.J. he was not feeling well and wanted to go home.

K.J. ordered him a rideshare. Whittley got in the car bound for Point Richmond around 8:25 p.m.

The driver told police he became concerned by Whittley's behavior during the ride and missed the Richmond Parkway and Point Molate exits. On the bridge, the driver said, Whittley became agitated because he had missed the exit and asked to get out.

Police said, after the driver said he would have to make it across the bridge to stop, Whittley "climbed over" him and exited the car in the middle of the upper deck.

K.J. also told police Whittley called him around 8:30 p.m. after he forced his way out of the car and said he was almost kidnapped, someone was chasing him and he might "have to jump off."

Whittley's cell phone activity stopped shortly after that call. No one has seen or talked to him since.

The Richmond Police Department's Marine Patrol units have searched the waters around the bridge and shorelines in Marin, Contra Costa and Solano counties with help from other local law enforcement agencies and the Coast Guard. The search has yielded no answers.

"We don't even know if he went into the water," Sgt. Joe England, the commander of the marine patrol unit, said.

Both the driver, who will not be identified by Richmond Police, and K.J. have been fully cooperative with the investigation. Police do not suspect foul play.

The police are treating this as a missing persons case. The department has offered a $10,000 reward for any information leading to Whittley's whereabouts.

As for the family, they plan to continue to aggressively spread the word about Whittley's disappearance until they find answers.

"We want closure," Morgain said.