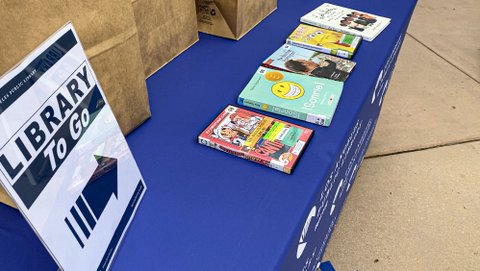 04 Mar

Richmond Public Libraries Busy as Ever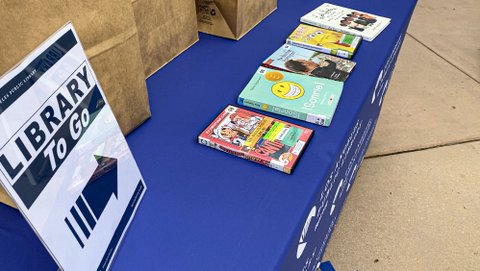 The Richmond Public library offers curbside pickup, like the L.A. service shown here. ["Los Angeles Public Library announces curbside pickup" by Eric Garcetti  (CC BY-NC-ND 2.0)]
By Michael J. Fitzgerald
When the pandemic walloped Richmond a year ago, the city's public library and two branches were forced to close their doors to the public like nearly all public offices and businesses.
But after a period of adjusting to the new viral reality, the libraries are providing nearly all the services they did previously, with virtual adjustments.
"We're here and we are working," interim library director Jane Pratt said. "We've been in the office every day since June. We're just not at this point opening the doors and letting people come in. We're doing practically everything else."
That "practically everything else" includes a curbside service to pick up books as well as a web-based system for browsing new books. Browsers can read a description of the book online, see if it's available and order it. If needed, they can place a hold on the book too.
"We also have a customized reading list option for people," Pratt said. Patrons fill out a form online and then a librarian works with them to find books based on what the library user might find of interest.
A slightly modified reading-list system is available for children too.
The library system also has continued its popular crafts program.
"We've modified our craft kits that were formerly used in the libraries so that they are now 'to go,' " Pratt said. People call in and request a kit, receiving it through the same curbside service that hands out books. Pratt said that on occasion people have been picking up extra craft kits to take to homeless shelters and senior citizen facilities.
In addition to the books and craft kits, printing and WiFi-access services are available.
Residents with computers — but not printers — have historically relied on libraries to print out documents or forms.
Now, people can send their documents to the library via email to rpl_reference@ci.richmond.ca.us. The items are printed out and people can come by and pick them up through the curbside service. It costs 10 cents per page for black-and-white printing, and patrons can pay through their library account online.
"It's very popular," Pratt said.
Also popular is a new program of loaner WiFi hotspots.
"If you don't have internet at home, we are going to lend out these hotspots," she said.
At present, the library has 11 hotspots and will be limiting most loans to 24 hours. A few may be borrowed for seven days.
"We're hopeful this will be very useful in the community," Pratt said.
The libraries also recently subscribed to an online tutoring system to replace its former in-library homework-help program that was offered after school.
"It provides live tutors via computer to work with kids on whatever subject they need help on," Pratt said. "They can dialogue back and forth, share their screens."
The tutoring program also has a writing lab that allows students to turn in assignments for review. "It's a not live program. But the tutors look over the assignment, make comments and give it back," she said. Spanish-speaking tutors are available too.
The library's popular story time sessions are still going on, though not in the libraries because of pandemic restrictions.
"But there may even be more story times now than there were pre-pandemic," Pratt said.
"All are filmed and posted on Facebook Live. We also introduced a new bilingual story time."
The filming and technology make it possible to view the story time presentations at any time — a plus for many parents, she said.
At this point, the Richmond Public Library has "no definitive date" for full reopening.
But Pratt said there is the possibility of reopening in phases, perhaps allowing a limited number of patrons in at a time for a limited period to browse.
A full reopening might occur in late summer. It's partly dependent on making sure that all library staff who want to be vaccinated have received their shots.
Information and full details about the Richmond Public Library and its services is available online at: https://www.ci.richmond.ca.us/105/Library.