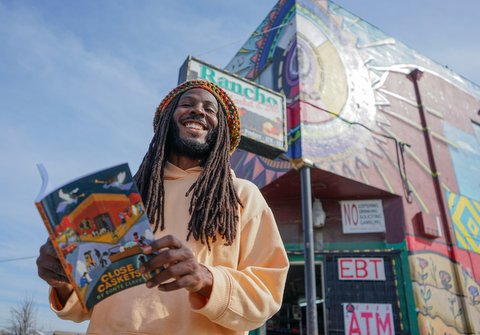 10 Mar

In 'Close Caskets,' Donté Clark Opens Up About North Richmond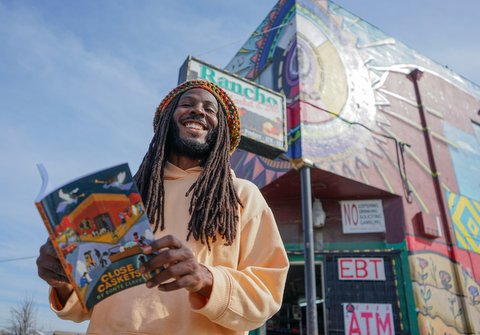 Donté Clark recites from his new book, "Close Caskets," in front of his neighborhood grocery store, Rancho Market, in North Richmond on March 2. (Denis Perez-Bravo / Richmond Pulse)
Interview, Joel Umanzor Jr.
Donté Clark, the artist, activist and poet from North Richmond, released a poetry book last month titled "Close Caskets," in which he portrays real experiences of his life in Richmond. He talked to Richmond Pulse about his influences, what this project means to him and about his future projects. This conversation has been edited for length and clarity.
RP: How would you describe 'Close Caskets'? What does the title mean? What are some of the themes that you explore in the book?
DC: "Close Caskets" is about seeking closure. It's about accepting death, every emotion that comes with grieving and healing, and embracing the life that comes after.  But more important is spiritually preparing for the life that comes after, so it's a call for cleansing the heart.
In "Close Caskets," you'll read my prayers, stories about the last moments I spent with loved ones, times that I've laughed hard, and all the tears that won't go away. It's all about healing.
RP: As you put this together last July, did social justice issues influence this particular work? Or was it something that you had in mind before the events of 2020?
DC: I put out my first book in 2019, and I knew I was going to put out another. Last year inspired me to write this piece and go in this direction. Violence has been happening in the community. Police have been killing us and getting away with it. People have been coming up missing. We've had the Karens and all of these types of people before, but COVID has put all of these things in a container. Now, it's not just police brutality. It's not just people coming up missing. It's not just protesting the Super Bowl and people making racist comments.
Everything now is riled up at the same time and intense. I had so much anger and so much sorrow for what was happening, I wanted to say something, but I didn't know the words. I didn't know how to put my thoughts into perspective. Going away to a quiet place allowed me to prioritize my own mental health and my own healing. Sometimes, I fall into some dark places. Sometimes, it can make me silent. It can make me agitated. It can make me very distant.
I can't be a productive voice or an example to the community if I have anger issues or have paranoia with my own community. Going through the internal turmoil inspired me to say, "I need to address what is going on within me," so I can give some people some context of where I'm coming from and hopefully close this chapter in my life in the sense of moving forward — transitioning to the next thing spiritually, whether that is a physical death or a spiritual rebirth. I'm bettering myself not for me, but to be of better service.
>>>Read: Té's Corner: Enjoy A Day of Self-Care in the Sun
RP: A lot of people from the same background as you, the same neighborhood and community are going to look at this and feel like they are going through the same situations.
DC: That's another reason why I am doing it. Just knowing I can put all of this in a book because some of my elders, aunties and cousins are not always going to be able to catch my live performances. I'm going to put the names, locations and experiences that we all went through in a book and give it to them so they can look and say, "Dang, this is someone who came up where we came up from who is publishing a book" just to inspire them that they can do it to. This isn't just my story — this is our story.
RP: Have you thought about bridging the performance world and the print with an audiobook?
DC: I've been going back and forth doing an audiobook like I've heard other poets do. I was thinking of having some music or ambiance to make it more theatrical or musical. I am working on an EP where I am going to put music, like hip-hop, jazz and country-type vibes, and I'm going to combine the poetry, the storytelling with some rap lyrics. I want to bridge that spoken word with the rap. Hopefully, after that I can transition to that audiobook.
RP: In terms of your activism, what organizations or people that you are working with to better reach the community with your art?
DC: Any- and everybody right now. But one business that I'm proud of is Natrully Herbs on 41st Street and Macdonald Avenue. They have herbs and teas, alkaline, organic and healthy food. They have opportunities for up-and-coming Black entrepreneurs to just come up in there to drop off their products. So me putting my books up, that's one thing, so those that come in there can heal not just their body but their mind and soul.
Rich Land, I'm just now getting familiar with them, doing a spoken-word piece and video on behalf of North Richmond. I'm from North Richmond, so I'm happy to be working with them, just talking about land, land trust and how to allocate resources and vacant lots to the residents of North Richmond and make sure their voices are being heard in how the community is now being remodeled.
The RYSE Center is always home. Poetry Out Loud, that's another organization that I've been working with. I've been the program coordinator. That is an organization that challenges young people in high school to pick a piece of literature from the 19th or earlier centuries of poetry or monologues to memorize and enter into competition. It's a way of getting young folks to engage in literacy, comprehension and stage presence.
I'm working with San Ramon Valley School District teachers and principals in continuation schools and curriculum for their English students who are struggling with literacy and comprehension. I'm also working with the Richmond Museum [of History], where we are going to be talking about the history of the city of Richmond through various lenses — through art, politics, family stories.
"In 'Close Caskets,' you'll read my prayers, stories about the last moments I spent with loved ones, times that I've laughed hard, and all the tears that won't go away," said Donté Clark. "It's all about healing." (Denis Perez-Bravo / Richmond Pulse)
RP: Growing up in North Richmond, who were some of the people who helped you find your way in poetry as a youth?
DC: Nobody. Poetry wasn't even talked about in North Richmond. It was something I came across through Tupac Shakur, through a brother that was part of Making Waves — an after-school program — with me whose name is Terrance James. That brother would write poetry and inspired me to write as well. And a poet named Black Ice, I saw him on YouTube in 2007 on Def Poetry Jam.
On top of that, a lot of my content, a lot of my philosophy, mannerisms, diction, cadence and the spirit of what I'm talking about comes from North Richmond because I'm talking about people who I have known, seen and were around in these streets. When they found out I was doing poetry, the game, the wisdom and advice they had given me has shaped how I address certain topics and situations within our community. It is inspired by the way we talk and the way we walk.
North Richmond is infused in my poetry. It was something that I have been able to access and then draw from that well of experiences like, "Oh, I know this OG" or "Yeah, this street — I remember this or that person." It's stuff like that I'm going to tap into the more I write. More of that style is going to emerge.
RP: How have you changed since 2014 when you were named Poet Laureate of Richmond? How has your poetry changed?
DC: In 2014, I didn't feel like I deserved that title. I was 24 and felt as though I was just stepping into my power as an artist. Spiritually, I was growing in my faith and was becoming more aware of who I am and whose I am.
After traveling around speaking with the film "Romeo is Bleeding," my confidence grew, my perspective widened, and I started to depend on The Most High more than ever to speak to me, through me, and touch those around me. I felt his presence over my life, so my poetry started to reflect that even more.
"Close Caskets" captures that growth and maturity through stories about family, and reflections on past experiences and community woes.
RP: After the success of your first book, do you have a sense that eyes are upon you? If so, does that feel good?
DC: I'm not sure if my first book was a success or not, though lots of people gave me positive reviews. I didn't care as much as I do now. I feel "Close Caskets" is more successful because I put more effort into the writing and promotion. Also, this time around is more personal. I put more of my family into this story.
To get a copy of "Close Caskets," contact Donté Clark on Instagram, @donblak. The book costs $22.89, which includes shipping. Or you can purchase a copy at Natrully Herbs, located at 4113 Macdonald Ave. in Richmond.