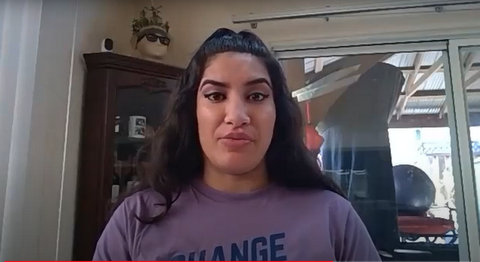 12 Mar

Student Debt Fuels Racial Wealth Gap, Advocates Say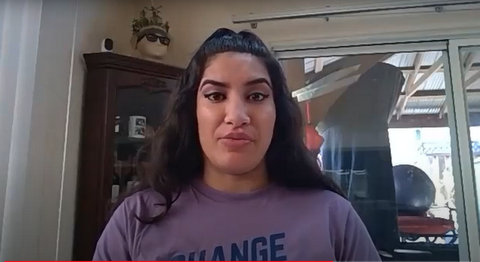 Andrea Campos was able to get her student debt forgiven, but she said the system did not make it easy. (Screenshot captured by Danielle Parenteau-Decker / Richmond Pulse)
By Danielle Parenteau-Decker
A panel including U.S. Rep. Ro Khanna pushed back on President Joe Biden's position on student loan forgiveness, citing student debt's role in the racial wealth gap.
Biden supports canceling $10,000 worth of student debt per borrower, not the $50,000 progressive Democrats are calling for. The president said the government should not give a break to people who went to "Harvard and Yale and Penn."
But, Khanna said, it is wrong to assume that if you went to a private school or have private loans or even if "you're working at Google, you're fine."
"The consideration should be your income level," the Bay Area Democrat said during a press briefing hosted March 5 by Ethnic Media Services.
Other panelists pointed out that college is supposed to increase opportunities.
"We tell people college is a tool for social mobility," said Kat Walbeck, civil rights counsel of the Student Borrower Protection Center.
Instead, the high costs often end up deepening economic divides.
"Student loan debt is shown to disproportionately fuel the racial wealth gap," said Joe Jaramillo, senior attorney at Housing and Economic Rights Advocates.
Black and Latino students, Walbeck said, generally have less household wealth. That means they often need to take on more debt. In the long run, this "cuts into opportunities for wealth building," such as saving for retirement.
>>>Read: Richmond Promise Provides Relief for Scholars, Prepares for Fall
If someone cannot repay their loans, the consequences can be dire, setting those already at a disadvantage even further back.
"This is also a consumer protection crisis," Walbeck said.
When people default on their loans, or stop paying for an extended period, wages can be garnished, professional licenses revoked and benefits withheld. And that's not all. Defaulting can damage a person's credit. That can make it impossible to qualify for auto or home loans and result in liens on private property. At a time when people need the money the most, it can make it even harder to get hired.
Andrea Campos said she was denied for a job because her debt-to-income ratio made her a "high-risk employee." She had defaulted on the loans she took out to attend Heald College, a for-profit business-career school that shut down in 2015.
For-profit colleges play an especially insidious role in the student debt crisis, the panel said.
"Many of these students were lured in with false promises of high-paying jobs," Jaramillo said.
A school like Heald, Jaramillo said, "preys on low-income and students of color — that's their business model."
Campos said she was told that if she released her transcript and did not keep her credits, she would not have to pay the money back. Instead, her account was repeatedly transferred to new creditors. Each one was apparently unaware of the arrangement and only treated it as a deferment, in which repayment is delayed but not stopped completely.
Campos was unable to complete her education at Heald and was left with nothing to show for her time there. "I felt like I was really deceived by the recruiters," she said.
In 2015, the U.S. Department of Education found that Corinthian Colleges, which owned Heald, had exaggerated the job prospects for its students.
"Heald College, for example, claimed 100% employment rates for some of its business programs, although many students were not working," Jill Tucker reported for SFGate in 2015.
Consequently, the department fined Corinthian $30 million and made many students eligible to have their debt canceled.
Eventually, Campos said, HERA helped her get her debt forgiven, but the system made it very difficult.
Gabriel Stewart has about $52,000 in student debt after graduating from the for-profit Ex'pression College in San Jose in 2015, which closed two years later.
On top of that, he has credit card debt, his wife is unemployed and has student debt, and they have a son. But because of COVID relief efforts, some of that debt obligation has been put on hold.
"When the payments start again, how are we going to be able to afford this?" Stewart said.
Though he is working, he can only make the minimum payments. Stewart called the debt a "constant stress in the back of my head."
Despite the pressure countless people like Campos and Stewart are under, some continue to argue against student loan forgiveness. They say many people have had to work to pay off their debt, so why should that change now?
Khanna was about $100,000 in debt but paid off his student loans in his 30s. He said that student debt should be forgiven for a "majority of Americans," not for people like him who could afford it.
"I do think it's fair," the congressman said. Just because we're "fortunate … doesn't mean we can't be empathetic."
While student loan forgiveness hangs in the balance, Biden has proposed making college tuition-free in some capacity. Though, it is unclear how, when or even if that might happen.
As Jaramillo said, federal student loans can be forgiven under certain circumstances. For one, federal loans may be forgiven for those in qualified public service jobs, though "there have been a lot of problems with that program."
Borrowers with federal student loans can also apply for income-based repayment plans. The government offers a few of these plans, but with all of them, how much you pay is determined by how much you make and the remaining balance may be forgiven after 20-25 years.
Anyone with questions about their loans or who is having trouble affording payments should check with their loan servicer.