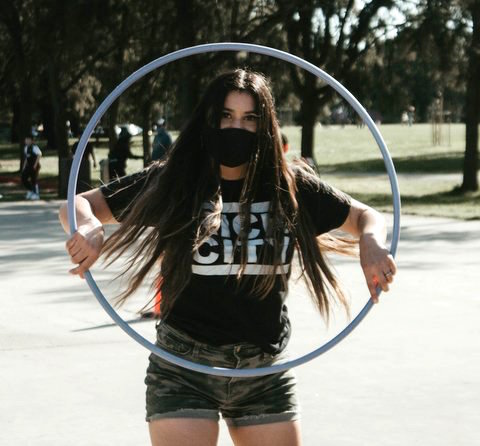 25 Mar

'Rolling in Solidarity': Skating With Joy and Social Justice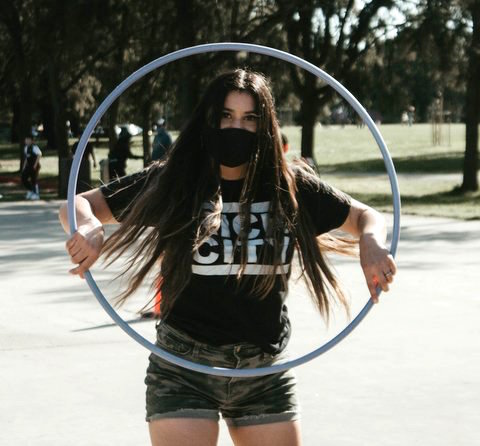 Rich City Rollers co-founder Tania Pulido incorporates the hula hoop into her roller-skating dance routine. (Photo by VLenz Portraits by Valerie)
By Maria Bernal
In Richmond, roller skates are steered by social justice, strong community values, and a groove that keeps giving through a collective of skaters called Rich City Rollers.
With about 20 skaters at a time at different ages and skill levels, the Rich City Rollers meet in front of the Miller Knox parking lot on Sundays.
The five people who co-founded the group all work for social justice nonprofits and community organizations in Richmond. Among them are Merrill Pierce and Tania Pulido.
On a recent Sunday, Pierce skated across the gray pavement in tan skates with bright blue laces.
"I learned more in my first year of teaching here than I have like my entire life. It just opened my eyes to the world," she said.
Pierce teaches at Verde Elementary School. She's from Massachusetts and has lived in Richmond since 2013. She grew up rollerblading and continued to skate in college.
Pierce said the group wanted to get outside after being cooped up by the pandemic. Richmond is one of many towns throughout the country that has seen a rise in roller skating amid the pandemic. Roller skate sales have increased by 1000% at Moxi Skates alone.
In the beginning, Rich City Rollers wanted to create a space that was purposeful and occupied by social justice advocates. It was important for them to bring people from every pocket of Richmond and to teach them social justice values.
"We're rolling in solidarity, and it's about many movements, many fronts, one struggle, so this is just one way that we are creating joy. I think that that's one of the things that attracts people to Rich City Rollers," Pulido said. "We're creating joy. Pockets of joy. But we're also creating a space for the community to come through."
Bike rides with Rich City Rides last year that ended at Miller Knox Park inspired the group. The Rollers connect with Oakland skaters Wednesdays at Lake Merritt. In San Jose, they meet for a skating rollout once a month.
"There's something about taking over the street, as people together on wheels in a street, that's made for cars," Pierce said. "It's really powerful."
Adults and kids learning to skate inevitably fall but laugh and get back up as the air was filled with bubbly music from Pulido's boom box.
Yaya Raiz, 38, helps her daughter Yuyu Zapana, 5, skate during a Rich City Rollers event on March 7 at Miller Knox. (Denis Perez-Bravo / Richmond Pulse)
Pulido danced to the beat of cumbia music, wearing bright red suede skates with white laces and mint green wheels. She used hula hoops as part of her routine.
"I've learned so far how important it is to create joy, especially in a moment where it feels like we're constantly under attack by something," Pulido said. "In Richmond, we have a lot of struggles, but we also have a lot of hope. And so I think, for us, that has been something we learned, is just creating joy is really important in those moments and holding space for one another as a community."
Tania Pulido dances with hula hoops at a Rich City Rollers meet-up at Miller Knox. (Photo by VLenz Portraits by Valerie)
The members checked in with one another, helping each other with their skates and skills and to provide love and moral support.
"It's like, we're gonna save us," Pulido said. "We're the ones who are gonna create the spaces, share the resources, and it's important to create those microcultures so we can start to really embody them and other spaces that we are a part of as well."
The collective is inclusive, but there are rules. Rich City Rollers does not permit racism, bigotry, body shaming or belittling attitudes. The group, which encourages people to become active, does not have age or skill restrictions.
Roller skating has a deep history rooted in racism, social justice, and the civil rights movement. Rinks were segregated in the '60s. Some rinks would only allow Black skaters one evening a week. Although the skating trend emerged from Black culture, Black skaters faced violence from white people and police.
Skating was also part of powerful and peaceful protests that paved the way for skaters today.
In the 1963 March on Washington, Ledger Smith, a.k.a. "Roller Man," skated 685 miles from Chicago to D.C with a freedom sign on his chest and back. In his journey, he lost 10 pounds and was nearly hit by a racist driver.
Racism lingers in rinks with dress codes that ban saggy pants, hoodies and micro wheels, when advanced wheels are less accessible.
Roller skating may be trendy now, but it has long been part of Black culture. (Photo by VLenz Portraits by Valerie)
Roller skating has long been part of Richmond-area culture.  Years ago, the former Thrift Town building in El Sobrante was the site of a roller rink.
Sheila Jackson was there when it all went down. The 54-year-old Richmond resident started skating at the age of 13.
"We just started doing it, and we just kept going for like three, four years. We just made a habit out of it every weekend," Jackson said. "I don't remember a Richmond group. I just remember a lot of people individually just going down there and just really getting together and skating around and dancing together and making them skate steps."
She said the rink played music by Michael Jackson and the Bee Gees.
"I really enjoyed taking myself away, rolling around the skating rink, just listening to the music," she said.
Jackson said she wishes "this generation could enjoy more skating" and that the rinks closed by the pandemic would reopen.
"It means everything. It takes me back to my childhood. When it was a very, very different life from what it is now. Wish that you guys can enjoy what I used to. Wish you could go back, but I love it. One of my major hobbies, skating," Jackson said.
Rich City Rollers meet at Miller Knox Park every Sunday from 3 p.m. until the group decides to leave. The collective posts the locations and times of meet-ups on its @richcityrollersk8 Instagram page.
"Just enjoy yourselves. The skating rink is big enough," Jackson said. "Everybody can feel your groove and take your own pace. Everybody's not gonna skate the same. It's not a competition. It's something from the heart. You just got to go within it and feel your own groove."